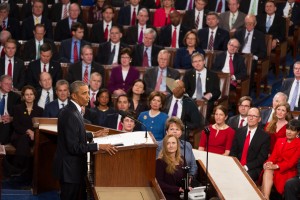 Ask any court reporter or captioner about the various assignments they've worked and the answers can range anywhere from a small town court case to a papal visit to a major sporting event. In the case of NCRA member Megan McKenzie, RPR, CRR, Arlington, Va., an official reporter for the U.S. House of Representatives, reporting last week's State of the Union address delivered by President Barack Obama was just one more high-profile job well done.
A court reporter for 15 years, McKenzie said she began her career with the U.S. House of Representatives in May 2006, after a fellow court reporter suggested she apply for an opening that was posted. She began by reporting committee hearings, investigations, and press conferences before moving to the House floor in May 2008 to make the Congressional Record.
During her time working on Capitol Hill, McKenzie said she has also had the opportunity to take testimony from actors Richard Gere and Ben Affleck, as well as musician Ricky Martin, former New York Mayor Michael Bloomberg, former Federal Reserve chair Ben Bernanke, and human rights activist Martin Luther King III. She's also taken testimony from members of the U.S. Supreme Court, the president's Cabinet, military officers, refugees from war-torn nations, and the CEOs of several major banking institutions.
"In my opinion, reporting for the U.S. House of Representatives is the most interesting court reporting job because of the wide variety of content we are exposed to, the caliber of witnesses who come to testify before Congress, the excitement of being on the House floor when there is an important vote pending, and the ever-changing political environment," McKenzie said.
She noted that in comparison to the diversity in the technical content she is regularly exposed to when covering the Armed Services, Financial Services, and Foreign Affairs committees, among others, a presidential speech is much easier and requires very little preparation time.
Covering President Obama's last State of the Union speech to the nation wasn't the first time McKenzie has reported or captioned an event with a president in attendance. Other noteworthy assignments have also included captioning President George H. W. Bush's speech on the anniversary of the Americans with Disabilities Act in 2005, Vice President Joe Biden's Family and Friends Party prior to his inauguration where country singer Faith Hill performed and President Bill Clinton spoke, and the Let Freedom Ring Concert held in celebration of Martin Luther King, Jr. Day where President and Mrs. Obama were present. In 2014, McKenzie also reported an address by Ukrainian President Petro Poroshenko to a joint session of the U.S. Congress.
McKenzie attributes her ability to play the piano as part of her success as court reporter and credits her parents for suggesting the career path.
"When I was in high school, my parents suggested court reporting as a career for me because they knew a court reporter and thought it would be a good fit. I had played the piano growing up, so I already had experience with that type of manual dexterity. I definitely think playing the piano helped me progress through school and have heard from other reporters that playing the piano was helpful for them as well."