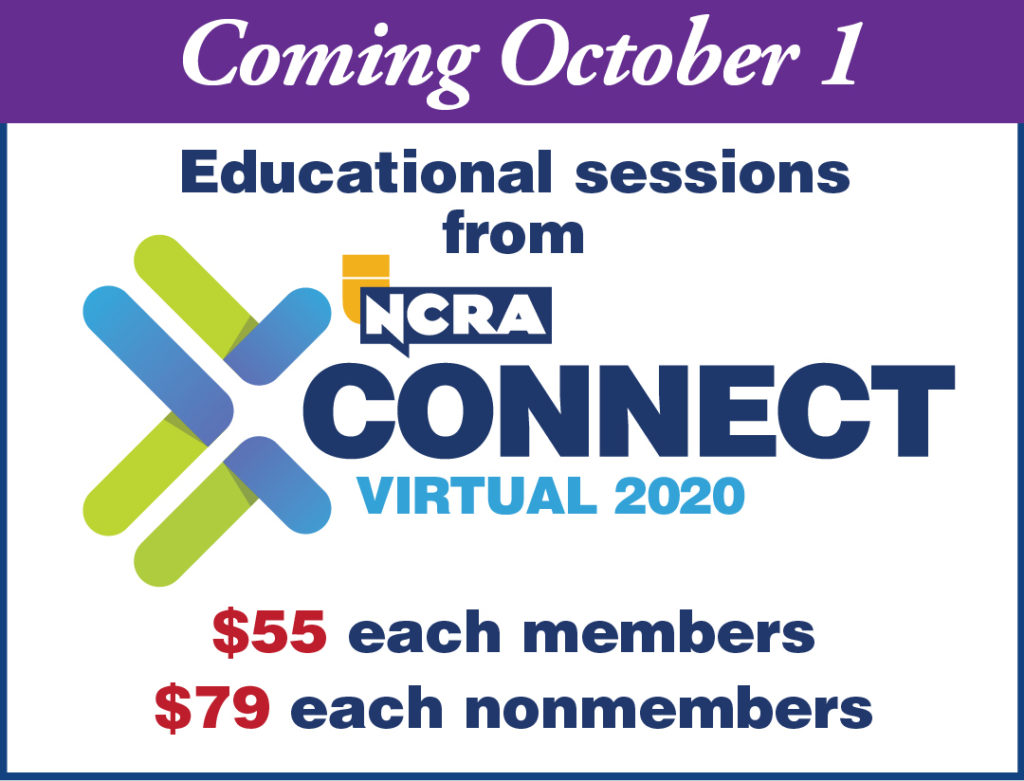 If you missed NCRA's Connect Virtual 2020 conference, don't worry. On Oct. 1 six of the fan favorite sessions that were recorded will be available as e-sessions for purchase. The cost for each session is $55 for members and $79 for nonmembers. Each of the sessions are worth 0.1 CEU.
The e-sessions being offered include the following:
Reporters and Gadgets and Apps — Oh, My!
Presented by Lynette Mueller, RDR, CRR
Learn to be self-sufficient, productive, efficient, and courageous in your everyday professional life! Lynette Mueller will share the gadgets, apps, and other resources that assist her to meet the many challenges that may arise in the deposition or courtroom setting. She will also talk about the workflow she uses after the job — work smarter, not harder! This session will wind up with discussion from the audience and sharing other gadgets that have helped them along their "Yellow Brick Road."
Ethics Jeopardy
Presented by Andrea Kreutz , CLVS, Mindy Sindiong, CLVS, LaJuana Pruitt, CLVS, Tim Janes, CLVS

Come join an educational game show where contestants will answer everyday videographer scenarios. Categories include Remote Depositions, The Secret World, and It's Not That Kind of Video.
Just Okay is NOT Okay; Is YOUR Realtime Good Enough?
Presented by Anissa Nierenberger, RPR, CRR, CRC, CRI

While realtime does not mean perfection, how do you know if your realtime measures up as a sellable product? Let's look beyond the gray and examine concrete, real-world examples of what is great, good, and just okay. Just because you can read through it doesn't mean that your clients can. Anissa Nierenberger will debunk untranslate rate myths and other misperceptions about quality realtime. She'll also provide solutions to common stacking and easy brief ideas, as well as explain why you should be editing in a way that school never taught you! If you've felt "in the dark" regarding realtime standards, you won't want to miss this presentation!
Social Media Bootcamp
Presented by Cathy O'Neal

What social media should I use? When should I post? How often? What should I say? Do I have to answer every stupid comment? Can't someone else just do it for me? Social media can be just one more chore, or it can help you gain visibility, reputation, and clients. Learn the who, what, when, where, and why of social media from a seasoned communications pro who finished 2019 with a 3.2 million Facebook reach! Weed out the stuff you don't need, focus on the stuff you do need, and walk away from the session with action items you can do that day to start building the social media presence you want.

Work Smarter, Not Harder
Presented by Allison Hall, RMR, CRR

Are you running your transcript load, or is it running you? Are you dreaming about weekends to yourself and vacations where the laptop stays at home? "Work Smarter, Not Harder" will teach you ways to up your efficiency, increase your productivity, and reduce the amount of stress in a high-stress field.

Marking Exhibits Electronically for Remote Proceedings
Presented by Rene White Moarefi, RPR, CRR

This session will cover the steps for marking exhibits electronically during remote proceedings, including download and setup of electronic exhibit stamps.

For more information or to purchase any of these sessions beginning Oct. 1, click here.