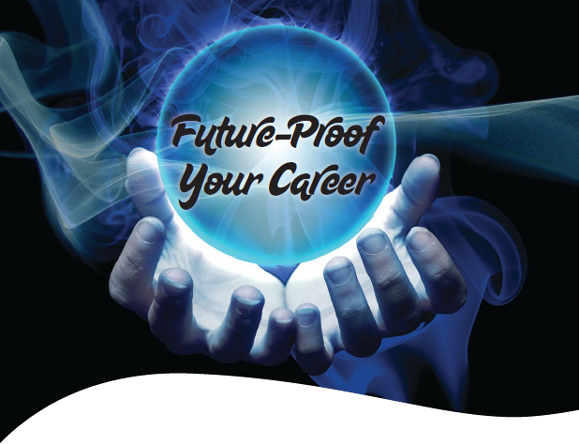 No one can predict the future, but one thing is relatively sure — court reporting firms across the country are likely facing a host of challenges in the next 5 years to 10 years. There are larger trends, such as the gradual shift in the legal culture away from depositions and trials and toward mediation, as well as what appears to be a hypersensitivity to cost, that have emerged among law firms and their clients that have led them to take a closer look at all their expenditures.
Those challenges are in addition to the reporting field's specific issues, such as the rise of large national firms, as well as the rapid changes in technology that are making some long-time staples of court reporting, like the printed transcript, a thing of the past.
All this uncertainty may be causing some new reporters to wonder what they've gotten themselves into.
But Chuck Cady, RMR, head of Cady Reporting Services in Cleveland, Ohio, as well as current president of the National Network of Reporting Companies (NNRC), points out that for veteran reporters, a bit of uncertainty about the future is par for the course.
"Court reporters have been looking over their shoulders for more than three decades at technology coming down the pike that is going to impact them — and so far we've been able to stay right in the middle of the game, which is a good thing," Cady says.
That doesn't mean court reporters should be content with the status quo. "You keep doing what's working and what's benefiting people now, but with one eye on the horizon," Cady says. "You also need to be willing to adapt to whatever changes are coming."
That kind of "future proofing" can either be an easy fix or it can require a dramatic change in how you do business, depending on the size of your company and the market that you're in. For instance, current NCRA President Nancy Varallo, RDR, CRR, notes that adding skills, such as realtime, has always been an effective way to improving your prospects.
"A lot of individual reporters feel they don't want to add new skills now, because they may only have a few years left in the business," explains Varallo, the head of The Varallo Group in Worcester, Mass. "But we feel reporters still need to look at ways to offer more so they can assure not just their own future but the long-term longevity of our business." Along with realtime, Varallo suggests individual reporters and firms also look into new businesses, such as CART or captioning, or even check out the medical transcription business.
"I think diversification helps all court reporting firms. Even if you want to sell your firm, a buyer will want to see diversification," Varallo says. "During my NCRA presidency, we have a new group, the New Markets Task Force, that will be looking at new opportunities."
TO CUT OR NOT TO CUT
One of the big questions court reporting firms, especially small and mid-size companies, are facing is whether to respond to the belt-tightening taking place in the legal community by trimming their own expenses.
Rick Levy, RPR, the owner of Network Reporting in Miami, suggests firms must adjust to a new reality in the industry. "Copy sales are depreciating because people are becoming more cost conscious," he says. "Court reporters have to respond by cutting out silly or wasteful expenses."
Cady agrees but adds, "Balance should prevail, and you have to be careful not to cut overhead to the point where you're also cutting quality, cutting service, and impacting the loyalty of your people." Cady also notes that keeping up with the latest technology requires a financial investment that is not easy to eliminate.
"Technology, while it saves times and effort, also means you have to have an IT person, servers, and proprietary software licenses," he says. "So you have to be careful how you save and how it impacts both the people and the industry you're in."
While he's also an advocate of keeping a close eye on costs, Mason Farmani, COO and managing partner with Los Angelesbased Barkley Court Reporters, says firm owners can protect against the ups and downs of an uncertain future by acting a bit more like traditional businesses.
"Capital and figuring out how to make capital available for your business is really important, because during the times when no one is paying the bills and/or everyone is asking for a discount, you can still ride through it," Farmani says. "That can be a line of credit or coming up with a way to streamline your invoicing to make things less costly and speed up payment."
He notes that while law firms are increasingly aggressive in negotiating for discounts, reporting companies can be proactive in mitigating those demands.
"One way might be going to clients and getting them to buy electronic transcripts. Now you're eliminating the cost of paper, you're eliminating the cost of labor and mailing, and you can pass on those savings to your clients instead of giving them discounts," Farmani says.
He adds that firms can also provide their best clients with value-adds. "Let them use your conference room without making them pay for it — or provide a concierge service for visiting attorneys, helping them find space for depositions or directions to and from the airport at no charge," he explained. "That way, clients not only begin to look at you as a one-stop solution, but you're also building trust since the law firms know they're getting charged only for the work and there are no hidden fees."
Jason Primuth, executive vice president and co-founder of NextGen Reporting, a company with locations in California, Delaware, New York, and Pennsylvania, took that idea a bit further, noting that the key to future proofing your business isn't so much about cutting your own expenses, but rather about working with law firms and clients to help them control their own costs.
NextGen has been focused in recent years on providing technology and expertise to enable remote depositions. "We see such a staggering opportunity," Primuth says. "The deposition industry is an estimated $4 billion business annually, but can you imagine how much is spent just traveling to those depositions, or the hotels or added billable time that's incurred?"
Providing clients with the ability to do depositions remotely requires some financial investment, but Primuth suggests the real key is operational execution. "You need to manage a lot of details in order to be good at remote depositions," he explains. He also says that while law firms have the need for remote depositions, they don't necessarily have the awareness.
"Very few law firms come to us and say, 'Hey, I need a remote deposition so I don't have to travel.' Instead, it's a conversation like 'I've got to fly to San Antonio next week, and I don't want to.' And then we can tell them that they don't have to. All of that comes out of having a conversation with your clients where they can tell you the things they struggle with," Primuth says.
"When people talk about reducing court reporting costs, they always focus on the page rate, thinking, 'Oh, we'll just charge less per page, or pay the court reporter less,'" Primuth continued. "But for most law firms, it's not those direct costs, it's the indirect costs that hurt. So we're focused on helping the firms reduce some of their other overhead expenses rather than just cutting court reporting costs."
DON'T JUST TRY; DIVERSIFY
One of the standard pieces of advice for any business owner is diversification, and for court reporting firms, that's traditionally meant adding legal videography to a traditional deposition business. But you might be surprised at the variety of businesses that can be combined with court reporting.
Premier Real Time in Seattle, for example, is just one of three business units of ProMotion Holdings, a company owned and run by Ron Cook, CRR, RPR, CRR, and his business partner since 2007, attorney Steve Crandall.
ProMotion's other two divisions are ProMotion Law, a trial presentation and consulting business, and ProMotion Arts, a full-fledged new media company offering everything from traditional video production to advertising, mobile software development, social media, and corporate communications.
"From our view, court reporting is just one way of creating content," Crandall explains. "And we view ourselves as a content technology company that can include content capture, content creation, content curation, and content dissemination. For us, it's all pretty integrated."
One of Crandall's clients is the Bill & Melinda Gates Foundation, who originally approached them simply to videotape one of their meetings.
"After talking, we were able to show them we could help them not just by capturing what they were doing at these convenings, but by helping them capture and manage a large spectrum of content of which video is just a portion," Crandall says. "And by providing realtime text, we made every piece of that content searchable."
Even for those court reporting companies that want to strictly focus on legal clients, Crandall says they can still work with law firms to provide Web-based videos on a host of consumer health and safety issues, for example, that end up serving as marketing vehicles for the attorneys.
"If you're a court reporting agency and you think your only opportunity is on the deposition side, then you're missing where the future is going," Crandall says. "Because the future is going to be all these big corporations with corporate counsels who are all concerned with compliance and accessibility and how to communicate information to consumers and employees and how to minimize risk so that someone doesn't come back later and say they didn't communicate effectively."
Crandall also notes that his firm's businesses did not require a huge initial investment. "When we started out doing this, we were using our deposition cameras, so it doesn't require anything new to provide a realtime feed. More than investing in new equipment, this requires a willingness to be constantly learning about what the new technology is — and then be able to articulate what that new technology can do for your clients," he says.
David Tackla, CLVS, and vice president of Tackla & Associates Court Reporters based in Cleveland, Ohio, suggests that the ability to cross-sell clients on a host of video services has helped lessen some of the impact contracting has had on his firm's bottom line.
"The way I get new business is through my video services," Tackla explains. "If I get a request for a new service, our standard answer is, 'Yes, we do it,' and then we figure it out."
For Tackla, that means services such as two-camera depositions (both cameras on the witness — one wide angle, one close up, with the image dissolving back and forth thanks to software-based video editing) as well as teleconferencing, phone depositions, and down-streaming depositions. "You have to have all types of services because if you don't have it, they'll find someone who does," he says.
Tackla is also a big advocate of working jointly with other firms to take on the challenges court reporting will face in the coming years.
Tackla & Associates is a member of Table 8, a consortium of firm owners that works with each other both to stay ahead of business trends and to generate new business. "In Table 8, we all share technology, we all share ideas," he says. "And if I have a client who needs a deposition in another city, I call up an owner personally and tell him or her that one of my best clients is to coming to your town and to take care of that client like he or she was your own."
As president of the NNRC, Cady is also an advocate of the concept of strength in numbers, and he says that one key role his group plays is to help all its members prepare for the future.
"If you have people assigned the responsibility of looking to see what's coming down the road, that helps everyone," Cady says. "We have a standards and technology committee that looks for new things on the horizon and evaluates their feasibility." While NCRA and many state court reporting associations are keeping abreast of new technology, Cady notes, "Having more ears to the ground is not a bad thing."
Even with all the uncertainty ahead, most firm owners are fairly upbeat about the coming years. One reason is that one of the biggest potential technology threats to traditional reporting — the development of speech-to-text software that can actually work in a multi-voice courtroom or deposition setting — now looks increasingly unlikely for at least several more decades. "Am I optimistic? I would say yes — at least for the next 15 to 20 years," Cady says. "Beyond that, we can't really see." Primuth adds, "I wouldn't have started another court reporting company without having a lot of optimism about the industry."
Varallo even suggests that the coming years could be a period of surprisingly solid growth for court reporters. "One huge new market that's coming is the captioning of videos for businesses. What businesses are finding is that everything is going to video, but video alone is not searchable. So if you want your video to be search-engine optimized, you're going to need to have text as well," she says.
Accessing that new revenue stream — as well as any others where a searchable transcript is the desired end — likely will require some education of the business world first. "It's up to us as reporters and firm owners to let companies know who we are and all we can do," Varallo says.