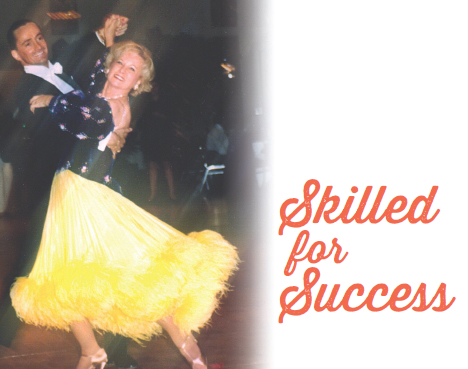 There are many court reporters who partake in activities outside of the courtroom. Sure, some of these activities may have started out as a hobby to unwind after a long day at the office. But as time passed, the skills gained from these activities have become a great benefit. In many cases, these skills have kept reporters focused or even helped to improve dexterity and posture. From sign language and yoga to knitting and ballroom dancing, these skills have made a difference in and out of the courtroom.
KNITTING FOR DEXTERITY AND CONCENTRATION
Freelance court reporter Susan Heierman, RDR, CRR, from Shelby Township, Mich., has been knitting since she was a teenager. But last August, she started knitting lace shawls. As Heierman describes it, the complex lace-pattern shawls are extremely challenging and require a lot of concentration. She has to be on her toes for the twists and turns that can come when working on a pattern. "I think I'm a better reporter and knitter because of my ability to concentrate. The two go hand in hand," she says. She adds that having it handy allows her to knit just about every day. "I often keep smaller projects in my car to work on while I'm waiting to go in for my deposition."
The dexterity of knitting also keeps her fingers nimble, an advantage to her as a court reporter. Heierman adds that it also helps keep both her profession and her knitting skills in perspective. "Like reporting, knitting can be frustrating. It's like those days when you have a witness who wants to talk 350 wpm, you just have to hang in there. You know you will be a better reporter and knitter because you have persevered."
QUILTING PUSHES NEW TECHNOLOGY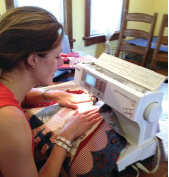 Heierman isn't the only reporter who has affinity for fabric. Helga Lavan, RPR, from Hicksville, N.Y., has been a court reporter for 20 years and a quilter for almost as long. A neighbor introduced her to quilting, and Lavan has been at it ever since. "Sewing helps me become a better court reporter by keeping my mind sharp. With quilting one is always wondering how to piece a project together, as well as trying to keep on top of the latest gadgets and gizmos in the sewing market."
When she compares her growth within the field of sewing to her career as a court reporter, she relates it's important to embrace the changes in technology. "It is in this way I can produce a beautiful quilt and an accurate transcript with ease. As I sit before my sewing machine, I am immediately transformed." Lavan says her mind lingers and often thinks about a job that may have caused some anxiety or a situation that arose on a job that frazzled her. She uses the time while quilting to think how she can address those situations the next time she is faced with them. "With each project I tackle — either producing a transcript of a proceeding that included a fast-talking, mumbling witness or creating a new quilt with challenging piecing — I learn to be patient and forgiving. If something doesn't work well, next time I will remember to do it differently."
It seems as though with each machine — whether it's for sewing or writing — Lavan finds similarities. When she goes to quilt shows and sees other's finished pieces, sometimes she thinks, "I could never do that." But before long, she's buying the kit or pattern to tackle the project herself. She used to think, "I can never be a realtime reporter," and while she's still mastering her skills for certification, she now fully believes it's an attainable goal.
SIGN LANGUAGE TEACHES COMPETENCY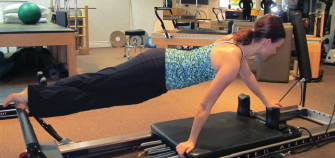 Lucinda Plexico from Atoka, Tenn., is a CART provider at the University of Memphis and has worked as a sign language interpreter for 11 years. In 2010, she started providing CART and is currently pursuing certification. She recalls when she began offering educational CART at the university: "I was first given the opportunity when one of our hard of- hearing students enrolled in the law school. I followed him through all three years of law school, and it was an amazing experience." Her sign language skills have helped prepare her for CART work, and she states it's the same general idea of listening followed by the mental process of translating the spoken word. "I believe both skills require a great deal of hand eye coordination and memorization, and a high degree of language competency such as grammar and vocabulary."
Plexico adds that interpreting gave her knowledge of the educational setting and environment, as well as what to expect. "Physically, both jobs incorporate the same long hours of sitting, listening, and language processing, so I felt better prepared for those aspect," she explains. aspects." And it comes in handy when communicating with the hard-of-hearing and deaf students who need CART. "I do believe it would have been more of a challenge to gain CART skills if I didn't have the interpreting skills first because the two are so similar. Interpreting has enhanced my skills in the areas of manual dexterity and listening and has given me access to collegiate-level terminology I might not have otherwise had," she says.
PILATES FOR PERFECT POSTURE
Vicki Britt, RPR, from Sacramento, Calif., is a freelancer who is also a certified Pilates instructor. What started out as a hobby turned into a skill she uses to help others when she teaches Pilates. Not only has it been a big stress reliever, it has increased her posture in the court, helped the tension between her shoulders after a long day of reporting, and helped her stay calm by using correct breathing during tense or fast situations in the court. She took her first Pilates class more than 15 years ago and was hooked immediately. Seven years ago she started teaching after getting her certification. "Our court reporting profession and lifestyles are sedentary. We commonly carry stress in our shoulders, neck, and lower back. Conscious breathing and connecting your movement with your breath helps the body relax. All of this helps me keep a clear, quieter mind when I am working," she says.
Even though she has been dancing and exercising most of her life, she didn't realize how much exercise helped after a long day in the court until she started taking Pilates. "I'm very aware of my posture when I'm working. I've also used the stretches to release tension when I take breaks or have been sitting for long periods of time. Pilates has also given me a better balance between work and life and made me a much happier, healthy person."
YOGA FOR FLEXIBLE BODY AND BRAIN
Britt isn't the only one who has taken to the mat and found it helpful with court reporting. Kimmel McDiarmid, RPR, an official court reporter who lives in Pittsboro, N.C., swears by yoga. McDiarmid has been doing yoga for close to two years and her only regret is that she didn't start ten years earlier when another reporter recommended it. "I wish I'd listened, and I hope that lots of reporters who read this give it a try," she says. But she recommends taking it slowly, advising that beginners shouldn't jump into it too fast and, as she puts it, turn themselves into a pretzel. "I'm talking about learning to breathe to be calmer, to stretch to be healthier, and to give yourself some of your time and attention every day." The great thing about yoga, as McDiarmid points out, is you can do it anywhere since you don't need special equipment or a lot of space. "I find times like, for example, brushing my teeth to do tree pose. If I'm at the stove or doing dishes, I do my breathing or stand on one leg to build bone density."
In addition to relieving stress, yoga has taught McDiarmid to be calmer. Before doing yoga, she said she was less able to cope with stress or let it dissipate. "I still work hard to get the record exactly right and get every single word, but my overall platform is just a little calmer now," says McDiarmid. It combats stiffness because when the body becomes more flexible and stronger through continued practice of yoga, the muscles are more elastic. "An added benefit is that when I do get stiff from sitting in the courtroom in a static pose at my machine, I have great tools to loosen my body quickly and gently." Her yoga teacher has even taught her and other court reporters inconspicuous stretches they can do during a 30- to 45-second pause in proceedings while the attorneys are consulting or meeting at the bench. McDiarmid also notes, "When there's no chronic pain, it's easier to report and sit. When the stress is lower, it's easier to clear the mind and just write."
BALLROOM DANCING FOR STRENGTH
For Willi Hill, retired court reporter, from Orange, Calif., her career would have likely been cut short if she hadn't found ballroom dancing to keep her back and shoulders strong. Thanks in part to the dancing, she worked for Los Angeles County Superior Court for 25 years before retiring in January 2001. She remembers vividly how her introduction to the dance floor began. It was 1985 and she wanted to lose 30 pounds, so she went to her doctor for diet pills. Her doctor agreed to a one-month prescription but also told her to start an exercise routine, and not just any exercise. He asked her to choose an activity that she really enjoyed in hopes she'd stick with it. Shortly thereafter, she saw an ad for a free dance lesson, which Hill describes as a one-hour free dance lesson along with a sales pitch. She signed up and was hooked right away.
At first, Hill went alone but her husband began to join her. "When dancing, I was able to put everything out of my mind except the music and movement," she says. Hill remembers the tips provided, such as keep your back straight, shoulders strong, and be sure to get your weight on each foot as you turn in order to keep your balance. "In the courtroom, because of my stature (under five feet), I always made a special effort to secure the right-sized chair and backrest so that my feet touched the floor and I could maintain a straight back."
Hill adds that she sometimes joked if she hadn't found ballroom dancing, she would have been on the psychiatrist's couch. "Ballroom dancing was very therapeutic for me. It was physical exercise as well as an emotional outlet," says Hill. In fact, she enjoyed dancing so much that she started dancing competitively and over the years collected quite a few trophies as well as costumes. Now 72, Hill no longer competes or does shows, but dancing will always be part of her life. She and her husband, who passed away in 2009, took to the floor for years. "We met many wonderful and inspiring people. I will always be grateful to have found it and to have finished out my career with Los Angeles County."
TENNIS FOR KEEPING YOUR COOL
Linda Wolfe, RMR, from Sarasota, Fla., started playing tennis in 1991 and over the years began captaining United States Tennis Association teams. Wolfe mentions that tennis and court reporting are not only physical but mental. "I love tennis because if you make a mistake, you have to mentally move on and not dwell on your bad shot. Much like court reporting, if you miss a perfect stroke, you either try to correct it immediately or move on. You can't dwell on what you just heard in a deposition or the bad tennis shot you just made," says Wolfe.
Wolfe has owned her court reporting company since the early 80s and found owning the business has helped in many ways when it comes to working with tennis teams. "Court reporting requires you to be organized, and recruiting team players, organizing matches, and then playing the match requires skills the average team captain does not possess. I found owning a court reporting business helped me juggle the demands of tennis teams." But it's not just about being organized. It's about keeping cool under pressure, especially in court reporting. "The room is filled with tension, but you have to write on your machine under intense pressure," she says.
She also believes her skills as a tennis player affect her court reporting. When she doesn't play tennis for a week, she feels sluggish and not as acute mentally when, for example, five attorneys are making their point in a deposition or courtroom. Wolfe says without a doubt that tennis has been a wonderful stress outlet. "All the angst in the courtroom disappears when I am outside playing next to a pond with lily pads (like our public courts in Sarasota), where birds are chirping, the sun is setting, the cool breeze is relaxing and all the pressure of the day disappears when I am playing."