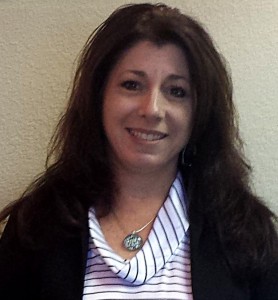 Kim Thayer, RPR, CRR, got her start in court reporting as a freelancer in 1990. In 2005, she bought her court reporting firm and has been busy running it ever since. Having been in the field for close to 25 years, Thayer has vast experience that includes reporting in superior, bankruptcy, and federal courts, as well as depositions and arbitrations. Thayer, who calls Hanford, Calif., home, graciously offers tips and advice on how to be successful.
DO YOU REPORT MOST DAYS OR ARE YOU MOSTLY MANAGING YOUR BUSINESS THESE DAYS?
I still do court reporting. I have nine court reporters that work for me and three employees that run the office. I can do both, but my preference is to continue reporting (until my hands fall off), then I am willing to work in the office. I went to school to be a court reporter, which is what I love the most!
WHAT MADE YOU DECIDE TO START YOUR BUSINESS?
The firm owner I was working with was looking to sell the firm she had established 26 years prior. She asked me if I wanted to buy it and carry it on. It had not been a dream of mine to own my own firm, but when the opportunity presented itself, I decided it would be a positive move for me.
AS A BUSINESS OWNER, WHAT ARE THE CHALLENGES AND WHAT ARE THE REWARDS?
One challenge is balancing time between being a wife, a busy mom of three kids, and a working court reporter who stays up with technology, and then being a firm owner trying to market and meet clients' needs. Another challenge is having enough work for each reporter, generating the clients and workload, yet not having more work or type of work than my reporters can handle.
The reward comes with having a successful business and the continued growth. What I find most rewarding is reporting a difficult hearing/trial/job, with technology challenges, producing daily or expedited transcripts to make my clients' job easier. I measure my feeling of success with the continued accolades I receive from my clients of the quality service they continue to receive.
WHAT PERSONAL TRAITS HAVE CONTRIBUTED TO YOUR SUCCESS?
A high work ethic, not afraid of challenge, not afraid to tackle what some perceive as impossible. I look at challenges as opportunities.
HOW HAS THE COURT REPORTING BUSINESS CHANGED OVER THE PAST YEARS?
Competition has increased, and ethics have decreased.
HOW HAS YOUR BUSINESS CHANGED OVER THE PAST YEARS?
Technology, technology, technology. Online repository.
WHAT TYPE OF SKILL SET IS NEEDED TO BE SUCCESSFUL?
One of the most important skills set to be a successful court reporter is noticing details. I am seeing more and more mistakes, misspellings, and inconsistencies in a transcript from our newer reporters. Another important skills set is to never stop learning. Keeping up with technology is a must.
HOW WILL TECHNOLOGY AFFECT THE FUTURE OF THE BUSINESS, AND WHAT DOES A REPORTER NEED TO DO IF THAT HAPPENS?
It is a battle of good and evil. We have one side of technology trying to take over the court reporter duties. This is why our next generation of reporters must stay connected and up-to-date with software and technology, to provide top-notch reporting and realtime to keep the actual reporter a necessity to our profession.
WHAT CAN NCRA DO TO HELP COURT REPORTERS BE SUCCESSFUL?
Continue to offer technology courses, and have affordable training from our industry experts. NCRA did it right when they required CEUs to have our certificates. I wish every state had mandatory CEU requirements.
HOW IMPORTANT IS NETWORKING TO BUILDING BUSINESS AND BECOMING SUCCESSFUL?
Networking with other court reporters allows time for sharing and learning from other others' experiences. As a firm owner, networking provides many opportunities for jobs to come to the firm. When you go to conferences and network with other firm owners, it does help when trying to cover a job in another area to have faces with names and a good reputation.
IN YOUR OPINION, HOW IMPORTANT ARE CREDENTIALS FOR COURT REPORTERS?
Personally, I feel that credentials and continued education is the backbone of a reporter's success. As a firm owner, I definitely give my reporters who have credentials and participate in continuing education the bigger and better jobs. I have confidence that a reporter who has a CRR can handle the realtime trial I need covered for my client. Do not underestimate the importance of certificates and keeping up with technology.
WHAT ADVICE WOULD YOU GIVE A STUDENT WHO IS ABOUT TO ENTER THE FIELD?
While waiting for your test results, get yourself trained and learn as much as possible about the "real life" of court reporting. Sit in with reporters at depositions and in court. Make good connections with working and experienced reporters. There is so much to learn. When a new reporter comes into my office after getting their license asking for work, it does not impress me. Get mentoring, take notes, and, learn how to handle situations as the official court reporter. Don't be afraid of the new challenges you are about to face. Be excited, for your life is just about to change.
HOW WOULD YOU DESCRIBE A SUCCESSFUL COURT REPROTER?
Accurate, efficient, quick, friendly, eager, energetic. Most important, very detail-oriented.
WHAT PROFESSIONAL ENHANCEMENTS HELP A COURT REPORTER BE SUCCESSFUL?
Realtime equipment, cables, wireless router. Always buy the best machine, laptop, and software in the industry. Software training classes are your key to being successful in editing and producing your transcripts. Don't cut costs when it comes to software and equipment. Keep it all up-to-date. Pay for the yearly maintenance contracts that keep you up-to-date. If you need to cut back, cut back at Starbucks or shopping for clothes. One black suit with 5 different blouses can get you through a week.
DO YOU HAVE ANY ADVICE FOR STARTING A BUSINESS?
It takes money to make money, so be prepared. Having good credit and borrowing abilities to cover overhead and payroll are a must. Your employees and reporters will want to be paid bi-weekly, even as it can take attorneys up to six months to a year to pay a bill.
WHAT IS A GOOD WAY TO GENERATE BUSINESS?
Provide quality work, accurate transcripts, and quick turnaround. Always fulfill what you promise as far as deadlines. Always be professional. You never know which attorneys in the room are watching and looking for a court reporter. Win your clients over, but also win the opposing side over by just doing a great job.
WHERE DO YOU SEE COURT REPORTING GOING IN THE FUTURE?
I see more private arbitrations and private trials happening due to the shortage of courtrooms and staff. Be prepared to report anything, anywhere, any time. Be flexible!