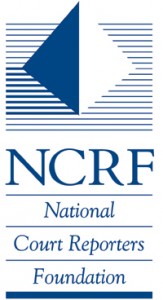 In 2008, NCRF created the Student Initiatives Program as a means to involve students in its Oral Histories Program. The program, which has proven popular among students, will be continued into the 2015 membership year, allowing students who transcribe two oral histories from any of the Foundation's partner organizations the opportunity to earn a free annual membership in NCRA.
NCRF's Oral Histories Program serves as a way to do good while raising the stature of the court reporting profession to the general public. Among the organizations NCRF partners with through its Oral Histories Program is the Library of Congress in Washington, D.C., to support its Veterans History Project, which collects interviews of American war veterans to preserve their war memories. Court reporters transcribe these interviews for future generations to read and for historical research capabilities.
"No matter how many history books and movies that are out there, hearing the firsthand account of what happened during the war period will always be fascinating," said PoSai Li, a court reporting student from Sacramento, Calif., who earned an NCRA membership by participating in NCRF's Oral Histories Program.
"The veterans gave us a small glimpse of not just what the war was like, but how life was back in those times. It's probably very similar to how our parents always tell 'When I was your age, we didn't have…' stories."
The Foundation also partners with the Center for Public Policy & Social Research at Central Connecticut State University and the Missouri Veterans History Project to ensure that the stories of wartime veterans from those states are made part of the VHP at the Library of Congress.
Through NCRF's Oral Histories Program, court reporting students can also earn an annual NCRA membership through the National Equal Justice Library at Georgetown University, to help transcribe the school's popular collection of oral histories provided by legal aid lawyers, administrators, and educators, and with the United States Holocaust Memorial Museum, to help preserve the stories of Holocaust survivors.
"Transcribing these histories is time-consuming based on the fact that not many students are used to editing, reediting, and proofreading so many pages. But if someone has extra time on their hands, I would recommend participating in the VHP to them," said Li.