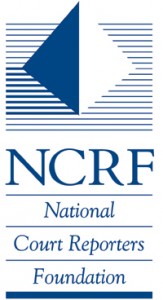 Join the ranks of more than 100 of your fellow court reporting peers who have signed up to support the NCRF's 2015 Angels Donor program and give back to the profession. Tax-deductible contributions to the program are used to help the National Court Reporters Foundation support the court reporting and captioning professions through philanthropic activities including student scholarships, championing court reporter technologies, and encouraging the historic preservation of important American stories through the Library of Congress and the United States Holocaust Memorial Museum.
"It is important that we always give back to the profession that has given us so much," says Bill Weber, RDR, CRR, a past president of NCRA. "This is one small way members who may not be as active as others can participate to help ensure that court reporters will fill their vital role well into the future," adds Weber, a deposition/freelance reporter from Bethel Park, Pa.
NCRA Board of Directors member Jo Anne Horn Leger, RPR, CRR, an official court reporter from Cleveland, Texas, says she would encourage others to become Angel Donors, especially to help support court reporting students.
"I would ask anyone considering donating if they like court reporting students and like to watch them succeed. Knowing that whatever contribution I make – no matter the size – is going to give benefit to a program I support is heartfelt. This is my career, my livelihood, and I want to give back to my profession" she said.
NCRF Angel Donors receive an array of recognition, including being listed on the Foundation's website. In addition, donors are recognized during NCRA live events, including the annual Convention & Expo and the Firm Owners Executive Conference. Other recognition includes being listed on a flyer that is placed in registration packets handed out at NCRA's major meetings, a poster-size signage at the NCRF booth at the Convention & Expo and Firm Owners Executive Conference, and an exclusive NCRF Angel lapel pin. Current-year donors are also recognized at a special Angels-only luncheon held at the NCRA Convention & Expo. The names of donors are included on a plaque displayed at NCRA headquarters and in an annual ad in the JCR that thanks them for their support.
Participating in the Angels Donor program is easy. The minimum donation amount starts at $1,000 and payments to the program can be made on a monthly basis, making participation even easier.
"I realize that monetary contributions are difficult at times, but when I went to the NCRF booth at convention last year and they told me how easy it was to become a donor and that I could do a payment plan … wow, that was like showing me to the discount shoe rack," says Horn Leger.
"I am proud to make my donation every year, and I feel I am both paying back and paying forward at the same time," says Ellie Corbett Hannum, RPR, CMRS, a freelance court reporter from Wilmington, Del., and 2013 NCRA DSA recipient.
"The greatest benefit I have found is that the more I give in life, the more that comes my way. When you give something, you open your hands and offer it; in so doing, your hands are opened in a position to receive. A closed fist can't receive," Hannum says. "I don't give because I am looking for the reward, but it just happens that way. I very much enjoy the interaction with my fellow Angels – a wonderful group of people."
For more information about how to become an NCRF Angel Donor and give back to the court reporting and captioning professions, visit NCRA.org/NCRF.