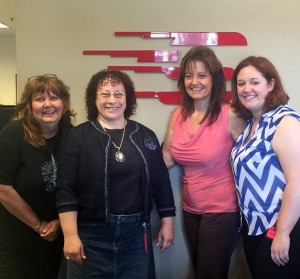 On Sept. 16, the National Court Reporters Foundation held a remote phone-a-thon at Stenograph headquarters in Elmhurst, Ill. This marked the eighth year that Stenograph has hosted the event. Three reporters — Kathy Cortopassi, RMR, CRR, CBC, CCP, from Dyer, Ind., Melanie Humphrey-Sonntag, RDR, CRR, CCP, from St. Charles, Ill., and Jackie Timmons, RDR, from Darien, Ill. — volunteered to make phone calls for the entire day. Together the team raised more than $4,400 to benefit the Foundation.
In addition to the fundraising efforts, volunteers were given a behind-the-scenes look at how Stenograph's machines are made, including the new Luminex machines, each of which is handcrafted at the Elmhurst facility.
"NCRF would like to thank John Wenclawski and Stenograph, our extraordinary volunteers, and our generous donors for making our remote phone-a-thon successful," says April Weiner, NCRF's Foundation Assistant. "Each year, Stenograph graciously welcomes NCRF volunteers and staff as we take over their office for a day. This year they went beyond. The impromptu tour gave the reporters a greater appreciation for the work that goes into making the machines they use and made the remote phone-a-thon an even more memorable experience. We can't thank them enough."
If the volunteers missed you at the remote phone-a-thon or you'd like to give to NCRF, please call 800-272-6272 to make your 100 percent tax-deductible donation.