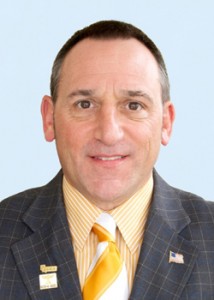 By Steve Zinone
What an incredibly diversified industry our profession has become over the years. I've heard of members captioning the pope's visit here in America, and others working in Cuba and London or covering arbitrations in South Africa. Some members are commuting on a client's personal jet from Colorado to D.C. for deposition work and returning home that afternoon. And others are providing access in the New York Giants' stadium on a Sunday afternoon during an NFL game or covering press conferences after the Masters Golf Tournament to provide a transcript so that the news columnists have direct quotes for their stories. It reminds me of the quote from Pablo Picasso: "I am always doing that which I cannot do, in order that I may learn how to do it."
Over the past few months, I had the opportunity to speak to several past presidents of NCRA. Some of those past presidents were the very same people who paved the way in many of the different facets of our profession and have enabled all of us to succeed. One of the best comments that came out of those conversations was this: Back in the day, the only person who had a computer in the courtroom was the court reporter.
That statement said it all to me. Even back then, court reporters embraced technology. We took risks and created our own high-tech future. And, throughout the years, we remained the guardians of the record and the providers of access. And I look forward to seeing where this will all lead in the years to come.
Happy holidays to everyone, and I wish you and your families and your loved ones a joyous, happy, and safe holiday season.