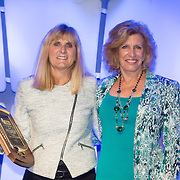 Has a peer or colleague gone above and beyond to support NCRA and the court reporting and captioning profession? Then consider nominating that person for NCRA's 2016 Distinguished Service Award. The deadline to nominate someone for NCRA's 57th DSA is Feb. 12.
The DSA is the highest honor NCRA can bestow on a member. It recognizes the distinguished work and service by an individual member for the benefit of the court reporting profession, including service to NCRA as a member, a committee member, a director, or an officer of the association. Other displays of distinguished work include contributing to the JCR or service at a state court reporters association or in the field of public relations or public affairs. Award winners are recognized at the NCRA Convention & Expo.
To be eligible for consideration, nominations can be submitted only by voting members of NCRA or by recognized court reporting associations. In addition, nominations must include information supporting why the person being nominated should be considered. Finally, DSA candidates cannot be acting as a member of the DSA Committee or as an officer or director of NCRA.
"Each and every year I attend the convention and one of my most memorable moments is the announcement of the DSA," said NCRA member Sandra Bunch VanderPol, RMR, CRR, a freelance reporter from Sacramento, Calif., who was recognized with the Association's 56th award during the 2015 NCRA Convention & Expo held in New York City.
"I relish this moment, hearing about all that each recipient has accomplished for our profession. As I was sitting in the audience in anticipation of the honoree in New York, I began to tremble, with soon-to-be tears of surprise and joy forming in my eyes. This is me, I thought. It was an amazing moment in my career as a court reporter to receive this award. One I will never forget," she said.
VanderPol, a court reporter for more than 40 years who has worked as a freelance and an official court reporter and has been a firm owner, said she is honored to be included in the same group as NCRA's previous DSA recipients and noted that the recognition of such magnitude from her peers means a lot.
"Throughout the convention I received congratulations and kind words from many of you. I will always cherish these kind words and will never forget the kind words of a colleague from California, who said that I was her mentor; she always learned from my articles and seminars, and that I had made a difference in her career," said VanderPol.
Nominations for NCRA's DSA must include the name and address of the nominator, the name and address of the nominee, the number of years the nominee has been reporting, and a biography that includes the individual's background and contributions to the profession. Nominations should be sent to the Chair of the DSA Committee by email at dsa@ncra.org or by mail to c/o NCRA 12030 Sunrise Valley Dr., VA 20191.