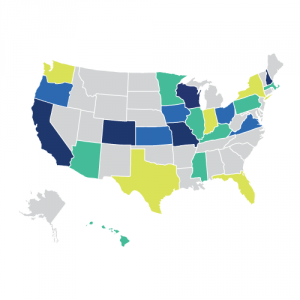 NCRA's 2016 National Court Reporting & Captioning Week will officially end on Feb. 20, but the activity and awareness generated by this year's event is expected to continue well into the weeks following by members of the profession and the media.
This year's celebration marked the busiest with reports of activities coming in from 17 states. While this year many of the activities being reported are being hosted by state court reporter associations, a number of court reporting programs and local associations have also organized events. In addition, NCRA's Communications Team has tracked a significant increase in the number of articles and stories appearing in media outlets across the country generated by the celebration. Below is a list of some of the activities reported as well as media mentions. A full roundup of events and media coverage will appear in the Feb. 24 issue of the JCR Weekly.
U.S. Rep. Frank Guinta (N.H.) recognized the week in a speech before members of the U.S. House of Representatives. The 2016 proclamation was the second consecutive time Rep. Guinta recognized the week.
Official 2016 Court Reporting & Captioning Week Proclamations
California
Colorado
Florida and Miami-Dade County
Illinois
Johnson County, Kan.
Kentucky and the City of Louisville
New Hampshire
New York
Ohio
Oregon and the City of Eugene
Texas and the City of San Antonio
Virginia
NCRA President Steve Zinone, RPR, an official court reporter from Pittsford, N.Y., kicked off the week on Feb. 15 by participating in a panel discussion hosted by the College of Court Reporting in Hobart, Ind. He was joined by Tonya Kaiser, RPR, CMRS, a freelance reporter from Fort Wayne and president of the Indiana Court Reporters Association; Susan Gee, RMR, CRR, a freelance reporter from Cincinnati and president-elect of the Ohio Court Reporters Association; and Kathy McHugh, RPR, CRR, a freelance reporter from Philadelphia and president of the Pennsylvania Court Reporters Association. The discussion, which took place online via the college's Blackboard Collaborate, was hosted by CCR President Jeff Moody. More than 30 participants joined the discussion to hear what the panelists had to say about the greatest challenges they faced in court reporting school and how they overcame them, as well as how they were motivated to become leaders within their associations, the benefits of membership at the state and local levels, and the importance of certification. The hour-long session was recorded and can be heard here.
Zinone followed with a visit to the court reporting program at Cuyahoga Community College in Cleveland, Ohio, on Feb. 17, where he participated in a meet and greet with students, faculty, and guests, before delivering a keynote address. Zinone shared with students his career experiences and highlights, as well as the importance of being involved in court reporting associations at the state and national level, and offered advice on how to succeed in the profession. He also noted the many job opportunities open to court reporters including official positions, freelance reporters, captioners, and CART providers. Zinone was invited by the program's Captioning & Court Reporting Club.
Zinone will wrap up the week with as a guest on Stenographers World Radio airing at 10 a.m. CST, on Feb. 20. Zinone will be interviewed by host Al Betz and will address the future of the profession and the importance of Court Reporting & Captioning to raise awareness.
Other activities marking 2016 Court Reporting & Captioning Week
The New York State Court Reporters Association has hosted a variety of events during the week including meet and greets throughout the state.
Members of the Texas Court Reporters Association have hosted a number of Veterans History Project events throughout the state.
Members of the Oregon Court Reporters Association have participated in a number of meetings with lawmakers and advocacy groups to bring awareness to the court reporting and captioning professions.
The Los Angeles County Court Reporters Association will host a social event for members at the Santa Anita Park racetrack on Feb. 20.
The Mississippi Court Reporters Association has posted a fun video on its YouTube page proclaiming the week and the love of court reporting and captioning.
The 2016 event has also generated more media coverage than in years past. Although no major media outlets to date have used Court Reporting & Captioning Week as a springboard for a story, numerous local newspapers, radio shows, and television segments have.
Media highlights
NCRA members interviewed about profession for Court Reporting & Captioning Week
On Feb. 15, Mass Appeal, Chicopee, Mass., aired a segment about court reporting and captioning careers that featured NCRA Past President Nancy Varallo, RDR, CRR, Worcester, Mass, Kathy Silva, RPR, CRR, Andover, Mass.
Court reporters are an important part of our legal system but often go unnoticed
NCRA member Gail McLucas, RPR, of GLFM Reporting, a freelance court reporter, was interviewed Feb. 17, on Smart Talk a segment hosted by Diane Rehm on radio station WITF, about what court reporters and captioners actually do. The segment was prompted by National Court Reporting & Captioning Week being sponsored by NCRA Feb. 14-20.
Texas court reporters showcased on two San Antonio stations
On Feb. 17, Fox News in San Antonio and News 4 San Antonio both featured segments showcasing the court reporting profession. Local TV personality Cleto Rodriguez interviewed NCRA members Erminia Uviedo, RMR, CRR, a freelance reporter and Mary Berry, RDR, CRR, an official court reporter and president of the Texas Court Reporters Association.
Kansas City Live features court reporting and captioning story
KSHB TV in Oalthe, Kan., aired a story on Feb. 17 featuring official court reporters Cindy Isaacsen, RPR, Kansas Court Reporters Association President, and Danielle Murray, RPR, on its Kansas City Live morning show.
Court reporting and captioning careers featured on CBS12
On Feb. 14, CBS affiliate channel 12 in Palm Beach County, Fla., aired a story that features an interview with NCRA member Christine Phipps, RPR, owner of Phipps Reporting in West Palm Beach, Fla. In the interview, Phipps notes the high demand for court reporters as well as captioners both in and out of the courtroom. "Court reporters across the country have united and are all taking a personal interest," said Phipps.
NCRA members, state associations, and schools are urged to share with the Association updates about how they have or plan to celebrate 2016 Court Reporting & Captioning Week by emailing aroketenetz@ncra.org. Other activities for celebrating the week include sponsoring a court reporting student's NCRA membership or 2016 Convention & Expo registration fee, mentoring a student, or supporting one of NCRF's programs by making a contribution. Looking for ways to participate? Visit NCRA's Court Reporting & Captioning Week awareness page for an array of resources tailored for members, state associations, and court reporting schools. Resources include press release templates, sample proclamations, talking points, posters, presentations, links to the Take Note campaign materials, and more.
NCRA has also added a new power point presentation called Careers in Court Reporting to its Court Reporting & Captioning Week resource center. The presentation, which is located under the ideas and additional resources heading on the members, states, and schools section, can be customized by the user. It encourages audience members to learn more about the court reporting and captioning professions by downloading several articles showcasing careers in these fields. The page that features these articles will also capture contact information from those who access it and provide NCRA with potential leads for new members and students.
For a complete list of activities happening to mark the 2016 Court Reporting & Captioning Week, visit NCRA.org/Awareness.
For more information, visit NCRA.org. Career information about the court reporting profession — one of the leading career options that do not require a traditional four-year degree — can be found at crTakeNote.com.