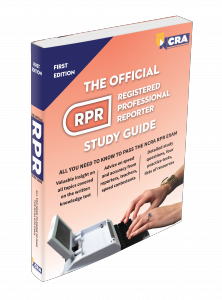 NCRA's RPR Study Guide is a comprehensive book that takes each knowledge area of the RPR exam and provides a manageable, straightforward tutorial of what candidates need to learn to be successful on test day. Released in the spring of 2015, the RPR Study Guide can provide the edge to candidates readying to test for the certification. With registration now open for test dates in April, this is the perfect time to invest in the guide.
The guide includes individual sections focused on the different topics of the Written Knowledge Test, tips and tricks for speedbuilding and avoiding test anxiety for the Skills Test, and hundreds of practice questions, including pinpointed subject tests and full practice tests that mimic the real thing.
It is a one-of-a-kind resource for court reporters working to become certified, as well as students who are finishing their court reporting program, like Valerie A. Pavlik, a student at MacCormac College in Chicago, Ill., who purchased the book to prep for not only the RPR but also her state certification.
Pavlik, who plans to freelance when she graduates in May and eventually hopes to become an official court reporter, says she particularly found the English and the legal sections of the book useful, and the manner in which the book provides a breakdown of tests by percentages very beneficial.
"I've already recommended it to others who are also interested in taking the RPR," Pavlik says.
The study guide is also a valuable tool for working reporters who need their RPR due to a move or new state legislation, as well as previous test-takers who are looking for that extra push to successfully earn their certifications. In addition, the RPR Study Guide provides background information about NCRA and how the association functions, as well as logistical information about taking the exam itself, especially for the new online skills testing.
The RPR Study Guide was supported by the National Court Reporters Foundation and written with the help of Brenda Fauber, RDR, CRR, CPE, an official from Omaha, Neb. Fauber served on both NCRA's Item Writing Committee and the Test Advisory Committee. Throughout the study guide, she offers advice to prepare for the exam while also providing detailed explanations of sample study questions, allowing readers to go inside the head of a testing expert. Other contributors include past National Speed Contest participants and Marybeth Everhart, RPR, CRI, CPE, myRealtimeCoach's national marketing manager.
The RPR Study Guide is available in the NCRA Store and is priced at $124.95 for members and $162.44 for nonmembers. There are additional discounts for students.