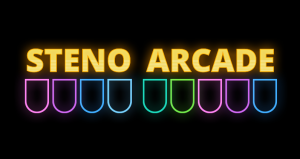 In March, Mirabai Knight, RDR, CRR, CRC, and The Open Steno Project launched a crowdfunding campaign to fund the development of a series of games called Steno Arcade. Knight, a CART captioner in New York, N.Y., founded The Open Steno Project (which was originally called The Plover Project) in 2010.
Steno Arcade has been developed in conjunction with For All To Play, a game studio that designs and develops video games that are accessible to people with visual, hearing, physical, and cognitive disabilities. The first game in the series, Steno Hero, is now available for download for free. The press release compares Steno Hero with "singing karaoke with your fingers," but it can also be compared to the popular video game Guitar Hero. Players hit steno chords or keyboard keys to produce the lyrics of music while the song plays; it can be played using either a steno or QWERTY keyboard. Players can use either the Plover software or any professional court reporting software, such as Case CATalyst, Eclipse, and DigitalCAT. Currently there are four songs by artist Jonathon Coulton, with more in the works, at a variety of speed levels.
"A lot of people learned to type using typing games, and some QWERTY-style typing games are useful for drilling certain steno skills, but we realized that there were some aspects of the steno learning process that needed direct, focused attention (like steno layout drilling, stroke rhythm, and dictionary building) and there aren't any QWERTY-style typing games that can help with those skills. So we decided to build our own. The great thing about video games is that they can easily be calibrated to your own skill level, so that they're just challenging enough to be worth playing, but not so hard that you give up in frustration," said Knight.
While The Open Steno Project has had a free online textbook for users to teach themselves steno, Knight saw value in developing a game: "I thought that a game would be a much more compelling and less intimidating way to learn steno fundamentals than a textbook, and I imagined an old-fashioned arcade-style game suite (I am a child of the '80s, after all) that would walk people through different aspects of steno using fun, fast-twitch games to hone each skill." The other games in the series will teach skills that include steno keyboard layout, common chord combinations, drilling common one-stroke entries, and turning multisyllabic works and phrases into briefs. Knight also hopes to not only develop more songs for Steno Hero but also give the user the ability to use any song files in their personal library.
The crowdfunding campaign will run for several months with perks at different funding tiers such as steno keyboard stickers, Steno Hero t-shirts, and "an online steno tutoring session and/or Plover training session from [Knight], for people who would like a little personal guidance rather than just jumping into the game feet-first." Knight said, "The game will be released for free no matter how much funding we get, but the more money we receive, the more games we'll be able to develop."
According to Knight, the game has the potential to benefit a variety of audiences. "As a professional, I find the game really fun and relaxing. I used to warm up to music before taking my certification tests, and I think that would have been even more satisfying with a point-scoring system like Steno Hero has. It's also fun to compete with colleagues in a friendly way to see who can get the highest scores," she said. "Students will definitely find the game helpful; they can start on the slower songs and slowly work their way up to faster and trickier ones. When the other games are developed, they'll be able to make levels out of their steno coursework by uploading vocabulary lists and then drilling them in a way that will probably be a bit more engaging than just dry dictation drills."
But Knight is looking beyond the typical professional court reporter and captioner or court reporting student for potential audiences. For instance, using For All To Play as a developer was a conscious choice. "They focus on building screen reader–accessible games, and it was important to me that Steno Arcade would be accessible to screen readers, because I have a pet theory that blind and low vision people would make better than average stenographers, since they tend to listen to synthesized speech at over 400 words per minute on a daily basis. When Steno Arcade is complete, I'm going to do a lot of outreach to the blind and low vision community, and hopefully I will be able to recruit a substantial number of amazing new stenographers to our ranks while helping to tackle the chronic underemployment problem in the blind and low-vision community."
Knight also emphasizes the value of the game for younger players. "I know a lot of professional court reporters and captioners have said that they'd like to interest younger friends and relatives in their profession but aren't sure where to start. This would be a great opportunity to start building steno skills in kids while they're still young."
Finally, by designing an accessible and entertaining game, Knight hopes Steno Arcade will open up stenography to a wider audience. "One of the precepts of The Open Steno Project is that you can't have a thriving professional community without an even larger amateur scene, and this allows people to dip their toe into steno in a low-cost, low-pressure way, without committing to anything," said Knight. "Some people might play for a while and then decide steno isn't for them, some might start using steno in their daily life but not want to make it their career, but some might just fall in love with it and decide to pursue it as a profession. I'm hoping to revitalize the industry by making steno the coolest method of text input in the universe, and I think this game is the best possible way to accomplish that goal."