By the NCRA Student Committee
"You should treat court reporting school as a full-time job."
This mantra is repeated to students as a reminder that total concentration and dedication is the key to getting through school quickly. While this a worthy endeavor, more often than not, students will have to consider working at some point while in school to make ends meet. The cost of enrollment, equipment, and the sheer amount of time that it can take to get through school can be a steady and ruthless drain on one's savings.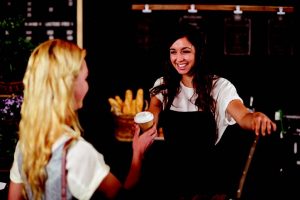 The decision to take on a job, however, isn't an easy one to make; a litany of pros and cons have to be weighed before taking the plunge. Will a job take precious time away from studying, only further prolonging your graduation date? Can a job give you a chance to put your current stenography skills to use and build a valuable network even before stepping into the working world? Or can even some seemingly unrelated jobs provide not only a blissful break away from studying but also unique opportunities to hone other skills that will help you on the job?
We asked students and working reporters about their experiences as working court reporting students and came back with a variety of stories that may surprise you.
Jobs to jumpstart careers
When most students think about picking up side jobs while in school, they hope to find something that ties in closely with their future career goals. Luckily, court reporting and the legal field provide a wide variety of venues for students to jumpstart their careers before graduation.
***
I am currently an employee at a local court reporting firm. I am in the production department, and I produce and bind transcripts our reporters turn in. I absolutely love working there because it immerses me into the world of court reporting. I am getting to meet and make friends with reporters who are more than happy to let me sit in their depos and can't wait for me to finish school. I am learning so much from having access to those kinds of resources and being able to ask all of my questions. The connections I have made and continue to make are helping me as a student and will continue to help me when I become a working reporter.
They are extremely flexible and love that I am a student. In fact, when they were hiring, they specifically asked for court reporting students. They are very understanding of my schedule and work with me when needed. Just recently I had to do a summer semester of school synchronously from work, and they allowed me to use one of their conference rooms. I went to school for two hours and then came right back to work. They are very accommodating and extremely understanding. They can't wait for me to transition from an employee to a resource as a court reporter.
— Lauren Bettencourt, San Jose, Calif.
***
In 2014, I graduated from Gateway Community College in Phoenix, Ariz. In addition to scoping, I work as a legal assistant. I started working as a legal assistant in a law firm the year I started court reporting school. I am currently working towards passing the last two legs of the RPR, and I still enjoy both my jobs. Working at a law firm has been a great experience for me, and I think it is a job that a court reporting student can really use to his or her benefit. I have learned so much about the legal field, and I have a better understanding of legal terms and processes. This job is a great way to use those punctuation and proofreading skills that are extremely important in this line of work. I also get the chance to meet attorneys and court reporters, and they are always supportive when finding out that I am working towards certification.
I started off doing basic case filing at the firm. My duties now range from drafting correspondence and preparing discovery to case organization and even some light transcription. A task that is especially interesting for me is summarizing depositions. Besides noting the similarities and differences between each deposition, I am learning from examples on how reporters deal with tricky punctuation issues. I look forward to the day when I will be the certified reporter responsible for a transcript. Until then, I will continue to use this experience as an extension of court reporting school while cultivating my legal vocabulary and understanding of the legal industry.
— Gretchen House, Phoenix, Ariz.
***
I have two experiences as a student. One, myself being a student, as well as being a child of a student. When I was in school, my job was to get through school. I waitressed at a high-end restaurant on Friday and Saturday nights to take care of my responsibilities. All other time was spent on the machine. By the time of 150 and beyond, practice was a minimum 20 hours out of school a week and at least 12 hours at school.
My mom graduated court reporting school in 19 months. I was 14. She went to school, raised three kids, and helped my dad run his business. I'm truly amazed by her perseverance. She would practice everywhere in crazy noise levels, etc., with her headphones on. Her example to her children would fill too many pages and would still not be able to describe all that she taught us about being independent, the ability of caring for others emotionally, physically, and financially, and never, ever giving up on goals no matter the sacrifice to achieve them.
I know some students have to work. There is no other choice. For those that have some flexibility, I do encourage you to look at how many hours you are not spending at your machine as a low-income job, where if you practiced an additional 16 hours a week, you could get out of school six months earlier, and your bottom line will be much better off!
—
Kelly Linkowski, Rittman, Ohio
NCRA Student Committee member
***
Since starting court reporting school in 2011, I have been a full-time employee by day and a full-time student by night. From 2011-2012, I worked at a law firm in downtown Los Angeles. Since 2012, I work at a court reporting agency full time, answering phones and managing the calendar, transcript production, and video production. In addition to my work for Bayside, I also answer phones and manage the calendar for four other CSR-owned court reporting agencies. Needless to say, I am usually pretty busy at work every day, and taking a vacation is not easy to do as I am the only one who works in the office.
I love what I do, though, as it is teaching me how to become a good court reporter before I graduate, and what to do and what not to do once I pass the CSR. I have five amazing bosses I can look up to and ask any questions I may have, and they educate me on how they would personally handle situations that come up at the office. The absolute hardest thing about working full time and going to school full time is coming home after work and not getting to plop down and just relax after a long day of work. Somehow within myself I have to find the desire and motivation to practice. I'm not going to lie, there have been days where I just can't convince myself to get on my machine. It's a daily battle my brain and body have. I entice myself by setting up rewards after a practice session. "Practice for one hour, have a bowl of ice cream. Practice for one more hour, watch a TV show." For a while I debated about staying at my current job as an office manager instead of becoming a court reporter, but I realized that as much as I love my job more than any other job I've had before, I know I'm going to love being a CSR more.
— Celeste Poppe, Los Angeles, Calif.
Working for the paycheck
But what about those who may have a job that's completely unrelated to court reporting? It just takes a creative mindset to see the benefit in any job and to trust that everything you do your in life is working towards that singular goal.
***
Learning stenography is a tough task, but learning stenography while working a full-time job is even harder. To pay for my one-bedroom apartment, tuition, bills, and life in general, I work as a server/waitress. I do like my job, but like most jobs, some days are much harder than others. The flexibility of my schedule, the earning potential and, well, the earning potential is what keeps me going. I love it when people are nice to me, respectful of my job and what I'm doing, and compensate (tip) me appropriately. Some people are rude and even disrespectful, but I always remember that not all people are like that and that my job still needs to be done. Because of this job, I've bettered my communication skills and am able to pay to live and survive. I've met some very interesting people while serving, many of whom are understanding of how difficult it is to learn steno and respect me for that along with working full time. Overall, I'm very thankful for this job and all the skills it has provided me. But I can't wait to change chapters and begin my new career as a certified court reporter.
— Jeannin Alexis, Atlanta, Ga.
***
While a full-time, high-speed student, I also currently work full time as an e-commerce specialist for a biotech company. It's not easy. My day starts at 3:30 a.m., and I usually work between eight and ten hours per day, plus some weekends. For a long time I was unhappy about this, wishing that I could attend school full time and not have to work. However, I decided to change my thoughts and think of the good it does for my future as a stenographer.
Working at my job has taught me strong work ethics, and I know what it takes to meet crucial deadlines, be professional and punctual, and work well under pressure. I currently deal with end-users who have heavy accents; so I'm getting acclimated to the accents I will hear on the job. I've worked closely with government agencies dealing with contracts, government grants, stem cell research, and laboratory instruments. You just never know what will come up in court, captioning, or in a deposition; so the exposure to such a wide variety of fields is invaluable. I decided to look at the bigger picture and remind myself that just because I have to work and bring in a steady income, everything is about timing. There are advantages and disadvantages to working while attending school, but the good news is that as long as you work hard, regardless of what the circumstance may be, it will pay off in the end, and the labor will be well worth it.
— Shaunise Day, Oakland, Calif.
NCRA Student Committee member
***
While I was in school, I took up a promotions job to help cover expenses. Most of the time, I was the "Bud Light Girl," doing promotions during sports games at local bars and restaurants. It was a flexible, good-paying job that didn't interfere with daylight school hours or practice time. While it didn't give me much experience for court reporting, it absolutely taught me how to converse with a wide variety of people. Writing well and producing good transcripts is only half of the job — you have to be friendly and able to sell yourself, too!
— Anonymous
***
Of all the advice I've received about being successful in school, the piece about occasionally stepping away from the machine is one that I take to heart, so I enjoy doing a job that's completely separate from court reporting: art modeling. What could be further from finger drills and legalese than art? As a part-time gig, art modeling pays well for relatively little effort, the schedule is entirely customizable, the audience is always interesting, and the work is very satisfying — you're creating art right along with the artist without even picking up a brush.
As separate and apart as it seems, however, I've still managed to find some tie-ins to court reporting. Art models find work either through guilds (think firms) or through word of mouth (think freelance reporters.) The job still demands professionalism, timeliness, and a willingness to adapt to your clients' needs; and your product (poses) is what speaks for you. Once you've developed a good rapport with the artist or group, they will ask you back by name. And once you've worked for a variety of clients, you'll learn to be more discerning of where you spend your time and energy based on a group's rates, method and speed of payment, and tendency to leave good tips. When my daily schedule consists almost exclusively of court reporting, I appreciate the reminder that there is a world out there that is just as beautiful and deserving of celebration as court reporting.
— Katherine Schilling, San Jose, Calif.
NCRA Student Committee member
***
For as long as there has been court reporting school, there have been students working their way through school. So if you're finding yourself in a position where you need to bring in additional income as a student, know that many others have come before you and many more will come after. It always helps to hear what other students have done in your same situation, but know that whatever decision you make will ultimately be the right one for you. Just remember that we'll all be at the finish line together, welcoming you into your new career.
This article was put together by members of NCRA's Student Committee.