When taking an online skills test, knowing the process and equipment needed is the first step to success.
By Marybeth Everhart
Online testing is well underway, and hundreds and hundreds of tests have been completed, uploaded, and instantly graded. The delivery time for final results has been whittled down from six weeks plus to three to seven days. So, what's holding you back from taking a test online? Perhaps you're concerned about the process and what you need to know to successfully complete a skills test. First and foremost for any exam is to know the rules — what are you allowed to do, and what is taboo? Don't go by what you read on Facebook, but do the research yourself. This is your test, your opportunity to attain a new credential, so why rely on rumor and speculation?
Whether taking a realtime or transcription test, there are several things you need to know:
What additional equipment is needed, if any?
Where are your CAT files housed on your computer?
What are the file extensions for both a steno note file and a transcript (text) file in your CAT software?
How do you mark and copy text in your CAT software?
Are you allowed to print your test for proofreading (transcription tests)?
If you don't currently know the answers to all, or any, of these questions, there's plenty of help available.
First, some of those questions will be answered in this article. Second, there's the Online Testing FAQ document available at NCRA.org/SKT; look for the link titled "Taking an Online Skills Test with Realtime Coach and ProctorU." Third, there's a Detailed Instructions document available on myrealtimecoach.com, under the Test Tab, and in the NCRA Certification Test Center.
You'll need the same equipment to test online as you did in a brick-and-mortar setting, plus a few other items. First, you'll need your steno machine (writer), your CAT software, and your computer, just as you did to test on-site. In addition, you'll need headphones to listen to the audio portion of the test. Why headphones? Two reasons: 1) to block out all extraneous noise so you're better able to hear and concentrate on the audio, and 2) so that there is no ambient audio to record. This is one of many security measures to maintain the integrity of the exam.
Next, you'll need an external Web cam. Why external, you ask? Well, your proctor is going to ask you to perform a 360-degree pan of the room to confirm that you are the only person there, and that your speed demon best friend isn't, in fact, taking the test for you. Since we all have many things plugged into our computers, such as the writer, a printer, one or more monitors, and so on and so forth, it will be nearly impossible to use the built-in camera. All those wires and cables attached will prevent you from spinning the computer around 360 degrees.
That said, you don't need to spend a lot of money on an external Web cam! I picked mine up for $5.99, and it works like a charm. The most important feature of the camera is a stand because you'll need to rest it on the desk aimed at you and your writer once you complete the pan of the room. If there's no built-in stand, you'll constantly be fiddling with the camera to get it and keep it in the correct position.
Finally, you may need a shredder as well. If you are taking a realtime test, you do not have the opportunity to either edit or proofread your test prior to submission, so no shredder is needed. For a transcription test, however, you may wish to proofread from a printed transcript rather than your computer screen. In that case, you will need a shredder to destroy the printed version in front of the proctor before logging off.
Now that you know what additional equipment you need, let's focus on practicing. Once you register for a test at NCRA.org, you'll have 30 days in which to actually take the exam. That means 30 days to practice the testing process, and you can walk through that process as many times as you need to feel comfortable. So, let's walk through it now. Register for a test at NCRA.org/Certifications. Within three business days, you'll receive an email from Realtime Coach containing a link to the site, your login credentials, and some instructions. What if you don't receive that email within three business days? What should you do? First, check your spam folder to be certain it wasn't caught in a filter. Second, be sure you're checking the email address provided to NCRA when you registered. If, after checking both areas, you still do not find the email, contact NCRA.
After receiving the email, click on the link contained in the email to go to myrealtimecoach.com, and use the credentials provided to log in. From there, click on the Test link at the top, and select "NCRA Certification Test Center."
Once you select the NCRA Certification Test Center, you'll notice the screen below changes. The NCRA logo will appear and there will be three options: Purchase, Prepare, and Test.

There's no need to repurchase if you already registered and paid through NCRA.org, so skip straight to the Practice section. Again, you'll see three options: Purchase NCRA Cert Prep, Try a Practice Test (no proctor), and Schedule/Take a Proctored Practice.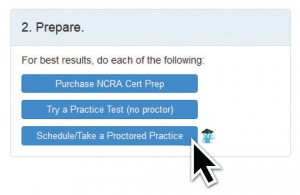 The Cert Prep package is included in the Realtime Coach Ultimate membership, which you can purchase by simply clicking the link and completing the purchase process. If you click on "Try a Practice Test (no proctor)," you'll see that there are free practice tests, one for each type of certification offered:

These tests can, and should, be practiced again and again until you feel comfortable with the testing process. The steps are identical to those of the actual test, so this is your opportunity to get comfortable and build your confidence. You don't want any guesswork on test day! There is also a short video available on how to take a test in RealtimeCoach, and that can be found by clicking on the down arrow next to your name, once logged in. Select Setup & Help, and Tips & Tutorials. There you'll see a link for Testing in RTC3: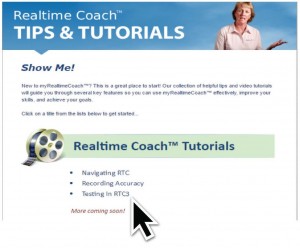 There are several steps involved in completing both the practice tests and the actual exams. Pay close attention to the instructions that appear below the video screen, as these change with each step in the process.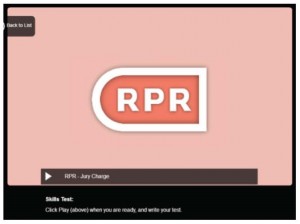 When ready, follow the prompts and begin your test:
Listen to the warm-up. For the actual test, you will have the option to click on the Skip Warm-up button if you prefer not to write the warm-up on test day.
Write the test
Attach your steno note file. Note that you do not need to save the notes as a PDF or any other format. The native CAT format is fine. If you accidentally attached the wrong note file, click on the Re-Attach link, and this time choose the correct file.
If you are practicing/taking a transcription test, your timer will then begin, so go to your CAT software and begin editing. Once you've completed the editing of your transcript, attach it. If taking a realtime test, you obviously do not have any editing time, so attach your transcript immediately. Again, simply upload the transcript in the native CAT format, for example, ECL.
Finally, copy the text from your CAT software and paste it into the My Transcript window in MyRealtimeCoach to receive your estimated score.
You can also practice the attaching steps by simply emailing steno note files and transcript files to yourself.
Once you've practiced the process until you're mastered it, let's add another layer and take a proctored practice. This is just as you would imagine it is from the name: an opportunity to practice again, but this time with a proctor watching. You actually get to walk through the entire proctored process, so do it! This is also a great opportunity to test your equipment and fix anything that needs fixing prior to test day. When ready, click on the Schedule/Take a Proctored Practice, which will take you directly to the scheduling section of the ProctorU website.
Before you schedule your proctored practice, however, click on the Test Your Equipment button at the top, and you'll see all aspects of your setup are tested for a proper connection to your proctor:

There's no need to leave any aspect of online testing to chance. After completing the system check, click on the Schedule New Session button, and make the appropriate selections. Be sure to choose Practice Test from the drop-down menu: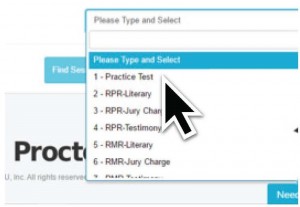 Click on the Find Session button, and select a date and time frame in which you'd like to take your proctored practice. Note that you must schedule your practice and your test at least 72 hours out, so plan accordingly.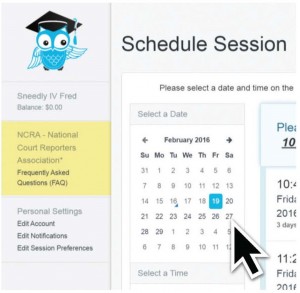 It's worth noting that you also have yet another opportunity to access and review the NCRA online testing FAQs from here as well.
As you near the scheduled time of your practice test, log onto the MyRealtimeCoach site and select the Test link and the NCRA Certification Test Center. Once again, click on the Schedule/Take a Proctored Practice and you will, again, go to the ProctorU site. Once you connect with the proctor, he or she will complete the verification and authentication process, secure the test area, and allow you to complete the practice test. If all goes well in your proctored practice, go ahead and schedule your actual test. If there are any hiccups in your practice test, resolve those and schedule a second proctored practice. Do not schedule your official test until you have successfully completed a proctored practice.
To review, practice within RealtimeCoach as many times as you'd like to master the process. If you'd like graded feedback on your skills, purchase a MyRealtimeCoach membership. Then schedule a proctored practice, and once you've successfully completed that, schedule your test. Good luck on your next certification exam! Ready, begin…
Marybeth Everhart, RPR, CRI, CPE, is the national marketing manager at RealtimeCoach, a realtime trainer, and former court reporter. She can be reached at meverhart@learnrealtime.com.