By Paulette Cox
"Have you seen a man skillful at his work? He will stand before kings. He will not stand before common man." – Proverbs 22:29
I often feel this way on my assignments, and that's the idea I tried to convey to students at the Annual Career and College Fair in Winslow Township, N.J., on May 27.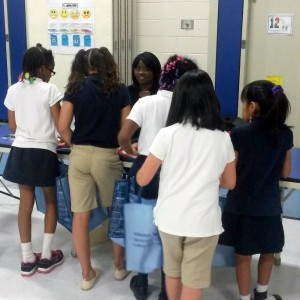 The very enthusiastic students and even teachers were excited to see their spoken words on the computer screen. One third-grade teacher said, "I have to take a picture of that."
This year I was joined by Cherilyn McCollum, RPR, the president of the Certified Court Reporters Association of New Jersey (CCRA-NJ), who graciously wrote the students' names on steno paper so that they could keep it as a souvenir.
Mark Kislingbury, RDR, CRR, who holds the Guinness World Record as the fastest writer and is no stranger to this part of south Jersey, sent a videotaped message on the basics of writing on a steno machine. He also gave a glimpse of the various types of machines that are used today.
Veritext and CCRA-NJ provided goodies for the students, and I sent out a very special thanks to them for their support.
More than 300 students participated in the event, which featured other professionals such as engineers, pilots, teachers, medical professionals, social workers, police officers, journalists, and photographers, among a host of others.
Paulette Cox is a freelance reporter from Sicklerville, N.J. She can be reached at plttknigh39@gmail.com.