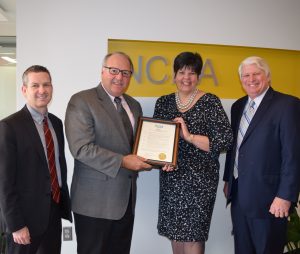 John Wenclawski, who retired as president of Stenograph after more than 30 years with the company, was honored by NCRA and NCRF with a resolution recognizing his contributions to the court reporting and captioning professions. NCRA President Tiva Wood, RDR, CMRS, presented the resolution to Wenclawski on Feb. 7 at the Association's Reston, Va., headquarters.
The resolution, approved by NCRA's Board of Directors, recognizes a number of milestones in his career. Specifically, the Board recognized Wenclawski for ushering in an era of greater technological use by stenographic court reporters through computer-aided transcription, overseeing the development of lighter and faster stenographic machines, and establishing relationships with schools to aid students and new reporters as they started their careers.
Wenclawski, who joined Stenograph in 1983, was named its president in 1994. His retirement became official in December 2016. During his long career in the court reporting and captioning industry, he also served on the National Court Reporters Foundation Board of Trustees and supported both the Foundation and the profession through donations for research and programs that benefited all court reporters.
Jeremy Steele, formerly deputy general counsel for Heico, Stenograph's parent company, has succeeded Wenclawski. Steele was on hand as Wenclawski received the resolution recognizing his contributions to the profession.