Use of technology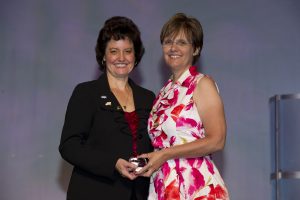 Jen Krueger, RMR, CRI, CPE
Parma, Ohio
Dr. Jen Krueger, an associate professor at Cuyahoga Community College, has been using several technologies with students to promote learning: CAT software; Realtime Coach; Audacity; snipping tools; Camtasia; and Excel. Using these tools allows her to create and track data to help students understand how they are progressing and helps her figure out ways to help them advance through their classes. Krueger evaluates students' writing within their digital transcript files and the feedback they receive within Realtime Coach. She tracks hours practiced in correlation to strokes attained against accuracy achieved using an Excel spreadsheet. Krueger actively searches for patterns in the Excel spreadsheets
to identify problems executing appropriate key strokes for each individual student. Krueger creates a differentiated instructional plan for her students. For example, some are advised to work at a particular speed, within a category, or in a minute-by-minute fashion.
Based on her observations and the feedback, she creates audio files in a drill-like format using Audacity to enhance a student's automatic response to ensure accurate translations. Additionally, Krueger creates screenshot videos reviewing passages to transcripts. These are emailed and/or provided through grading feedback. By combining these technologies, Krueger fosters a positive learning environment that focuses on each individual. This creates an environment of improved communication, heightened student awareness of their own writing, greater motivation, along with positive relationships between faculty member and student. Taken together, "these efforts have impacted our program positively as evidenced by improved realtime writing skills and progress among our students," wrote fellow Cuyahoga instructor Kelly Moranz, CRI, in her nomination of Krueger.