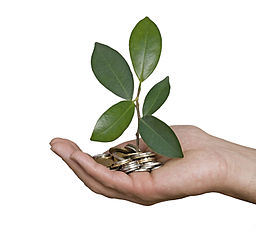 In honor of Earth Day, which was April 22, the JCR Weekly asked members, "What is one way you're going green in your professional life?" Respondents had an opportunity to elaborate on their answers and share their tips for going green.
Going paperless
Members shared several different products to help them go paperless, including:
Freshbooks and QuickBooks for accounting
iAnnotate and Adobe Acrobat Pro for proofreading
Min-U-Script and Cat Scratch on Case CATalyst for transcript production and annotating
Dropbox and OneDrive for file storage
Google Calendar for date organization
Carbonite for data backup
Many court systems are moving towards going paperless anyway, which means officials need to follow suit, although sometimes the reporters are on the front lines. "We have an appeal, a copy of the transcript gets filed with the chief clerk's office. When I got here, I convinced the chief clerk to accept the transcripts electronically," said Carolyn Kerr, RPR, an official in Buffalo, N.Y.
Having electronic files can make it easier to look up information. "I use a scanner to scan all of my court schedules and documents. If I need to look something up, it's a quick word search to find the hearing," said Melinda Dexter, RMR, an official in Lansing, Mich. "My court district will soon be filing appeals electronically, and I will be able to look up names and spellings through the court file instead of having all the paperwork," said Rose Scott, an official in Hattiesburg, Miss.
However, the two biggest hurdles to going paperless seem to be getting rid of old papers and having a logical electronic filing system. "I am required to keep my notes in civil cases for three years and in criminal, 15 years. I am going back to the beginning of time and scanning all my docket sheets and trial folders and archiving them along with my digital steno notes and daily realtime files. Then I'm shredding, where appropriate, and recycling the mountains of paper," said Molly Bowers, RDR, CRR, an official in Hurst, Texas. "Going forward I am keeping all my documents in electronic format only."
"We scan, scan, scan," said Judy Walls, a firm owner in Kissimmee, Fla. "We have generated scanned folders for almost everything from transcripts to exhibits to receipts to tax returns."
"Also, having recently been audited by the IRS, I have come to realize the importance of having everything organized in a way that allows for ease in accessibility — and makes sense to find it! The IRS permits scanned images of receipts, etc., so original documentation and receipts are no longer required," said Sarah Nageotte, RDR, CRR, CRC, an official in Jefferson, Ohio. "So I scan my receipts and documents (if not already electronic) and then place them in a tax-year folder under the appropriate label names. If not near my computer, I use Tiny PDF, a free app on my phone, to take a photo of a receipt, which then converts it into a PDF document and uploads it to a selected folder in Dropbox right from my phone."
Members have found paperless solutions for every step of a job. "I specifically ask my clients if they want only electronic files of the deposition and exhibits," said Cheree Murphy-Carlson, RPR, a freelancer in Minneapolis, Minn.
"I send as many transcripts as possible via email along with my invoice, so that I save the cover, transcript paper, envelope, and invoice paper copy," said David Sroka, RPR, a freelancer in Dagsboro, Del. "I also try to do minis as much as possible, which also saves on paper."
"I am using a proofreader now. I send my transcripts to her electronically, so I no longer need to print a hard copy at home to proofread. And I know she proofreads on a tablet, so no extra paper there," said Cindy Sewers, RPR, an official in Calgary, Alberta, Canada.
Going paperless also means upgrading from a paper writer. "I finally retired my two beloved Flash writers (which used paper) and moved up to a top-of-the-line paperless steno machine," said Catherine Kirkland, RPR, a freelancer in Albany, N.Y.
"Going paperless for me is 'think before you print,'" said Linda Riffle, RDR, CRR, a freelancer in Columbus, Ohio. "My goal for 2017 is to have all of my receipts and documentation in electronic format for my accountant at the end of the year. This includes saving, not printing, receipts for online purchases, and having in-store receipts emailed instead of printed at the register.
Transportation methods
Several members reported that they use the local bus, train, or subway system to get around. For many of them, taking public transit doesn't add much travel time but does provide more convenience.
"I use public transit in Los Angeles because of the congested rush-hour traffic. Also, parking is expensive, even with the county contribution of $70, which is then rebated to me and pays for the majority of my commuter expenses," said Christine Taylor, RPR, CRR, an official in Sierra Madre, Calif. "My husband is retired, we have one car, and he does drop-off and pickup at the local station, which has the extra convenience of saving me the few minutes of parking the car." She added that she often carpools to state association events with other reporters.
"I've been riding the bus for about five years now. I love it. I live about 17 miles from the courthouse, but it takes 40 to 45 minutes depending on traffic. The bus takes about five minutes longer because it's an express bus with limited stops. It drops me right across the street from work," said Diane Sonntag, FAPR, RDR, CRR, CRC, CPE, an official in Oro Valley, Ariz. "It's also cheaper because we have to pay for parking downtown. The county pays half of the bus fare for employees. It costs about a third of what it costs just to park, not counting gas. It makes the day much less stressful!"
Brytta Fitzgibbons, a scopist in Cedar Rapids, Iowa, mentioned a few other perks to taking the bus: "The drivers are helpful, transit staff is friendly, and service is accommodating."
"I take a commuter bus (rail service doesn't extend very far in Massachusetts), then I walk to most of my jobs (Boston is pretty small and it's good to get some exercise) or if the weather is really bad, I take the T (Boston's subway) once I'm in town," said Kimberly Smith, RDR, CRR, a freelancer in Salem, N.H., who often works in Massachusetts. "If my job goes really late, I'll take a cab or Uber back to the bus terminal."
"Living in NYC, there's no better option than public transport and walking around the city," said Devora Hackner, a student in Brooklyn, N.Y. "The subway has the highest reliability ratings of getting you where you need to go when you need to get there."
Both Taylor and Sonntag mentioned that riding public transit means they are able to do other things while traveling, such as reading emails, catching up on the news, or for doing something fun.
Ashley Zaccaro prefers to use two wheels to get around. "I cycle to work on my bike that I own. It's environmentally friendly, good for my health and fitness, cost effective, and much more peaceful than taking the subway," said Zaccaro, a student in Brooklyn, N.Y. "Preparations include having to make sure my tires are pumped, packing clothes to change into, and in the winter making sure I have my bike lights and that they're charged for the ride home."
Linda Taylor made her car greener instead. "My partner and I drive hybrid cars, a Toyota Camry and a Prius, so we save an incredible amount of money at the pump and we use less resources/fossil fuels each time we get behind the wheel," said Taylor, a freelancer in Louisville, Ky.
Recycling electronics
For recycling electronics, if the city doesn't provide some kind of event or drop-off location, many chain businesses accept them.
"I take computers, printers, monitors to Best Buy for recycling. I have taken rechargeable batteries to Radio Shack," said Aimee Suhie, RPR, a freelancer in New Fairfield, Conn., although she adds that Radio Shack is out of business in many areas. "Goodwill and Salvation Army take some electronics for recycling," said Linda Frost, a freelancer in Oakdale, Pa. Lisa Cauthen has adopted a regular cadence for taking in electronics and other recyclables. "Anything electronic is recycled yearly (or more frequently, if necessary) at our local Best Buy at no charge," said Cauthen, who is a firm owner in Aledo, Texas, adding that monitors are charged a small fee. "Ink cartridges are recycled through our local OfficeMax store."
Many towns and cities have taken the initiative to host regular recycling events, many of which take items beyond electronics. "My town has been encouraging recycling on many levels in the last few years. The town coordinates drop-off events at various villages within its borders starting in the spring going through the fall," said Leigh Chapman, a reporter in Stony Brook, N.Y. "We just had one on April 7th, where I recycled old telephones, electrical cords, an old tube TV, an old heater, and a computer monitor. They also had shredding available and safe disposal of unused/unwanted drugs."
Margo Lucas, RPR, CRC, CRI, a CART captioner in Menomonee Falls, Wis., gets documents about the city's e-cycling program among with her property tax bill. Her local library has bags from a waste management company for used ink cartridges that the postal service picks up from residential mailboxes. The postal service will also take cell phones, but Lucas said, "I prefer to donate cell phones to our local domestic shelter."
"In my family when an old computer/PC has spent a few years in the basement and we decide we can get rid of it, we take out the hard drive, smash it with a hammer, and take everything to the recycling center, including the power cord, keyboard, etc.," said Patricia Schneider, RDR, CRR, a freelancer in Louisville, Ky.
If your town doesn't have a resource for recycling electronics, another one nearby might instead. Teresa Alexander, RMR, CRR, an official in Belton, Texas, takes advantage of a neighboring town's Recycling Day, "where they will accept certain items at certain locations, from old tires at one location to any electronics and old TVs at another location to used oil at another."
Turning off electronics and lights
A few members mentioned that turning off electronics and especially lights has become a habit. "My family and friends tease me about how I can't walk out of a room, or even walk by a room, with lights on and not flip the switch off," said Michele Gustafson, RPR, CRR, a freelancer in Indianapolis, Ind.
For those interested in developing the habit, however, some members did provide a few tips. "I do have sticky notes on my desks in my office reminding me to plug or unplug computers or at least set them on energy saving mode and the same thing with the lights in my office," said Christine Johnson, RMR, a freelancer in Phoenix, Ariz. Melissa Merenberg, RPR, a freelancer in Bradley, Maine, said, "I just double and triple check the lights and electronics until I'm sure!"
"Our offices are equipped with sensors to turn the lights off after 10 minutes, cutting down on usage, and our thermostats are set to a limiting range as well," said Janet Davis, RDR, CRR, an official in Cheyenne, Wyo.
For smaller electronics like laptops, Jeanette Vissiere, RPR, a freelancer in Cameron Park, Calif., said, "I ask myself the question of if I plan to use it within the next couple of hours. If not, then I turn it off." Unplugging small electronics is also a popular tip. "One way I've found that's easy for me to do that is to actually store the appliance (like my toaster and blender) off the counter. So when I'm finished using the appliance, I unplug it and put it back where it belongs," said Marie Schutz, an official in St. Paul, Minn. "Also, when I'm charging an electronic [device] —such as my laptops, cellphone, or Kindle — I take the electronic off the charger when the battery is at 100 percent, or close to. I also unplug and store my chargers when I'm not using them."
"At the end of my work day, as long as a device is not in need of a charge, I pull the plug from the wall or switch off the power strip, which is sometimes easier than pulling a plug. As long as my steno machine has a charge, I am sure to unplug that as well. I also pull the power plug on my computers; this also helps in case of a storm, I can ensure I'm not getting any power surges into my equipment!" said Kim Falgiani, RMR, a captioner in Warren, Ohio. "I do not turn off things such as my router or cable box, for instance; the time it might take to reboot is something that isn't good for my remote work," she added.
Jennifer Church, RPR, a freelancer in Phoenix, Ariz., recommended avoiding lights when possible. "If I can open the blinds to let the sun in, then I don't need to turn the lights on," she said. And Tonya Kaiser, RPR, CMRS, a freelancer in Fort Wayne, Ind., pointed out, "I don't really think of it as going green as much as not paying for electricity for things we're not using."
Reusable food and drink containers
Members shared several different products that they use as refillable water bottles or drink containers, including the S'well water bottle, the Contigo water bottle, the Hydro Flask, and Bubba travel mugs.
"I have a water bottle that I partially fill with lemon juice and water the night before and stick it in the freezer," said Kathryn Wilson, a freelancer in Fircrest, Wash. "Then the next day, I add water to the top, so I have cold water for a while depending on the weather."
One of the advantages to reusable water bottles is that they often help make it easier to stay hydrated during the work day, either because of convenience or design. "My reusable glass water bottle means I am more likely to drink enough water in a day, as without it sitting on my desk, I forget to find time to drink," said Jodie Stanton, a student in Spotswood, Victoria, Australia.
"If our bodies are hydrated properly, then we are able to think more clearly," said Bonnie Comstock, an instructor in Sacramento, Calif. Comstock has made a point of drinking 84 ounces of water a day. "When I initially started drinking that much water, I was going to the restroom quite frequently. Now my body is used to it, and I don't go as often."
Being on the record presents unique challenges to staying hydrated. "I've tried to rush a sip from a mug of liquid into my mouth and usually end up with it all over me when others start talking," said Dawn Redwine, RPR, CRI, a freelancer in Albuquerque, N.M. Her solution was to find a reusable travel mug with a straw. Janine Ferren, RPR, CRR, agrees that a straw is a good feature on a reusable bottle. "When I do pick it up to drink, I don't have to tip it to drink because it has a straw. I just reach over, pick it up, sip, and put it back down," said Ferren, a freelancer in Fishers, Ind.
Mary Bader, RPR, an official in Eau Claire, Wis., found a way to show her court reporter pride while being green: She brings her Wisconsin Court Reporters Association cup.
Members also shared a variety of types of lunchboxes. Insulation and having multiple compartments are popular features. "I have a cloth lunch bag with plastic lining that I got at Goodwill. It's fairly large and fits all my food for the day," said Wilson. Sara Czartolomna, an official in Lamar, Colo., uses a bento box, "which is a stackable lunchbox, basically," she explains. "I have two nice lunchboxes I switch out and pack a sandwich wrapped in wax paper (which I use for a placemat)," said Susan Baker, RDR, a freelancer in Houston, Texas. Adina Raizen, a freelancer in New York, N.Y., has "a handy little sandwich-sized container, and every morning I make a PB&J that I throw in my bag along with my steno machine, laptop, etc."
"As well as being a benefit to the environment to use reusable food containers, it also means I eat much healthier by having a better choice of snack ready to go," said Stanton. "It really doesn't take much extra effort at all as I just add another container to the lineup whilst preparing kids' lunch boxes for school."
Mornings can, admittedly, get hectic, so some members do the prep work beforehand. "I fill bottles for everyone at the beginning of the week so we can grab and go during the week. In packing lunches, I use as many washable, reusable containers as possible. Besides being green, it keeps your sandwiches, chips, and fruit from being smashed in your lunchbox," says Ashley Dickey, RPR, an official in Birmingham, Ala. "Prepping water bottles for the week takes just a few minutes of my day on Sunday. I also spend a few minutes getting fruit, chips, etc. into individual containers on Sunday."
"I have about a dozen reusable water bottles (assortment of plastic and glass) that I keep filled with water from my reverse osmosis system. I keep them in the garage refrigerator, so as my family leaves the house, they can grab fresh water on the go," said Linda Cantrell, RMR, CRR, an official in Kingman, Ariz.
Going green can be a big process, but there are many little steps to make it easier along the way. And there are benefits to doing so in all areas: accessing information from anywhere when it's stored in the cloud, reading a good book during a commute on public transit, saving money on lower utility bills, and eating healthier.
But perhaps the real benefit to going green is more selfless. "I've found that having this routine saves me time in the long run, and it hopefully means a little less trash at the city dump," said Dawn Redwine about e-cycling. "After all, I have a new grandson's future to think about!"