Jeffrey Weigl, RMR, CRR, CRC, from Edmonton, Alberta, Canada, repeated as the 2017 Speed Contest champion. Weigl won with an overall score of 97.268%. John Wissenbach, RDR, CRR, CRC, of San Francisco, Calif., earned second place overall with a final score of 96.382%. Weigl and Wissenbach were the only two contestants to qualify in all three legs of the contest. Dee Boenau, RDR, CRR, CRC, of Sarasota, Fla., earned the blue ribbon for the Literary leg of the Speed Contest while Weigl earned the top spot in both the Legal Opinion and Testimony legs.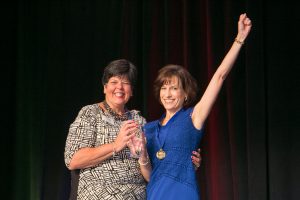 Boenau also repeated her Realtime Contest win from 2016. Boenau previously won the contest in 2010 and 2016, bringing her total Realtime Championships to three. Weigl placed second overall in the Realtime Contest with an overall score of 98.117%. Doug Zweizig, RDR, CRR, took third with a score of 97.875%. A four-way tie for the testimony leg of the Realtime – with 12 errors each – had Boneau; Zweizig; Mark Kislingbury, FAPR, RDR, CRR; and Jennifer Schuck, FAPR, RDR, CRR, CRC, earning blue medals for their efforts.
The Speed Contest consists of three legs: literary at 220 wpm, legal opinion at 230 wpm, and testimony at 280 wpm. Contestants have a total of 90 minutes per leg for transcription. The Realtime Contest consists of two legs: literary at 200 wpm and testimony at 225 wpm. Contestants turned in an RTF or ASCII file immediately following the end of dictation. In both contests, contestants must receive 95 percent accuracy to qualify; accuracy also determines the winners. The contests were held at the beginning of the NCRA Convention & Expo, Aug. 10-13 in Las Vegas, Nev.
View the Speed Contest results.
View the Realtime Contest results.
Read all the news from the 2017 NCRA Convention & Expo.