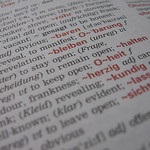 It's December, which means lighting candles, singing carols, and eagerly awaiting the dictionaries' choices for the Word of the Year.
Dictionary.com chose complicit as the Word of the Year for 2017. They define complicit as "choosing to be involved in an illegal or questionable act, especially with others; having partnership or involvement in wrongdoing" and cited several examples of when lookups for complicit spiked based on current events, including:
Saturday Night Live's satirical skit featuring a perfume called Complicit
First Daughter Ivanka Trump saying on CBS This Morning, "If being complicit is wanting to be a force for good and to make a positive impact, then I'm complicit."
Arizona Senator Jeff Flake, during his retirement announcement, saying, "I will not be complicit."
Merriam-Webster put together a list of 10 words, but their top choice was feminism. Merriam-Webster's current definition of feminism is "the theory of the political, economic, and social equality of the sexes" and "organized activity on behalf of women's rights and interests." The dictionary saw an overall rise in lookups for the word including several spikes that corresponded with current events, including:
Women's March on Washington, D.C., (and other cities) in January
White House aide Kellyanne Conway saying she didn't consider herself a feminist
the release of Hulu's The Handmaid's Tale and the film Wonder Woman
in connection with the rise of coverage of sexual harassment and assault in the news, such as the #MeToo campaign
Merriam-Webster's list of finalists included complicit, syzygy, and gaffe. The dictionary's website also has a video with editor-at-large Peter Sokolowski on the data behind the Word of the Year decision and an in-depth look at the word feminism and its role in 2017.
Oxford Dictionaries chose youthquake as its Word of the Year for 2017. Their definition for youthquake is "a significant cultural, political, or social change arising from the actions or influence of young people." Diana Vreeland, editor-in-chief of Vogue, is credited with coining the word youthquake in 1965. Oxford Dictionaries' choice reflects the fact that it's a British dictionary. They saw a noteworthy spike in lookups in relation to the general election in June, which ousted Teresa May in favor of Jeremy Corbyn for prime minister. They also took into account the word's rise in relation to a more engaged youth in New Zealand politics. Oxford Dictionaries' finalists included gorpcore, Milkshake Duck, and unicorn.
The American Dialect Society typically picks their Word of the Year in January.
Read about the 2016 Word of the Year choices.