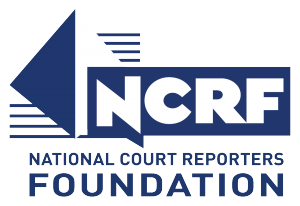 The National Court Reporters Foundation is currently accepting nominations for its Board of Trustees. The Foundation seeks people who want to support its good work by helping to raise funds, develop and implement NCRF programs for which those monies are committed, and further the organization's mission. NCRF serves as the charitable arm of NCRA and raises funds throughout the year to support an array of programs created to benefit the court reporting community. Among those are the New Professional Reporter Grant, student scholarships, and the Oral Histories Program.
Volunteering to serve on NCRF's board is a way to leave your mark in the court reporting profession as well as your legacy and help make a difference for others, said Tami Keenan, FAPR, RPR, CPE, a retired court reporter from Battle Creek, Mich., and NCRF Vice Chair.
"The Foundation funds scholarships for students, the oral histories project, programs that support the deaf and hard of hearing community, and educational efforts to ensure attorneys and judges understand the important role a live court reporter plays in the courtroom. NCRF helps to ensure the profession's future, preserve history, and through the Corinne Clark Professionalism Institute, helps to ensure success among new reporters just entering the field," said Keenan who is also a past president of NCRA.
"The Foundation needs people who can appreciate the future, past, present, and success – we need you. Your time is the most valuable asset you have. Leave your legacy by making a mark and a difference by volunteering to serve the Foundation. I promise it won't hurt you at all; it will actually feel good," said Keenan.
Service on the Board of Trustees is open to any NCRA member or a member of the public who meets specific criteria. The deadline for nominations is March 31. Click here for the nomination form and more details.