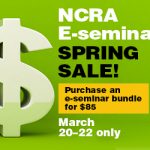 Members can take advantage of NCRA's 72-hour spring sale on March 20-22. The sale offers the opportunity to purchase a bundle (up to 0.8 CEU) of top-rated e-seminars for only $85.00. Sale hours are from 12:01 a.m. ET on March 20 until 11:59 p.m. ET on March 22. Buyers have 30 days from the date of purchase to view the seminars. Topics range from technology and career growth to tales from the trenches and trial presentation, and more. Find out more.
Top-rated e-seminars available in this 72-hour sale include:
For more information or to purchase the bundle, visit NCRA.