The next testing dates to take the CLVS Production Exam will be June 8-9 at NCRA headquarters in Reston, Va. Registration is now through May 31. Space is limited, so candidates are encouraged to sign up early.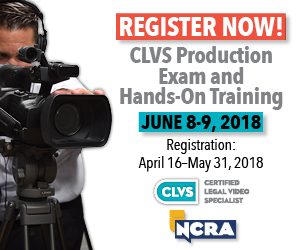 Something new this year: We are providing candidates an opportunity to do a Hands-On Training session prior to the production exam. Register now to get another step closer to earning your CLVS certification.
The Certified Legal Video Specialist (CLVS) program sets and enforces standards for competency in the capture, use, and retention of legal video and promotes awareness of these standards within the legal marketplace.
"The CLVS certification is the gold standard for identifying competent and vetted legal videographers and sets them apart from the rest of the field," said Jason Levin, CLVS, Chair of the CLVS Council. The CLVS Council leads the CLVS Seminar and administers the Production Exam.
The cost of the exam is $325 for NCRA members and $425 for nonmembers.
During the Production Exam, candidates will run the show at a staged deposition and be graded on their ability to follow video deposition guidelines and to produce a usable, high-quality video of the deposition. Candidates must have taken the mandatory CLVS Certification Workshop first, available online through InReach. Candidates must complete the educational components prior to taking the CLVS Production exam. Candidates can take the CLVS WKT at any time, but we strongly encourage candidates to complete the educational components first as questions on the WKT are developed from the education provided.  Learn more about the CLVS program at NCRA.org/CLVS.
The CLVS Production Exam is administered two times a year: spring and fall (depending on interest). Please contact NCRA by calling 800-272-NCRA (6272) for more information, or contact the CLVS Staff.
NCRA members who hold another credential, such as the RPR, can earn 0.25 PDC each after passing the CLVS Written Knowledge Test and the CLVS Production exam.