May is Celebrate Certification Month at NCRA; and in honor of this first-time observance, members and students can save. The cost to take the online Skills Tests for the RPR, RMR, CRR, or CRC have been reduced. But hurry, the savings ends today, May 16!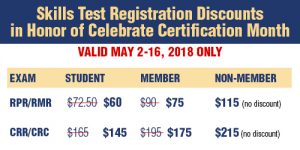 Students taking the RPR Skills Test will pay $60 for each leg, while members will pay $75 for each RPR or RMR Skills Test leg. In addition, members can take advantage of a discounted price of $175 for the CRR or CRC Skills Tests, while students will pay only $145 for a CRC Skills Test.
Members can also save this month on NCRA's webinars and e-seminars in honor of Celebrate Certification Month. For a 60-minute webinar or e-seminar, NCRA members now pay $55 compared to a nonmember price of $79. In addition, the price for a 90-minute webinar or e-seminar has been lowered to $75 for NCRA members. Nonmembers will pay $99 for the same 90-minute product.
Additional weekly specials can be found in the NCRA store during Celebrate Certification Month. This week, members can save 20 percent off all downloads through May 21. Other discounts include:
May 22-28 – 10% off entire store
May 29-31 – 10% off P-133 Morson's Guide
Throughout the month, NCRA members and students have been flooding social media with posts celebrating the benefits of certification and the achievements of themselves and others who have gone the extra mile to put more letters behind their names. Be sure to read the profiles of a number of members who shared what motivated them to earn NCRA certifications in the May issue of the JCR. Find out more about how earning NCRA certifications have benefited their professional success, as well as get advice on how you can prepare to earn that dream certification.
Find out more about NCRA's webinars and e-seminars and be sure to visit the Celebrate Certification Month page for resources you can use to mark the month-long campaign.