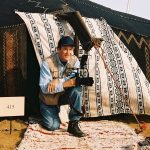 Retired NCRA member H. Allen Benowitz, FAPR, RMR, a court reporter who has turned his eye for detail into a second career as a professional cultural photographer, recently had two of his pieces selected for publication in the Art & Beyond Magazine Summer 2018 edition. His work has been recognized internationally and has earned him numerous awards and honors.
Benowitz, who was born and raised in Brooklyn, N.Y., graduated from the Interboro Institute of Business in Manhattan. A self-taught photographer who splits his time between Miami, Fla., and his log home in Burnsville, N.C., Benowitz worked as a court reporter for 49 years before retiring and focusing on his photography full-time.
The JCR Weekly reached out to him to find out more about his life, his travels, his work, and what motivates him.
JCR | How long did you work in the court reporting profession and in what area?
HAB | I was a court reporter for 49 years, initially as a hearing reporter in New York City, then referred by Bill Cohen and recruited as a Circuit Court Deputy Official and freelance reporter by Jack W. Mallicoat in Miami, Fla., at 19 years of age. As an evolution from the accomplishments of my professional court reporting, legal videography, and videoconferencing career, the camera became a natural segue to photography, awakening an earlier interest from childhood. My eye transcended from the camera in the courtroom, to the street, and to the world. So, you can say court reporting provided an opportunity for my exit plan at retirement from court reporting to my photography career. There's a reason for the expression "starving artist," and that's because they get attached to their work. My marketing and sales experience for my firm came in handy and prepared me for my next career. The ability to preserve my photographic art allows me to maintain my attachment to the images I have created.
JCR | How long have you been involved in photography?
HAB | Seriously, since the early 1990s; I had my first exhibition in 2003. My numerous international court reporting and video depo assignments provided many opportunities to capture a variety of cultural and architectural images, as well as people of the world as subjects in their natural habitat. After deposition assignments concluded, the attorneys would return to the states, and I would take usually four days on my own to trek, explore, and photograph villages, etc.
After retirement from the profession in 2009, I took it to another level: I incorporated as a business and have exhibited more than 50 times since, resulting in buyers becoming collectors of my work. I am always flattered when people personally and professionally hang my work in their homes and offices.
JCR | What are your favorite subjects to photograph?
HAB | Landscape, nature, wildlife, people, architecture, and adventure travel.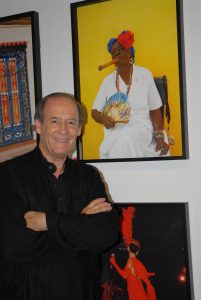 JCR | What is so rewarding about it?
HAB | Through my eyes, I enjoy capturing images, particularly of people, around the globe, in their occupations, their personal lives, their hardships, and their trials and tribulations, to demonstrate how fortunate we are, in America, in not taking our freedoms for granted, and to appreciate our ancestors, who sacrificed greatly to bring their families to the U.S., affording endless opportunities not otherwise available. I receive a visceral pleasure in capturing unique moments and sharing them with others. Being self-taught, initially with 35mm film, I did not bracket, taking only one photo of an image and journaling exposure settings, thus able to learn from my mistakes; I only take a picture if there is passion behind the shutter. Being recognized for my work, appreciated by others, is my gratification. My most recent rewarding experience is when Marquis Who's Who chose me as their featured artist for an upcoming international publication.
JCR | What an honor to have your work picked to be published by Art & Beyond Magazine. How did that come to happen, and what were your feelings when you received the news?
HAB | I was invited by Art & Beyond Magazine to participate in a worldwide photography competition, submitting five photographs by theme, for jurying; two were selected. Of thousands participating, 11 artists and fine art photographers were selected. I am humbled and feel fortunate to be among this talented group.
More about Benowitz and his work:
WLRN's ArtStreet Project featured Benowitz on PBS. The biographical "Look Into the Lens of Photographer H. Allen Benowitz" Interview featured photographs from Cuba, Morocco, India, and other parts of the world
His highly acclaimed photo "Behind the Wall" received national recognition at Holland & Knight Charitable Foundation's Holocaust Remembrance Project Awards Dinner in Washington, D.C.
Judges' Award at the UM Lowe Art Museum's Beaux Arts Festival
Honorable mention, International Kodak Contest
An award winner B/W photography, One Ear Society
Repeat finalist in the International Color Awards Photo Competition
Won the American Institute of Architects competition
His "Cigar Lady I" was displayed at the Musee du Louvre in Paris July 2015
Featured in the ARTnews, Coastal Elegance & Wealth, International Contemporary Artist art book, Art & Beyond, SW The Magazine, The Laurel of Asheville, and Art Business News magazines
Named one of Art Business News' Top Emerging Artists for 2014
Received six winning awards in the 9th Annual 2016 International Color Awards Competition
Recently published: National Geographic "Your Shot."
Benowitz's work may be viewed online at H-AllenArt.com.