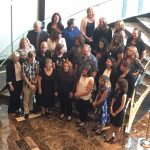 Sherry Bryant, RMR, CRR, and Mark Kislingbury, RDR, CRC, repeated wins for the national NCRA Speed Contest and Realtime Contest, respectively.
Bryant, who previously won in 2012, placed first in the Literary leg, with 5 errors; second in the Legal Opinion, with 12; and second in the Testimony, with 62. Her combined overall score was 97.94 percent. Bryant lives in Harrisburg, Pa. Patricia Nilsen, RMR, CRR, CRC, CRI, of Nashville, Tenn., came in second place overall, and Karen Tyler, RDR, CRR, CRC, of Shreveport, La., placed third.
Kislingbury, who lives in Houston, Texas, earned first place overall in the Realtime Contest. It is his fifth Realtime Contest win. This win ties the record for most wins in the NCRA Realtime Contest with current Contests Committee co-chair Jo Ann Bryce, RMR, CRR, of Castro Valley, Calif. Kislingbury's overall score was 99.245 percent.
Doug Zweizig, RDR, CRR, of Baltimore, Md., took second place overall with a score of 98.933 percent. In addition to her Speed championship, Bryant earned third place overall in the Realtime Contest. Kislingbury, Zweizig, and past champion Dee Boenau, RDR, CRR, CRC, of Sarasota, Fla., tied for first in the Literary leg.
Kislingbury was interviewed by a local news station following the Realtime Contest. Realtime contestants Erminia Uviedo, RDR, CRR, CRC, and Donna Karoscik, RDR, CRR, CRC, were also interviewed by a morning TV show in New Orleans.
The Speed Contest consists of three legs: literary at 220 wpm, legal opinion at 230 wpm, and testimony at 280 wpm. Contestants have a total of 90 minutes per leg for transcription. The Realtime Contest consists of two legs: literary at 200 wpm and testimony at 225 wpm. Contestants must turn in an ASCII file immediately following the end of dictation. In both contests, contestants must receive 95 percent accuracy to qualify; accuracy also determines the winners.