The Angels Program continues to be the most impactful component of the National Court Reporters Foundation's annual campaign, as it supports four key initiatives that are advancing the court reporting and captioning professions:
"My love for our profession began when I was about five years old and taught myself how to play the piano. I loved the language of music! Then I learned another language, that of stenography; music to my ears that enabled me to share this amazing art with the hard-of-hearing and deaf in courtroom settings. What we do through the National Court Reporters Foundation helps ensure that our noble profession continues to be vibrant and relevant today, tomorrow, and into the future. Being an NCRF Angel keeps our amazing art thriving," said Debra Cheyne, NCRF Trustee, Angel, and Chair of Angels Committee.
Angels who pledge or sign up for recurring donations by Aug. 29 will be entered into a drawing for a weeklong stay at their choice of one of three Mexican resorts in Cabo San Lucas, Puerto Vallarta, or Nuevo Vallarta, generously donated by Angel and Angels Committee member Denise Paternoster.
Sign up online or by filling out a 2019 Pledge Letter.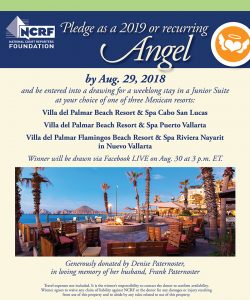 "Please support the NCRF, the National Court Reporters Foundation, by contributing to the future of court reporting and captioning. Being an Angel makes a substantial difference in the programs and our efforts going forward to address the issues our profession is experiencing. Offering your financial support to NCRF as an Angel also continues the support of the programs we have led for many years: The Veterans History Project, the education of attorneys in Making the Record, and new professional and student scholarships. Be an Angel!" said Sandy VanderPol, FAPR, RMR, CRR, NCRF Trustee & Angel.
A – Action for our profession
N – Now is the time
G – Get involved
E – Energize our efforts
L – Look forward