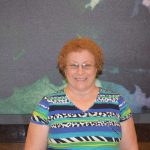 NCRA member Kathy Cortopassi, RMR, CRR, a captioner, court reporter, and firm owner from Chester, S.C., recently received a $500 marketing grant from her local chamber of commerce, Small Business Development Center, and the local technical college. The grant will fund a series of workshops to introduce the public to the court reporting and captioning professions using the NCRA A to ZTM Intro to Steno Machine Shorthand program.
Cortopassi's firm, Voice to Print Captioning, was one of three local firms to win a $500 grant. To be eligible to apply for the funding, Cortopassi participated in a special series entitled "Strengthening Your Business Foundation," a program created by the Small Business Development Center based at Winthrop University, York Technical College Chester Center, and the Chester County Chamber of Commerce. She and a number of other local business owners committed to attending evening classes that spanned five months and that covered topics such as market research, human resources best practices, marketing, accounting, and financing one's business. The courses were taught by experts in their related fields. In addition to earning a certificate of completion of the course, participants that completed the series were able to apply for one of three grants offered.
Cortopassi cited in her grant application that there is a growing need for professionals in the court reporting and captioning fields and that she would use the grant money to help support workshops in the area to recruit potential students to the career.
"Through this grant, we can have a county-wide impact. I can create a buzz about the profession and the need for more professionals by using this money," said Cortopassi, who was a court reporter for 10 years before becoming a captioner some 25 years ago. She re-entered the freelance court reporting field a year ago. Cortopassi said she became involved with the local chamber of commerce because it was a good way to meet people in the business community.
"I recently pitched the idea of offering court reporting and captioning workshops to the economic development director of our city, and he would very much like me to open a school. We plan to start with offering an NCRA A to Z Intro to Steno Machine Shorthand program first," she added.
Cortopassi said that her firm, Voice to Print Captioning, is partnering with Every Word, Inc., a South Carolina-based court reporting firm, to host a meet-and-greet event with prospective reporting students on Sept. 29 in Rock Hill, S.C. Part of the grant's marketing funds will be used to attract students to the event so they can meet court reporters from around the state and ask questions about the profession and be encouraged to join the NCRA A to Z program.
In addition, Every Word's reporters are being encouraged to bring the steno machines they no longer use to donate to the NCRA A to Z Program, Cortopassi noted.
For more information about the meet-and-greet or to donate an unused machine to the program, please contact Kathy Cortopassi at kathycort@voicetoprint.onmicrosoft.com or at 866-523-5359.