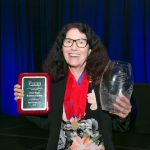 NCRA member Sherry Bryant, RMR, CRR, an official court reporter from Harrisburg, Pa., won the 2018 National Speed Contest held during the Association's 2018 Convention & Expo from Aug. 2-5 in New Orleans, La. This is a second win for Bryant, who also took home top honors in the 2012 National Speed Contest.
In the 2018 Speed Contest, Bryant placed first in the literary leg with a 99.54 percent accuracy rate, second in the legal opinion leg with a 98.78 percent accuracy rate, and second in the Q&A leg with a 95.50 percent accuracy rate, to win overall with a 97.94 percent accuracy rate.
Bryant also competed in the 2018 Realtime Contest and placed fouth overall with a 98.37 percent accuracy rate.
The JCR Weekly recently reached out to her to find out more about what motivates her, how she prepares to compete, and how she learned about court reporting as a career.
JCR | What area of the profession do you work?
BRYANT | I work for the U.S. House of Representatives on the committee side. I started in July 2016 and have been a reporter since 1981.
JCR | How did you learn about the profession?
BRYANT | My mother, Virginia Loria, was working as a federal official reporter in Harrisburg, Pa., at the time, having transitioned to the machine after being a pen writer most of her career. My stepfather, George Geiger, was an official reporter at Dauphin County Court of Common Pleas. He gave me a steno machine and theory book. I worked as a freelancer for the family firm, Geiger & Loria Reporting Service, now Geiger Loria Filius McLucas, until I became a federal official in the Eastern District of New York in October 2013.
JCR | How many national contests have you participated in?
BRYANT | I first entered the National Speed Contest in 1997. Then beginning in 2000, I competed yearly until 2007.  I also entered in 2012, 2015, and 2018.  I also compete in the Realtime Contest any time I enter the Speed Contest.
JCR | What motivates you to compete?
BRYANT | I really enjoy competing in both contests, I think because it is such a big challenge; and I love that about court reporting in general.
JCR | How did it feel to win overall this year?
BRYANT | It felt absolutely amazing to win this year! I have always been fortunate to qualify in the Speed Contests and was worried this would be my first time not to. It was a well-founded worry since my Q&A was borderline, so it felt even better since it was so surprising. I would like to continue competing in both contests.
JCR | What advice would you give someone who is considering competing at the national level?
BRYANT | The only advice I have is to practice as much as possible with hard material.
JCR | How far in advance do you begin to practice for the national contests?
BRYANT | I begin practicing two to three months in advance of a contest.
JCR | What is your practice routine to prep for these contests?
BRYANT | I aim for an hour a day. I used to do 30 minutes a day until the last three contests. I wrote 650 pages of practice material in the four days before this last contest.
JCR | Do you compete at the state level as well?
BRYANT | I have also competed in the past in the Pennsylvania Realtime Cup, beginning in 2000.