By Lynette Mueller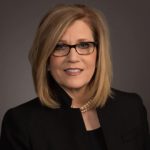 Court reporters need to embrace the future of court reporting and move ahead — the future is realtime! Realtime is "wicked" awesome, for sure! The benefits of realtiming for your clients and yourself are many:
improved skills
less editing time
improved translation delivery
quicker transcript turnaround
job satisfaction
name recognition (people will ask for you specifically)
increased income
readback is phenomenal
Fear ~ an unpleasant emotion caused by the belief that someone or something is dangerous, likely to cause pain, or a threat.
Fear is normal for everyone. Even the best of the best in our profession, I'm sure, experience that tug of fear every now and then. We must not let fear hold us back, though. As the definition of "fear" states, it is a belief that something dangerous may happen to cause pain or a threat. There is no physical pain when providing realtime. Remember that we are the guardians of the record and provide an essential and valuable tool for our clients and participants receiving our realtime feed. There are many resources available to attain your realtime potential and become the most important person in the room!
Like with many activities in our daily lives, trepidation and exhilaration go hand in hand. Those two emotions definitely happen with me for every realtime assignment. But with some helpful tips from experienced realtimers, those court reporters who are on the fence about providing realtime can break through the fears and start embracing the beauty of this tool. Just as you salt bland food, realtiming for yourself can turn your work life from dull to delicious! Overcoming your fear of anything will give you the focus to achieve great things and to do what you really want to do. It takes much effort to strive to become realtime-proficient, but the rewards are worth it!
When I do start having that feeling of fear, I take a step back and remind myself to do a few things in order to control the situation – and these are simple steps that you can take too:
I do my realtime testing and job dictionary building the night before in order to be ready for the next day's job. A detailed prep session will relieve the perceived stress.
I control my breathing. It has a calming effect on the whole body.
I don't overthink my realtime sessions. Fear and anxiety thrive when I imagine the worst. I go in the deposition setting with the confidence that I will do the best job I can. I've already prepared and done the testing — I know I've got this!
I think about the last realtime session I provided and how well it went. Yes, the fear was present, but the client was extremely pleased with my output. I get a "high" for a job well done!
Lynette Mueller, FAPR, RDR, CRR, is a freelancer based in Memphis, Tenn. She chairs NCRA's Technology Committee.