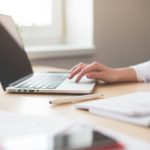 A VPN, or Virtual Private Network, is one of those acronyms bandied about often enough that you really want to know what it is, especially in this era when we keep so much information on our computers and there is the possibility that someone might try to hack into it. The NCRA Technology Committee decided to break down this topic so that you know the basics and can make good decisions about what to use and when.
What is a Virtual Private Network (VPN)?
A VPN is an encrypted connection over the internet from a device (such as a computer, printer, tablet, or smartphone) to a network. Encrypting the connection lets those on the network send and share sensitive data safely. Also, the VPN prevents unauthorized people from getting into the network. Many companies now use VPN technology in their workplaces both on-site and for remote workers.
The website How-to Geek states: "When you connect your computer (or another device, such as a smartphone or tablet) to a VPN, the computer acts as if it's on the same local network as the VPN. All your network traffic is sent over a secure connection to the VPN. Because your computer behaves as if it's on the network, this allows you to securely access local network resources even when you're on the other side of the world. You'll also be able to use the internet as if you were present at the VPN's location, which has some benefits if you're using public WiFi or want to access geo-blocked websites."
Where might I run across a VPN?
Official court reporters and those who work in courthouses might be asked to use the court's VPN to access files or upload materials. Firm owners might establish a VPN within their own offices, and freelancers are likely to come across VPNs when they are reporting in a client's law office.
Why do I want to use it?
"The VPN keeps your computer 'hidden,' so you don't have to worry about getting hacked into or tracked by sites you may visit," says Technology Committee Chair Lynette Mueller, FAPR, RDR, CRR, a freelance court reporter from Memphis, Tenn. "It's like wearing an invisibility cloak!"
Technology Committee member Lisa Knight, FAPR, RDR, CRR, a freelance court reporter and agency owner from Littleton, Colo., says she uses VPNs "to keep my internet usage private and secure — to protect my online privacy."  She continues by saying that people should use a VPN "anytime you are jumping onto another WiFi network that is not your own or when you want to surf the web without being tracked."
Karen Teig, RPR, CRR, CMRS, a freelance court reporter from Urbandale, Iowa, another committee member, said: "I'm embarrassed to admit that, while working on transcripts — in, yes, a coffee shop — there have been times when I've jumped on a free public WiFi. I tell myself I'll just jump on quickly, find out what I need, and get off; but then that happens several times while there. That may be all the time a hacker needs. After researching for this article, never again!"
Teig noted as part of her research a May 25, 2018, Consumer Reports article, "What you need to know about cyber safety while traveling." The article states: "Never use WiFi that isn't secured with a password. It could be a fake hotspot set up by cybercriminals. And even legitimate WiFi, such as the free networks at airports, can be dangerous if it's unsecured, because hackers can log on to it just as easily as you can."
What else do I need to know?
"VPNs can cause a decrease in connection speed," says Mueller. "But that small drawback is still worth using one. Server load is also a common issue when you are connected to a VPN service." While speed can be a consideration, you can shop around for VPN services and see what they offer. The additional resources section at the bottom lists several articles that go through the services available. Also, check your computer's speed at SpeedTest.net.
Knight says: "I always disable the VPN when writing realtime. If you are using cables, the VPN will not affect anything; but if you are writing realtime via LAN/WAN, it definitely will affect it!"
Additional Resources
Here are a few of the links compiled by the Technology Committee in creating this article
Best VPN services of 2018: Reviews and buying advice
Does VPN decrease Internet speed? Let's test it
How—and why—you should use a VPN any time you hop on the internet
How to Choose a VPN for Digital Privacy and Security
How to choose the best VPN service for your needs
7 most interesting uses of a VPN
VPN explained: How Does It Work? Why Would You Use It?
VPN Speed Tips: Don't Slow Down Your Internet!
What Is a Virtual Private Network (VPN)?
What Is a VPN? – Virtual Private Network
What You Need to Know About Cyber Safety While Traveling
Why You Need a VPN—and How to Choose the Right One
Thank you to the following NCRA Technology Committee members for contributing to this article: Lynette L. Mueller,  FAPR, RDR, CRR, chair; Nancy L. Bistany, RPR; Kim Greiner, RDR, CRR, CRC; Lisa A. Knight, FAPR, RDR, CRR; Karen Teig, RPR, CRR, CMRS; and Kelli Ann Willis, RPR, CRR.