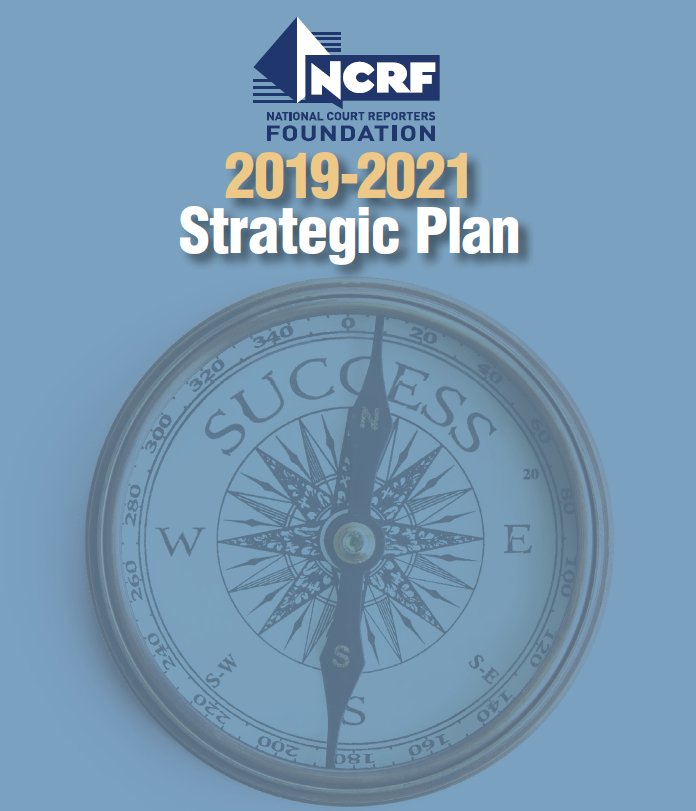 Last month, Tami Keenan, FAPR, RPR, CPE, Chair of the National Court Reporters Foundation (NCRF) Board of Trustees, announced that NCRF has adopted a new three-year strategic plan. The robust plan includes efforts to support the NCRA A to Z™ Intro to Steno Machine Shorthand program, the advancement of court reporting students and new professionals through scholarships and grants, and the promotion of the forward growth of NCRA members in their profession.
The 2019-2021 NCRF Strategic Plan focuses on three areas of expansion:
I. Improve communication and better articulate value to constituents.
II. Build and operate a sustainable organizational and financial model.
III. Position the profession and Foundation for the future by focusing on being more inclusive and increasing support of educational initiatives.
"Well into its first two months of adoption, the Strategic Plan already has some boxes checked off, particularly in the first pillar," said Keenan, providing an update on activities happening at the Foundation. "The Trustees and staff, following the roadmap laid out within the Strategic Plan, have already begun to revitalize several of the programs that NCRF offers and, more importantly, engaged an aggressive communication plan to educate NCRA members about the Foundation's value as well as inform the general public," she added.
Donors and members of the NCRF community will soon notice more opportunities to support the work of the Foundation, as the Board of Trustees begins work on initiatives to build a more sustainable financial model, adding building blocks to Pillar II of the Strategic Plan.
Debra Cheyne, MA, CSR (OR/WA), Chair of the Foundation's Angel Gatherers Committee, is a strong proponent of the NCRA A to Z™ Program component of the plan, written into the plan's third pillar. "As a long-term member of the NCRF Board of Trustees, I am excited that our three-year strategic plan promotes NCRA's A to Z program to recruit and begin training the next generation of court reporters and captioners," she said.
The full 2019-2021 NCRF Strategic Plan can be found here.