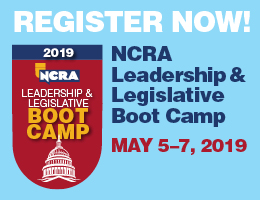 Registration closes April 5 for NCRA's 2019 Leadership & Legislative Boot Camp taking place May 5-7 outside of Washington, D.C. State leaders, don't miss this opportunity to hone your leadership and lobbying skills at NCRA's premier advocacy educational event designed to teach you how to be an effective leader for the court reporting and captioning professions and experience what it is like to advocate on Capitol Hill.
If you are a state leader or are aspiring to become one, this event is for you.
"Everyone who moves up to the vice president position in our state association gets the option of going to NCRA's boot camp, and that is my next role come April," said Rebecca Brewer, RPR, CRR, a freelance court reporter from St. Louis, Mo., who is attending this year's Boot Camp for the first time. "I will be attending with the president-elect of our board. I hope to get insight into the do's and don'ts of talking to our legislators and learn the skills to help me be a good leader on our board, as well as gain some tips on how it all works at the Capitol."
The cost to participate in the 2019 Leadership & Legislative Boot Camp is $225 per NCRA member and $175 for a second member attending from the state. The nonmember rate is $325. Registration ends on April 5. Once an attendee registers, they will receive a confirmation email with a link to book a hotel room at a special rate of $239 per night at the Embassy Suites in Old Town Alexandria, Va. The special rate includes a cooked-to-order breakfast along with a nightly reception with appetizers and drinks. Remember, staying in the host hotel helps keep the registration costs of NCRA events low, so book now. The deadline to book in the room block is April 12.
Brewer and other attendees will learn more about the do's and don'ts of lobbying in a session that will be led by Mike Goodman, vice president of Cornerstone Government Affairs in Washington, D.C. Goodman, former chief of staff for Rep. Ron Kind (Wisconsin), will teach attendees how to speak to legislative staffers and their bosses and what to do and not to do when advocating for the profession.
Other sessions will focus on the nuts and bolts of association work, politics 101, understanding NCRA's 2019 federal initiative, the state of the court reporting, captioning, and legal videography professions, and how to mobilize a membership and successfully use grassroots advocacy, role playing, strategizing, and more.
"The legislative and regulatory landscape is always changing at the state and federal levels," said Debra A. Dibble, RDR, CRR, CRC, a freelance court reporter from Woodland, Utah, and NCRA's Secretary-Treasurer. This year's Boot Camp will mark the sixth one Dibble has attended.
"NCRA's Leadership and Legislative Boot Camp arms you with the tools and techniques you need to keep balanced on that changing landscape and be better able to educate lawmakers and regulators, so they can make the right decisions when addressing issues that relate to the court reporting and captioning professions," she added.
Click here to read more about what the 2019 Leadership and Legislative Boot Camp has to offer as well as more about the presenters.
Remember: Registration closes on April 5, so don't wait! Secure your spot now.