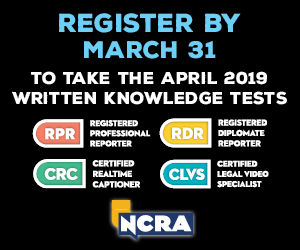 There are only four days left to sign up for your Written Knowledge Test for RPR, CLVS, RDR or CRC certifications. Register by March 31 to take the test between April 9 and 23, 2019.
"May is NCRA's Celebrate Certification Month, a time for each of us to showcase our certifications and feel the pride that comes with holding them," said Allison A. Kimmel, FAPR, RDR, CRR, CRC, Chair of the Written Knowledge Test Committee. "Now is the perfect time to register for a WKT and be ready to celebrate your certifications with your peers in May. The members of the  Written Knowledge Test Committee encourage everyone, whether this is your first move toward certification or your fourth, to register now and test. You will be glad you did."

Keep in mind that for the upcoming April WKTs, NCRA has released new RPR and RDR Job Analyses. The Job Analyses describe the domains, associated tasks, and knowledge essential for working in the field every day. The Job Analyses serve as the blueprint for the Written Knowledge Tests. Candidates must review NCRA's Job Analysis for the appropriate certification. Questions on the WKT are directly tied to the Job Analysis for each credential.
Check out these tips for passing the test. Register today to take the test in April and be ready to celebrate Certification Month in May.