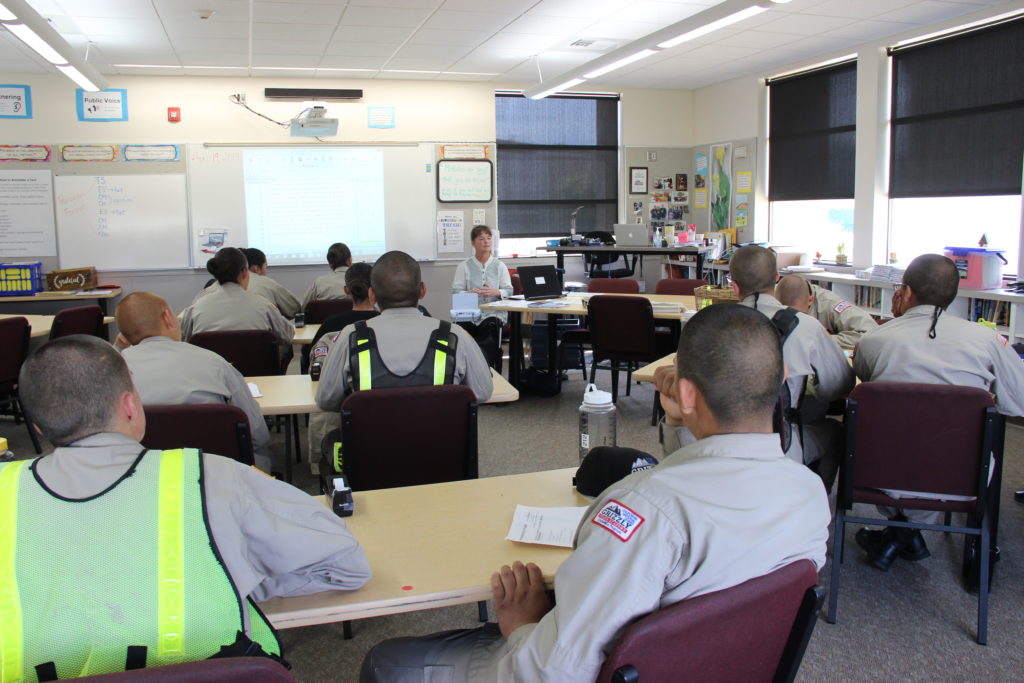 On April 19, NCRA member Trudy O'Brien, a freelance court reporter from Morro Bay, Calif., showcased the court reporting and captioning professions to students at the Grizzly Youth Academy (GYA) in San Luis Obispo, Calif.
The GYA is a partnership between the California National Guard and the Grizzly Challenge Charger School. It serves youth between the ages of 16 and 18 who have dropped out of high school or are at risk of dropping out. The curriculum offers a high-structured environment that promotes leadership, cooperation, and academic skills, while building self-esteem, pride, and confidence.
According to O'Brien, while she didn't have any of the students asking where to sign up to learn the profession, she is hopeful the seed was planted in some of them.
"I could tell they were fascinated by my writing by what they were saying, so they definitely saw the magic happen. The kids enjoyed being able to take away bags and highlighters, and I made sure that they all left with a flyer," she added.
A growing number of NCRA members have realized the value in attending career fairs as a way to promote the profession. Members report that they have participated in career fairs held at middle schools, high schools, community colleges, and other venues to promote the benefits of a career in court reporting or captioning. Below is a list of tips that include ways to find a career fair event near you and help you to plan a successful career day demonstration.
Visit a local high school website and contact counselors or directors of public relations/admissions.
Contact the Boy Scouts, Girl Scouts, or other youth organizations in your community to see if there is an opportunity to introduce the students to the court reporting and captioning professions.
Contact high schools in your area to see if they are holding any college fairs.
Sign up to exhibit at your state's high school guidance counselor convention to showcase what you do.
Bring along a short transcript to use as part of your demonstration. Let the students get a flavor for what goes on in the courtroom or the deposition suite by letting them have a turn at being the judge, the prosecutor, the defense attorney, or the defendant.
Share personal stories of why you chose this profession. Let students know how diversified the profession is and more about the various work venues, flexibility, salary potential, training required, and job availability.
Be sure to have on hand materials such as flyers and information about where to learn more about the profession.
Be sure to pack plenty of your personal business cards. Offer interested students the opportunity to shadow you or a colleague in whatever area of our profession may be of interest to them. Give them the chance to see just how exciting the career is.
NCRA members who are interested in presenting at career fairs can access a variety of resources available from the Association. The Resource Center at DiscoverSteno.com has fliers, posters, a PowerPoint presentation, and more.
Members may also find value in the resources at NCRA.org/Awareness. These materials are focused on Court Reporting & Captioning Week, but members can adapt them for other promotional purposes or use them to find ideas for highlighting court reporting and captioning.
Other good sources to tap into for opportunities to showcase the court reporting and captioning professions include the American School Counselors Association (ASCA) and the National Association of College Admissions Counseling (NACAC), which holds college fairs on national, state, and regional levels.
Members who do participate in career fairs or any other promotional activities are encouraged to contact pr@ncra.org to have their stories possibly included in the JCR or JCR Weekly. Keep in mind that any photos taken at a school career event will likely need to hide any identifying features of minors, especially faces.