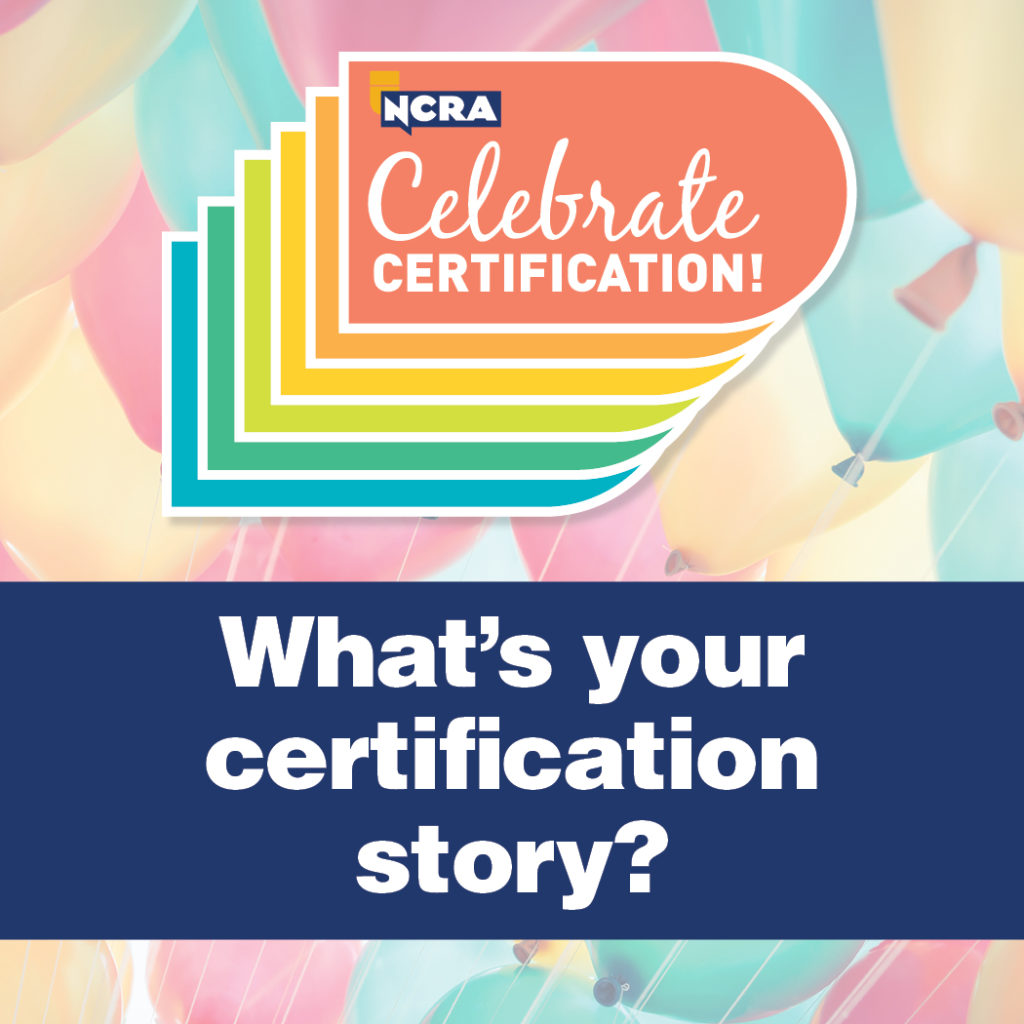 If you are interested in earning an NCRA certification, official reporter Cindy Shearman, RDR, CRR, CRC, of Vail, Ariz., advises: "Keep on keeping on. You only fail when you quit trying to earn the certification."
People have many different reasons for earning NCRA certifications – from it being required in their state, to the increased pay it brings, to the confidence and sense of accomplishment they feel about earning a new set of letters behind their names. The JCR Weekly reached out to several NCRA members during Celebrate Certification Month to learn more about why they earned their certifications and what the benefits are.
"I wanted to continue to improve my skills and qualifications and, on some of my jobs, there was a pay increase associated with an additional certification," says Shearman. "I feel the certifications help my self-confidence and also have helped in obtaining employment and salary increases. I always feel a sense of accomplishment when I earn another certification."
"While I was a court reporting student at MacCormac College, we were encouraged – no, expected – to achieve the RPR in addition to the required CSR. After I passed my RPR, I wanted to continue to distinguish myself and earn the respect of my family, mentors, and peers," says Sabrina Lewis, RDR, CRR, who works as an official court reporter in Birmingham, Ala.
Freelancer Marvie Votaw, RPR, CRR, of San Diego, Calif., said that she earned her NCRA certifications "to become more employable and later on [to receive] higher pay." She says that earning her certifications gave her everything she was hoping for — better opportunities and higher pay – and that she is proud of her accomplishments.
"Having credibility behind my name was always important to me, so I sat for the RPR WKT when I started high speed classes in court reporting school," says captioner and freelance court reporter Donna Karoscik, FAPR, RDR, CRR, CRC, of Lancaster, Ohio. "After graduating, I took the skills portion and passed. At the time my employer did not require certifications and, being a new reporter with student loans, I let the RPR lapse for financial reasons. Wouldn't you know it, a few months later the firm I worked for set a policy that all reporters needed to obtain any and all certifications we could, with the RPR being the required base-level certification? I took it the next time it was offered, passed all four legs, and will never let it lapse again."
"One of the key benefits I have experienced is my certification credentials help me stand out from a sea of reporters. I've also worked for employers who paid more for higher certifications – both freelance and court," says official reporter and captioner Allison Kimmel, FAPR, RDR, CRR, CRC, of Marysville, Ohio.
Captioner Kathryn Thomas, RDR, CRR, CRC, of Caseyville, Ill., shared that she earned her certifications "to show to others (and myself) that I'm always working on upgrading my skills." In addition, she points out that the credentials increased her confidence in her skills. "It's something specific and concrete I can point to, to say, 'I've achieved this goal.'"
The many benefits of certification
Lewis went on to list all the ways that credentials were worth the time and effort: "First, your credentials speak for you. For example, attorneys or reporting agencies utilizing the NCRA Sourcebook are able to search for reporters by type of credential; i.e., RPR, CRR, etc. I have gotten countless referrals this way. Second, when a position needed to be filled on the state licensing board, my national certifications brought me to the attention of the nominating committee; I was appointed to the Alabama Board of Court Reporting. That service then led to a position on the board of the Alabama Court Reporters Association. Last, but not least, because of my credentials, I am at the top of the pay scale as a federal official court reporter."
"I gained a new level of confidence with each credential I earned. That confidence increased my love for and commitment to the profession. I became more active in and encouraged others to get more involved in the court reporting and legal communities," says Lewis. "Your credentials show the world that you believe in yourself and you believe in the importance of your profession."
Karoscik agreed that both the recognition and the financial benefits were important benefits. However, she said: "I have always felt it is important to stay current on technology and information within the court reporting and captioning professions, even if they don't directly apply to my current position. If I am asked questions about why we do this or why we don't do that, I want to know the answer. It makes us more credible members of the business world. In my opinion, knowledge is invaluable, especially when marketing yourself, your business, and your skills as a reporter."
Some advice on pursuing NCRA certification
When asked for advice to others who are pursuing NCRA credentials, Votaw urges: "Get as many as you can!"
"My best advice for others pursuing credentials is to take them seriously and take the time to adequately prepare. Preparation is key! Practice above the skills test speeds – including the CRR and the CRC. Look through the Job Analysis for whichever WKT exam is being taken, review the NCRA website, and examine books from school days on legal and medical terminology," says Kimmel.
"Practice until you are better than the test," advises Thomas. "Test nerves are ubiquitous, and for any student reading this, they never fully go away. You've got to work with and around the nerves until you are better than your nerves."
When it comes to the skills tests, Karoscik says: "Practice at least 20 wpm faster than the dictation you're trying to pass. Practice difficult, dense literary. Nowadays it is easy to find dictation on YouTube. There are social media outlets just for practicing. Rich Germosen, RDR, CRR, has an excellent dictation library which he shared with me. Eileen Beltz, CRI, CPE, has a vast YouTube presence with her dictation as well. I turn it on to practice for upcoming assignments or if I've been on vacation and away from the keyboard for a while. Don't wait to try. Confidence works wonders. You can do it!"