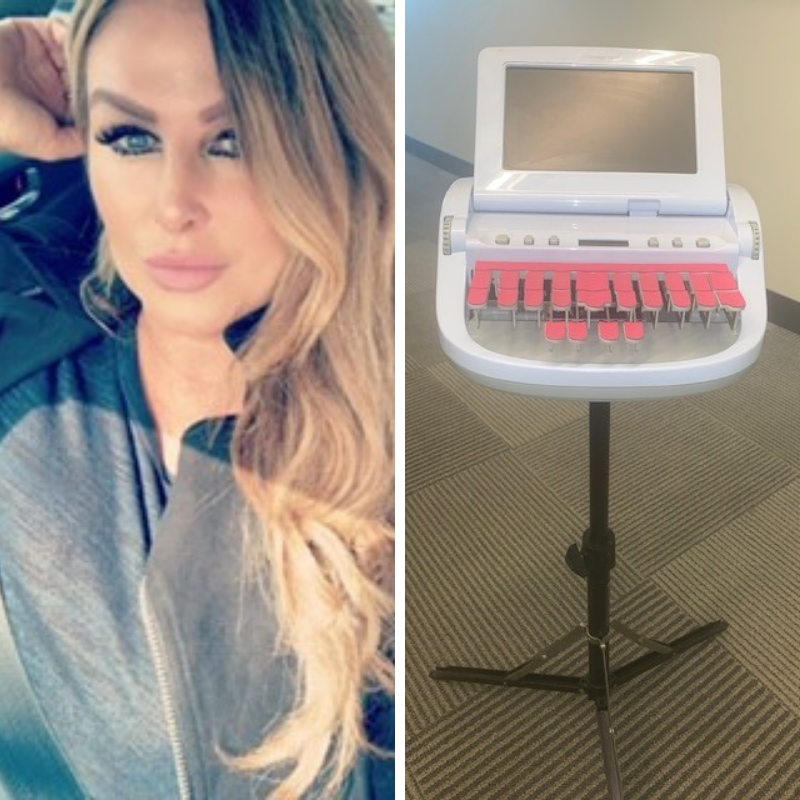 Crystal Martin is a captioner in Covina, Calif. Her steno machine was recently stolen from her car, which led her on an adventure. We asked her for the details. The excitement started when she was at LA Stenotype Service in West Covina, and the thief called about selling the machine.
I was speaking to someone at the store about my situation with my machine being stolen. When I was there, the alleged suspect called to inquire about a "diamond" he had for sale. The employee said, "What?" Then the man said he had a court reporter machine thingy. And the employee told him, "Oh, you mean a Diamante?" The man said, "Yes, I am trying to sell it for $2,000." The employee told him he would need to see it to determine if he wanted to buy it. The man said he would call him back.
At that point, I was there for an extended period of time, trying to connect a rental machine to my laptop. My bad luck was getting worse. It didn't work! I was on the phone with tech support for a while. Then we figured out it wasn't working, so I proceeded to leave. A suspicious vehicle was driving slowly down the street. My vehicle was actually parked right in front of the store with the broken window.
The employee said, "That's him." I didn't want him to see me. I hid in the house, and I was looking out the window. I saw a white Toyota Corolla drive by with a male and female, and they parked in front. I was so nervous. After the man left, I went back out to talk to the employee. And he said that was definitely my machine. You could not miss it. I had just put hot pink keypads on it!
I was so nervous! The man was trying to get a quick $700 for it. The employee told the man he needed papers on it, that he didn't have the cash on hand, and that it had to be registered. He knew it was my baby at that point!
I began thinking that maybe I could just buy it back. I thought it would be easier and was the only way to get it back. I had called Covina Police Department when it first happened to report the theft, so they had the serial number. I then texted the suspect on a texting app to begin the negotiations to somehow get my machine back. I texted him, telling him I was interested in the machine that I heard he was selling from LA Stenotype Service. I said I was very interested but only had $500 cash.
He said he wanted $800. I called the Covina Police Department to give them the number he called from. Then, I started doubting if I should deal with this man. I didn't know what to do. I was scared. Then, a police officer called, and I gave him the details and the phone number. He told me he would call me back. I had my doubts. I didn't think the police could do anything. I kind of gave up. Then he called me back and asked me to come to the station so they could tell me what to say to the suspect.
I went to the station. They took me into a big conference room where I was greeted by what seemed like the whole police force. I was excited about the possibility of getting this guy. So they told me what to text. I asked the suspect if he would take $650. We had a little conversation about when I was available. By now, the police are telling me they are setting up a buyback.
I was going undercover! This was right up my alley. They came up with a buy back at the local Starbucks. The location has two entrances: One way in and one way out.
But the suspect was insistent on meeting at his house. Then he sent his address. I was shocked. The police sent undercover officers to the location to watch him. They were trying to come up with ideas to get my machine back. Meanwhile, the suspect sent me a picture of my machine all set up on tripod. This couldn't get any better! He just wouldn't budge to meet me. He said he didn't trust me and that I should come to his house. I told him I couldn't. The police said to say I would give him $700 if he could meet me at another location. He said he had no car. Then I said OK, never mind. He tried to call me one last time, but they advised me not to answer it.
We regrouped and they told me we are going to get a search warrant, and they would go over there tomorrow with the search warrant. They sent me home, and within minutes of getting home, they called me. They said we got your stuff back, come down in 30 minutes.
I got to the police station, and they led me back to the same room. And there she was! My baby! I was elated! I could not believe my eyes. I was beyond happy and grateful.
They told me the suspect left on a bicycle. They pulled him over on his bike. He had a black duffle bag with him. And inside the duffle bag was almost all my belongings. A few things were missing. My Zuca bag was gone. And a few cords.
Final note: Don't ever leave your machine in your car! I got extremely lucky. If the police department in my city didn't do the hard work to get it back, I might not have my machine back. Covina Police Department worked so diligently to get my stuff back. They treated my case like my loved one was kidnaped!
Sgt. David Rodriguez with the Covina Police Department confirmed that someone was arrested and charged with felony burglary of Martin's machine and is awaiting trial. "We were all excited about this one," Rodriguez said. "Most of the time when someone breaks in your car, you don't see that property again. We were really fortunate to get that property back for her."