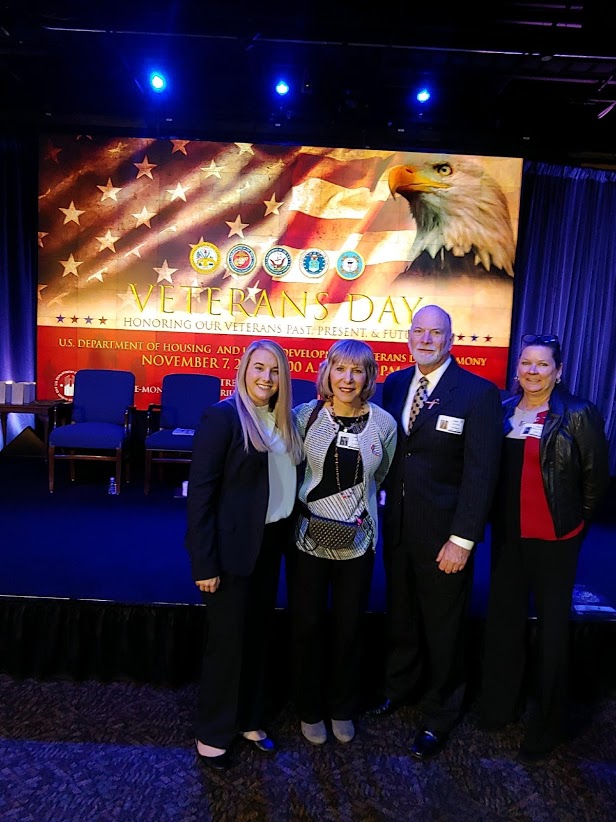 NCRA staff members John Dripps, CPA, CAE, Vice President of Finance and Human Resources; Jocelynn Moore, Director State Government Relations; Annemarie Roketenetz, Director of Communications and Marketing; and Jill Parker Landsman, Development Relations Manager for the National Court Reporters Foundation, attended the 2019 Veterans Day Ceremony hosted by the U.S. Department of Housing and Urban Development on Nov. 7. The ceremony, themed "Honoring Our Veterans, Past, Present, & Future," also celebrated the work of the agency's Veterans Affinity Group (VAG), which supports an array of programs ranging from housing to training for U.S. veterans. HUD Secretary Dr. Ben Carson and Medal of Honor recipient Staff Sgt. Ronald J. Shurer, II, were among the speakers. NCRF is hoping to partner with the agency's VAG on collecting materials for the Library of Congress Veterans History Project.
Shurer is a former U.S. Army Special Forces staff sergeant and medic. As a senior medical sergeant during the Battle of Shok Valley in Afghanistan in April 2008, he and his team were attacked by an enemy force of more than 200 fighters. Shurer fought for more than an hour to reach part of his unit, killing several insurgents along the way. He was initially awarded a Silver Star for this action, but in 2016 The Pentagon upgraded this recognition to a Medal of Honor. He received the latter honor in a White House ceremony on Oct. 1, 2018.
In his remarks, Shurer shared how being awarded the Medal of Honor made him realize that he needed to share his story with others because it provided him with a platform to help those before him who served and after him who serve, to understand that "we are all called to service in one way or another."
"It is my responsibility to share my story and to give people a tiny glimpse of the job of veterans. I do it because it's the right thing to do, and we are all responsible to recognize what they do," Shurer said.
In his remarks, Carson thanked all veterans and noted that, as Americans, it is because of them that the United States is truly the land of opportunities.
"One percent of our population defends freedom for the remaining 99 percent. Veterans Day is a reminder to us all to thank those who have risked their lives and dedicated their lives to keeping the freedoms we hold near and dear," he said.