By Hailey Scandridge

On Oct. 14, our class traveled to the Jasper County Courthouse in Newton, Iowa, to observe local court reporters, judges, and attorneys. Being able to meet real court reporters and hear stories from them was such a pleasure. It was also interesting to be able to hear about court reporters from the view of judges and attorneys. Learning about court reporting in class is great but being able to observe it live is an even better experience.
The thing that immediately stood out to me after hearing the opinions of the judges and Scott Nicholson, the Jasper County attorney, was how much respect the court reporter demands. Both the judges and the attorneys are aware of how important the court reporter's job is and understand that they can be a part in helping to create a clean record. The judge has the authority to slow down the speech of a witness or counsel, and counsel has the ability to set the tone for a well-flowing trial. The care for the court reporters was emphasized when the Hon. Judge Rickers said that his pet peeve was the court reporter's pet peeve: people talking too fast and talking over each other. From what I observed, the judges really look out for their court reporters.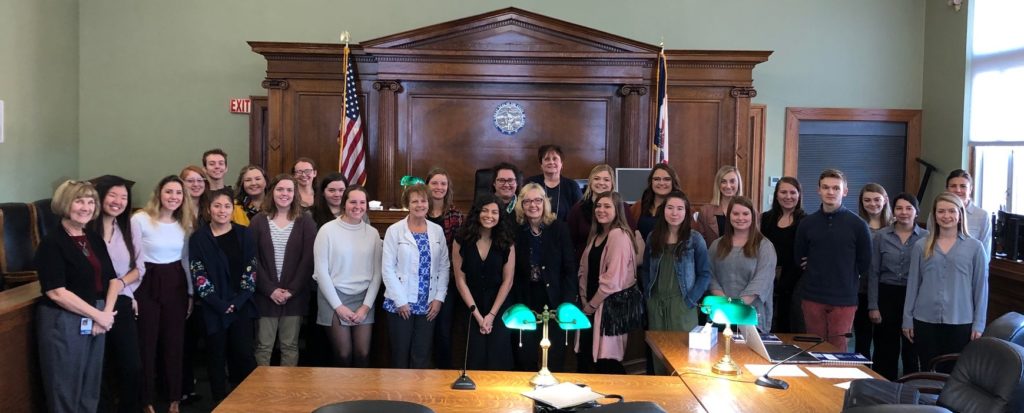 It was also interesting to see the special bond the court reporter and judge shared. In rural counties when the judge and court reporter travel together, it is important to develop a professional relationship where they can also enjoy each other's company as well as work well together. This proves the importance of the social skills of a reporter. It is also important to not be scared to speak with lawyers or speak up in the courtroom when people are talking too fast.
The final thing I noticed, and the most motivational, was just how much the court reporters love their job. This is a common theme whenever I have spoken with court reporters or captioners. They are all satisfied with their job and love going to work. This is so great to see and assures me every time that I am in the most wonderful profession on the planet. I cannot wait to get out into the reporting world and influence students with my love for the job.
Hailey Scandridge is from Sully, Iowa, and is a 200 wpm student at Des Moines Area Community College in Newton, Iowa.
---