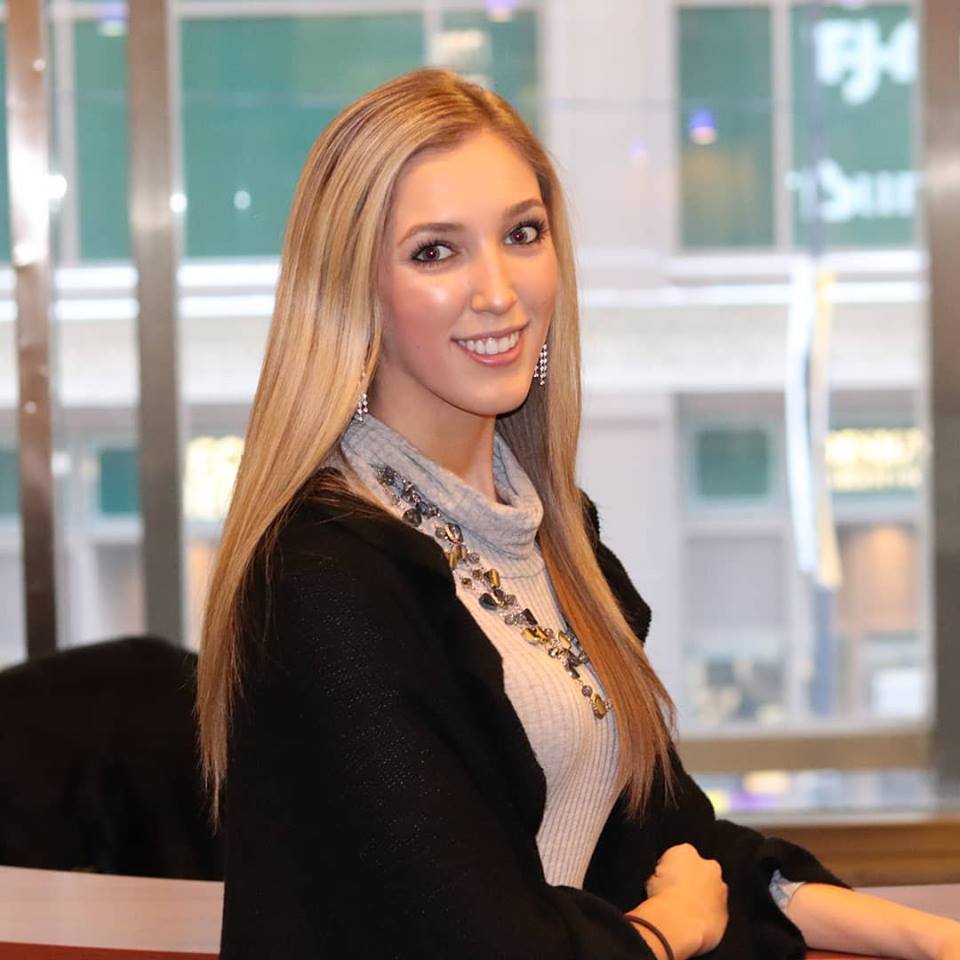 By Michael Hensley
Hailey Treasure, RPR, is a new reporter in the first year of her career, providing services in the Chicago, Ill., area. During her schooling at MacCormac College in Chicago, she set a strong example for other students of what it takes to persevere and reach your goal of becoming a court reporter. When she's not busy as a court reporter, she spends time with her new puppy, Murphy. Treasure took a moment of her time to share with us some thoughts as a new professional:
JCR | Why did you choose to become a court reporter?
HT | I chose to become a court reporter when I was in my junior year of high school and had no idea what I wanted to do after graduation. I babysat for a family whose mom was a freelance court reporter. She would often talk to me about what a good career court reporting is and all the different opportunities this profession has to offer. After doing some research, I knew right away that becoming a court reporter was my dream career.
JCR | What was the hardest part of transitioning from school to the real world?
HT | The hardest part about transitioning from school to the real world for me was getting over my nerves. There are so many real-life situations that can arise during a job that you have never heard of or talked about in school, and it can be very easy to get nervous and panic. I quickly learned how to walk into a job with confidence, and I try to handle any and all situations that may arise with confidence and professionalism.
JCR | What do you know now that you wish you'd known when you first started out?
HT | What I wish I would have known when I first started out was that attorneys aren't as scary as you might think they are when you are a young and brand-new court reporter. Never be afraid to ask questions before the job, on breaks, or after the job. Asking questions will only make your job easier when you are working on the transcript, and 99 percent of the time attorneys are more than happy to answer your questions and do whatever they can to help. I think this goes hand in hand with getting over those nerves and having confidence.
JCR | Do you have a mentor? If so, who?
HT | I have two amazing mentors that have taught me so much and helped me so much. My first great mentor is now my boss, Debbie Bridges Duffy, RPR, who is the owner of Bridges Court Reporting in Chicago. When I was still a student, Debbie would let me go out and job shadow her reporters and then would also edit my transcripts from job shadowing to try and start teaching me as much as she could. Debbie was very invested in me as a student and especially now as a new reporter. She really takes time out to help you be the best reporter you can be and helps teach you as much as she can.
Another amazing mentor that I have is Valerie Calabria, RPR. I met Val through Debbie when I started job shadowing at Bridges Court Reporting. Val has taken so much of her own time and invested it into helping me, whether it was the extra push or the words of encouragement she gave me while I was getting ready to take my RPR; also, proofreading the very first transcripts I produced as a working reporter or sitting down with me and going through my personal dictionary to help me become a better writer. Val is always happy to take a call, text, or email to help me out whenever I have any questions. Debbie and Val have tremendously helped me as a new reporter, and I am so very thankful for them both. They have taught me so much and helped me out in more ways than they know.
JCR | What do you love about your career?
HT | I love so much about my career. I love being in a new place with new people every single day. I love that no two days are ever the same. I love how much I learn while working. I also love my friends always telling me, "Your job is so cool." I love the freedom to take days off when needed but also being able to work as much as I want. This really is a dream career for me.
JCR | How has involvement with state and national reporting associations benefited your career thus far?
HT | State and national reporting associations have greatly benefited my career thus far. While I was still a student at MacCormac College, I was fortunate enough to have the school fly me out to the NCRA convention in Las Vegas. Although I was still a student, it was a great experience and really motivated me to finish school as fast as I could. I have also attended an Illinois Court Reporters Association convention, and I was able to hear so many amazing professionals speak about court reporting. I am looking forward to attending more conventions as a working reporter and seeing all the ways it can help to benefit my career.
JCR | What was the best piece of advice you received from another court reporter?
HT | The best piece of advice I have received from another court reporter was before my very first deposition. I was extremely nervous, and the advice that was given was: "You can do this. Be confident, and nobody in that room other than you knows that this is your first deposition." That calmed me so much and has helped me as a new reporter. Nobody knows if it's your first deposition, your first month working, your first year working, or your first time in court. If you present yourself as confident and professional, nobody will ever know it's your first time other than you.
Mike Hensley, RDR, is a freelancer from Dublin, Calif. He can be reached at stenomph@gmail.com.