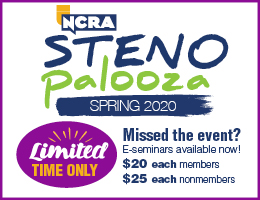 NCRA's Stenopalooza event drew hundreds of members to participate in the Association's first online, all-day event put together by the Board of Directors. Priced right with inspiring and informative sessions, the program offered participants staying at home during the COVID-19 pandemic the chance to learn, earn CEUs, and even catch up with friends and colleagues during a virtual social hour that wrapped up the event.
For those who might have missed the live event, NCRA is offering for purchase, for a limited time, the recorded webinars at the special price of $20 each for members and $25 each for nonmembers. The webinars are available to view for 30 days after purchase.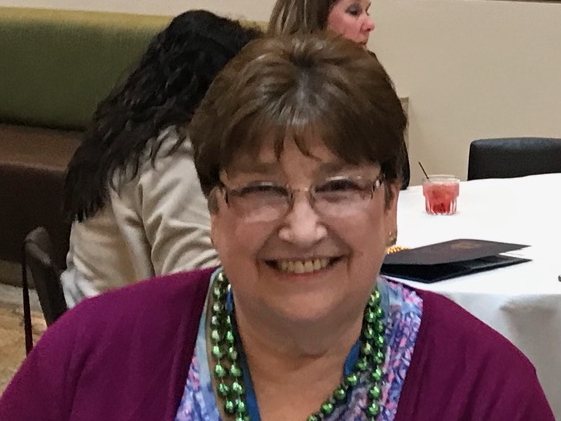 "When I first heard about Stenopalooza, I thought, what a great idea. That's a wonderful idea to use the time at home to learn, earn CEUs, and support NCRA," said Susan Horak, FAPR, RDR, CRR, a retired official court reporter from Columbus, Ohio, who currently works as a scopist and proofreader.
"I was delighted that there was a session for scopists and proofreaders. It provided basic but useful information for me. I also wanted to participate in the virtual Happy Hour because interacting with other reporters just makes me happy," added Horak, who won an NCRA coffee mug during the social hour trivia contest.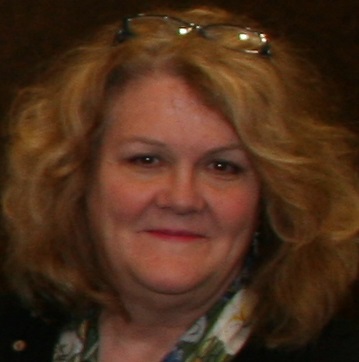 Rene Twedt, RDR, CRR, CRC, an official court reporter from Detroit, Mich., attended eight sessions during the one-day program and said she was very impressed by how rapidly NCRA put the Stenopalooza event together for such an affordable cost.
"The fact that so many people worked so hard to put this together quickly and to offer it at such a low price point to its members for CEUs at a time like we're experiencing renewed my faith in the organization, especially in light of events over the past few years that had me rethinking my commitment to being a member of NCRA. The leadership that's been shown in this time has been really impressive," she said.
Some of her biggest takeaways included the notion that the comeback is always greater than the setback, which she learned in the Marketing Through Adversity session, and the availability of resources at NCRA.org/Strong to represent, protect, and promote our profession shared during the POW! Knowledge is Power session. Twedt said she also found interesting what she learned about other options of using her court reporting skills during the CART/Captioning Intro session.
"I'd have to say the most insight was gained from Lights, Action, Zoom. Absolutely loved the solutions and tips and tricks to get us up and running now and enabling us to make the best record possible in very challenging circumstances," said Twedt.
Both Twedt and Horak said they would definitely participate in another virtual event like Stenopalooza because of what the program offered.
"I learned a good amount and was able to make good use of the downtime we're experiencing," Twedt said, adding that she would definitely encourage others to participate as well. "You'd be crazy not to! It's a great value for CEUs, without travel time and expense," she said.
"I would definitely participate in this type of session again. Even though I am no longer physically reporting, I still am a stenographic reporter and want to stay up to date on what is happening in the profession," Horak added.
Other lucky winners in the Stenopalooza Happy Hour trivia contest were: Ron Cook, FAPR, RDR, CRR, CRC, a freelance court reporter and agency owner from Redmond, Wash., who won an NCRA mouse pad; Liz Harvey, RPR, a freelance court reporter from Seattle, Wash., who won an NCRA testing leg, which she is going to donate to a student at a court reporting program in her state; Matthew Moss, RPR, an official court reporter from Denver, Colo., who won an NCRA coffee mug; court reporting student Angela Rojo from Sacramento, Calif., who won an NCRA testing leg; and Kathryn A. Thomas, RDR, CRR, CRC, a captioner from Caseyville, Ill., who also won an NCRA coffee mug.
Remember, NCRA is offering members and nonmembers the chance to purchase the Stenopalooza sessions as webinars for the same low price for a limited time only. To purchase the webinars or to learn more about the sessions, visit NCRA.org/Stenopalooza.