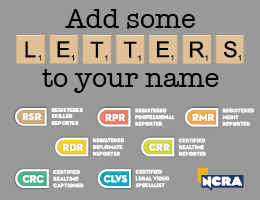 NCRA members and nonmembers registering for Online Skills Tests or Written Knowledge Tests this month are urged to read before they register to make sure they are fully prepared to test in July.
Online Skills Tests
Registration for Online Skills Tests for the RSR, RPR, RMR, CRR, and CRC certifications is open now through June 20 with testing dates available July 1 through 20.
Online Skills Test candidates should note that an external webcam is required for online testing. Be aware that the COVID-19 pandemic has created a huge demand for webcams. Given this information, candidates should not register to test unless they have an external webcam to use and have completely read all of the technical requirements needed to test online.
Once candidates register with NCRA, they will receive a confirmation email from Realtime Coach within three business days. Their confirmation email will contain scheduling information for their test. Candidates are reminded upon receipt of their confirmation to schedule their test. All tests must be scheduled 72 hours in advance. If you do not receive a confirmation email within three business days of registration, please contact testing@ncra.org.
Online Skills Candidates should note:
Candidates are encouraged to schedule their tests as soon as possible. There are a finite number of appointments available on each day, and they are filled on a first-come, first-served basis.
Wait times may be longer than normal and during peak times may be up to 30 minutes.
Candidates are encouraged to test their equipment prior to exam day and should take advantage of doing a proctored practice exam to aid in this process.
NCRA's Testing Department is collaborating with ProctorU to do everything conceivable to keep wait times as low as possible, but the current COVID-19 situation has created extenuating circumstances. Connection times with proctors may be longer than the less-than-15-minutes normal and could average 30 minutes or more due to the increased demand. For more information contact testing@ncra.org.
Written Knowledge Tests
Registration for the Written Knowledge Tests for the RPR, RDR, CRC, and CLVS certifications is open now through June 30 with testing available July 9-23. Candidates are urged to schedule the WKT with Pearson VUE, NCRA's testing partner, upon receipt of their confirmation email with scheduling instructions. Please note that although additional testing centers have been added, the capacity at centers has been reduced due to COVID-19 restrictions. Scheduling early gives candidates the best chance at getting a slot at the testing center most convenient to their location. Be sure to visit https://home.pearsonvue.com/ncra for the listing of test center locations.
NCRA's Certification and Testing Team would like to wish the best of luck to all of our candidates testing in July!