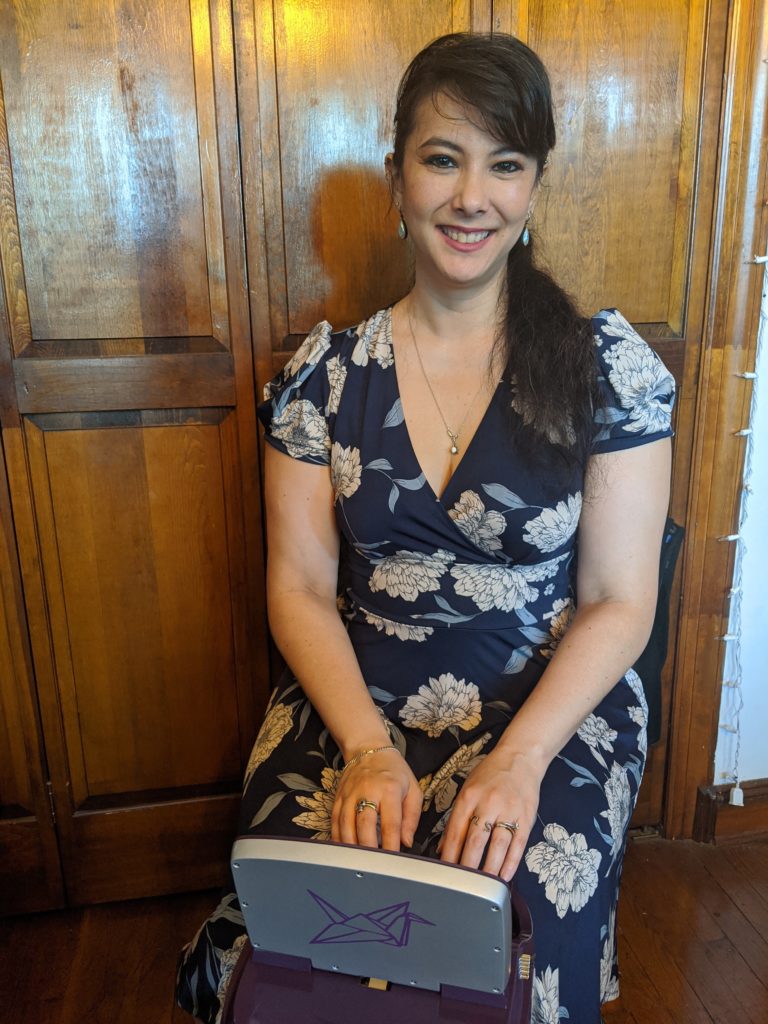 A group of court employees from the Kings County Supreme Court in Brooklyn, N.Y., recently hosted a virtual career day via Google Meet for some high school students in lieu of an onsite one that was canceled due to the COVID-19 pandemic. Among the participants was NCRA member and one of the court's official reporters, Kiyoko Panzella, RPR. She joined several judges and other court staff to provide an overview of their jobs in the courtroom. The event lasted about two hours and provided 37 high school students with the opportunity to learn more about careers in the legal field. The Brooklyn Eagle posted a story about the event, and the JCR Weekly has since reached out to Panzella to learn more about her experience.
JCR | How did you become involved in this event?
KP | The judge who organized the event contacted me and asked if I would be willing to be a part of the court career day she was organizing. Since the high school we were presenting to is predominantly black and Latino transfer students who are behind in credits, it was important to her to include a diverse group of presenters from all areas of court personnel so we could highlight the different paths that could lead to a career in the courts.
JCR | Have you promoted the court reporting profession before at onsite career days? If so, how was this different?
KP | This was the first career day that I've taken part in, so I don't have an in-person experience to be able to compare it to. I will say that, before we started, I was a little apprehensive about the students actually paying attention and engaging since we wouldn't physically be with them, but I shouldn't have worried. The event actually ran an hour past the scheduled time because the students had so many questions! One of the students was a little too "engaged" — he got kicked out of the meeting because he kept muting the speakers.
JCR | What tips would you offer others who might be interested in participating in this type of virtual event?
KP | The "shared screen" feature that many of the virtual meeting platforms have is a great tool for demonstrating realtime. By using that feature I was able to not only demonstrate the realtime feed, but the students were able to simultaneously see the digital notes on my screen and I was able to show some of the features that end users don't necessarily ever notice such as the "fix one word mistran" AccelerWriter. Google Meet has a captioning function that uses a voice-to-text program, which is a great way to compare their capabilities with a live reporter. It also helps to stay patient and keep a sense of humor. No matter how well prepared you are, technical glitches will happen, so you have to be ready to just roll with the punches.
JCR | What types of questions did the student participants ask?
KP | Most of the questions were for the judges and lawyers about what it's like to practice law and how they make decisions, but I was specifically asked how I deal with a bunch of people talking at once and what it takes to succeed in my profession.
JCR | How long have you been working as a court reporter?
KP | I've been working as a court reporter for about eleven and a half years, about seven as a freelancer and four and a half in the New York court system.
JCR | Where did you go to school for court reporting?
KP | I went to New York Career Institute in Manhattan. (The school has since merged with Plaza College in Forest Hills, Queens.)
JCR | How did you learn about this profession?
KP | I have an aunt who was a court reporter in the Los Angeles Superior Court Criminal Division.
JCR | What has been the best thing about choosing this career path?
KP | Definitely the relationships that I've developed. This career has enabled me to meet a wide variety of people in different capacities who I probably never would have crossed paths with if not for the profession. I also love that no two days are alike, and I never know what will happen when I walk into the courtroom.
Kiyoko Panzella, RPR, is an official court reporter with the Kings County Supreme Court in Brooklyn, N.Y. She can be reached at panzellak@gmail.com.