By Dineen Squillante
On April 22, 2020, the NCRA STRONG Task Force opened our Facebook group Steno Strong. Upon instituting the group, the Task Force was excited to have a space to openly communicate with like-minded stenographers, captioners, court reporters, freelancers, officials, students, and everyone else who shares our passion for promoting stenography.

After introductions, our next goal was to have a little fun. Finding ourselves working at home in the midst of COVID-19, STRONG Chair Phyllis Craver-Lykken thought it would be fun to see what our colleagues' remote offices looked like. We launched the "Show Us Your Remote Office" contest on Friday, May 15, 2020. Four album categories were opened up for folks to drop their office pictures: Messiest, Minimalist, High-Tech, and Funniest. We had an enthusiastic response with lots of photos flooding the page! After two weeks, the contest closed on Friday, May 30, 2020, with the following winners: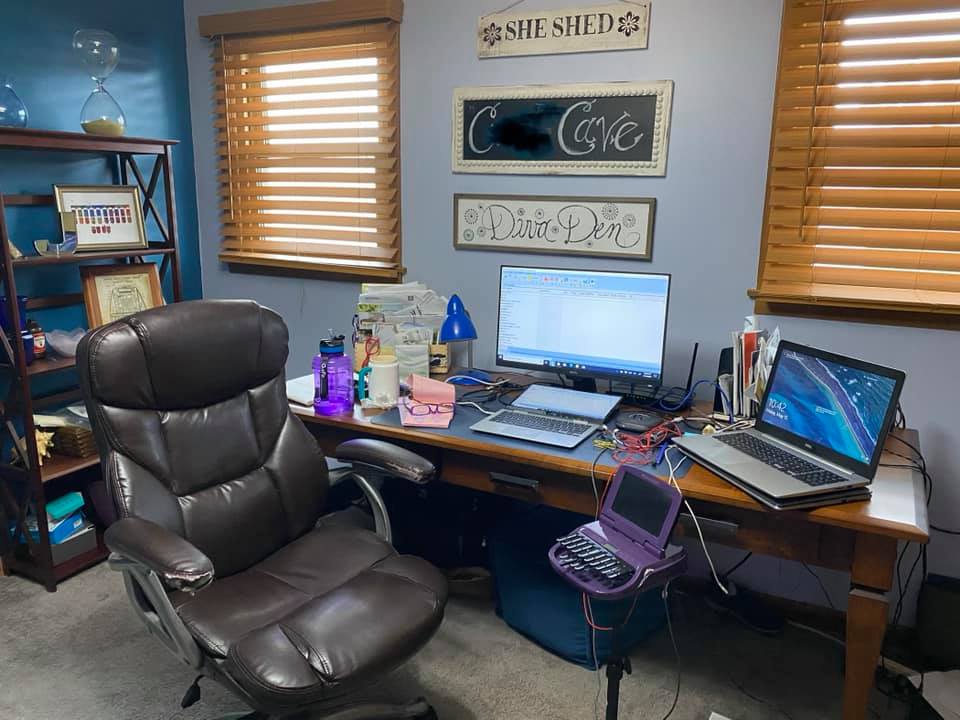 Most likes per photo in the album categories:
Messiest: Janine Ferren, RPR, CRR
Minimalist: Sebrina Crosby, CRC
High-Tech: Amy Doman, RMR, CRR
Funniest: JoAnn Losoya
Most likes on the general wall:
Matt Moss, RPR
Lorrie L. Marchant, RMR, CRR, CRC
Honorable mention:
Semetha Darensbourg
Jessie Gorry
Prizes were furnished by the NCRA STRONG Committee members. Each winner received an NCRA STRONG T-shirt of their choice and a travel mug from the NCRA Marketplace. Matt Moss received a $100 Amazon gift card for most likes overall.
Check out all the merchandise available on the NCRA Marketplace.
It was a fun two weeks in the Steno Strong group seeing everyone's remote offices. On behalf of the STRONG Task Force, we thank you all for jumping in, sharing, and bringing a smile, a laugh, or a wow to all of us during these strange days.
Here's to hoping our remote offices soon go back to the places they were before: the place where we throw all of our stuff in between racing out to in-person work — the hectic life we all occasionally complained about before COVID-19.
If you're not a member of the Steno Strong Facebook group, come on over and see all the photos shared over the last two weeks. We'd love to have you join us!
The mission of the NCRA STRONG Task Force is to raise awareness in our external audiences about the dangers and pitfalls of digital recording by creating tools for use in state and national newsletters. The task force works with state affiliates to create materials with state-specific, fact-based content, which members of both the state and national associations can distribute to key decision-makers and end users. The task force also works with state associations to provide guidance in how to present this information to judges and bar associations, as well as captioning service industry companies across the country.
In concert with NCRA's Government Relations staff, the task force will review and analyze digital recording-related legislation in the states and coordinate advocacy response efforts through small rapid response forces in geographic regions. These rapid response forces would maintain contact with state leaders and serve as an early warning system when these digital recording issues arise.
We will continue to advocate tirelessly for stenographers. Please don't hesitate to reach out to any of the committee members to help promote stenography in your market. We are here to help and to protect you!
The members of the NCRA STRONG Task Force are:
Phyllis Craver-Lykken, RPR, Chair
Lisa Migliore Black
Christopher Day, RPR
Lillian M. Freiler, FAPR, RMR, CMRS
Rich Germosen, RMR, CRR
Elizabeth A. Harvey, RPR
Alan Peacock, FAPR, RDR, CRR, CRC
Isaiah Roberts, RPR
Dineen Squillante, RPR
Lindsay Stoker, RPR, CRC
Dineen Squillante, RPR, is a freelancer in Arlington, Vt. She can be reached at mailto:steno@ddreporting.com