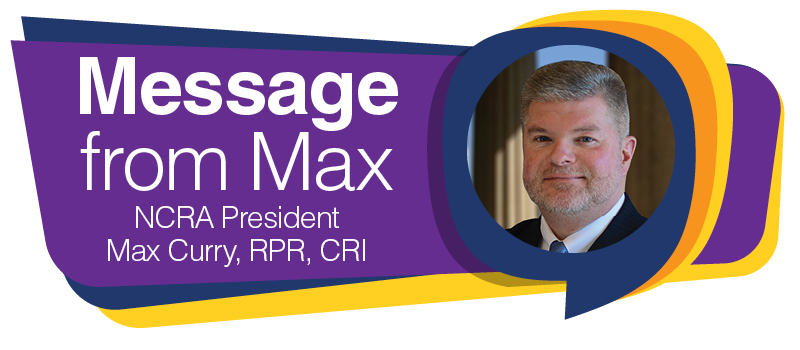 Well, the time has come for me to bid you all farewell as your NCRA President!
This has been one of the toughest things I have ever done — managing my company (especially through the crisis), while still reporting some myself, having a family and personal life, and being NCRA President all at the same time, all while leading us as a profession through the year's events and crises, especially the COVID‐19 crisis!
The last five months have felt like five years, with every day being a struggle. I, as President, together with the 2.0 Board, have faced weekly challenges where decisions had to be made that would affect each of us and our profession for many years to come. That fact did not go unnoticed by me and made the weight of my position even more difficult, but forced the Board and myself to thoughtfully work through each decision to do the best we could for all of our sakes.
Being NCRA President also exacted a personal and professional cost upon me … the loss of dear friends who couldn't understand my dedication to NCRA, our mission, and our profession's future and my absence from Elite and from their lives. Also, I lost a third of my reporters from Elite Reporting during this time (11 individuals), because they felt I was absent and not "omnipresent" with Elite, because as you've seen this past year, I always lead from the front. They were unable to see the big picture of what we were doing and that my absence was for a higher purpose, my contributing for the common good of our entire profession, for it not only to survive but for it to thrive into the future.
However, I want you each to know now that I know for my having served in this capacity, I have made the impact and difference that I set out to make all those years ago when I joined this Board. Even now knowing the personal and professional costs and sacrifices to me, I would do it all over again and make the same choices in order to achieve the outcome we've seen for NCRA.
No one will ever know how tough this job is until you have actually lived it. But with all of this said, I want you each to know what an honor and joy this experience has been professionally and personally. Truly, this has been one of the professional highs of my career and life! I am the better for having served in this capacity and made the journey.
I say "Thank You" to each and every one of you for affording me this amazing honor of being your President and serving our great association and profession through the good times and also through these difficult times, and for your having faith in me to get the job done!
A life well lived is about experiences, and what a truly amazing, unique experience this has been. It will live as a part of me the remainder of my life!
I believe I have done a good job as NCRA President — I hope you feel the same as well, as I have done my best for our profession every day I have served, and I have always kept in my mind who it was I was serving and working for — our profession and you, our members!
NCRA is in so much better condition today organizational‐wise and fiscally. I'm very proud of our efforts as a Board to that end. We didn't know at the time that we were righting our ship and making NCRA fiscally healthy again, but the act of having done so has better prepared us to weather the storm we are currently experiencing as an industry and nation.
Through the crisis, my Board and I have brainstormed and worked tirelessly as a team to think outside the box, offering enhanced member and general profession value, all while each personally and professionally maneuvering the early stages of the COVID‐19 crisis ourselves. We provided tremendous professional value through truly impactful information research and sharing, development of relevant educational seminars and webinars — who can ever forget Stenopalooza? — all offered timely to support and propel our industry forward and arm professionals with the information and tools necessary to weather this storm and eventually thrive again in our "new normal." I'm proud of NCRA 2.0 — Board and staff — as truly being a demonstration of what can be accomplished when a group of individuals work effectively for the common good!
I know Christine following me as president will do an exceptional job. She truly is one of the smartest people I know, and she is passionate about our profession. She has become one of my dearest friends and my valued colleague. I trust her, I believe in her to lead us, and I hope you will afford her the same support and trust that you have given me. So often women in leadership are judged more harshly than men. Please afford her the same equality you have given me in regard to performing this difficult and time-consuming job!
Christine, you have my full support in the year to come. My advice: Trust your team, value their opinions, and lead compassionately but always boldly!
I say "Thank you" to my entire NCRA 2.0 family, the Board and staff alike! You have supported me and tempered my path, kept me steady, and you have helped me weather this storm! We have worked as a team without ego, and that is what has made it work!
I want to thank my professional family at home, Elite Reporting staff and reporters. You grasped the big picture of what I was doing and stuck with me and Elite and helped pull some of the extra weight in my absence! You guys rock and are amazing, consummate professionals, and I sincerely appreciate each and every one of you! It has been a rough couple of years for us professionally, but we've made it and Elite is now stronger than ever, experiencing a new renaissance, having replaced the reporters we lost and grown beyond that loss with the acquisition and addition of Brentwood Reporting as a part of Elite's professional family! Good things do find their way to you when you keep your mind, heart, and spirit focused in a positive way, and I never lost faith while walking this difficult path.
No one does it alone, and I will never forget who had my back at home!
I also want to offer a special and sincere thank you to my amazing spouse, James! You have been my steady north and my rock upon which I knew I could always cling and find compassionate support, for you more than anyone experienced this entire process personally alongside me. Thank you for your ear, for listening, for your steady and sound advice, for your love, and for having my back at the times I felt alone and isolated in this job!
Dave, you have been my balancing voice giving me steady and tempered counsel for all things NCRA and profession related. You are the rock of NCRA, and I truly appreciate your friendship and kindness … and appreciate your kicking me in the butt when it needed to be done!
Forrest asked his momma when she was dying what was his purpose, what was his destiny. She answered: "You're gonna have to figure that out for yourself. Life is like a box of chocolates, you never know what you're gonna get!" No truer words have ever been spoken!
So with that, live your life with purpose, open to the opportunities; don't hide from the scary parts, because some of the greatest opportunities and lessons in life are lived and found there; and embrace the adventure that life is!
Life is like a box of chocolates, you just never know what you're gonna get! My box of chocolates have been a blessing, and I thank each and every one of you for the opportunity of this journey we have lived, shared, and survived together this last year!
Remember, always stay positive in mind and spirit in all that you do. To truly, truly live is the greatest of all adventures!
Goodbye and my best wishes to each of you for future greatness, success, and blessings! Thank you all.
Max Curry, RPR, CRI, is NCRA's Immediate Past President.