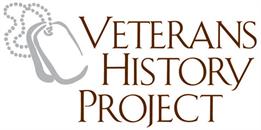 By Jill Parker Landsman
Future generations can learn about the perils faced by our war veterans not just by watching the movies. The true challenges from World War I, World War II, the Korean, Vietnam, and Persian Gulf wars are best shared by those brave U.S. soldiers who survived. To preserve stories of experience and service, veterans have shared their firsthand accounts during recorded interviews. Court reporters, by creating a transcription, can make these memoirs available in perpetuity through the Library of Congress.
"We are proud to announce that NCRF just renewed a three-year Memorandum of Understanding with the Library of Congress's Veterans History Project," said NCRF Chair Cathy Phillips, FAPR, RMR, CMRS, an official court reporter from Collierville, Tenn. "Collecting and preserving the firsthand accounts of our nation's wartime heroes is an honor and a privilege. Our court reporters can select veterans from the library's website or interview and transcribe a local veteran's story," she added.
Understanding the realities of war based on accounts by our wartime heroes is so appreciated that Congress passed legislation in 2000 creating the VHP. Videos, transcriptions, original letters, diaries, photos, memoirs, and historic documents related to a veteran's wartime service are preserved and catalogued at the Library of Congress.
NCRA members have transcribed more than 4,000 histories thus far. (Read about Early Langley's experience.) Members who submit the requested documentation, keep backups of submitted work, and email and mail final documents to NCRF, can earn 0.25 PDCs credit for each transcription.
Did you know you can see the veteran collections that are part of the Veterans History Project at the Library of Congress?
Use this link to explore the collections that include transcripts prepared by NCRA members.
Find out how you can get involved.
Jill Parker Landsman is the NCRF Manager and can be emailed at jlandsman@ncra.org.