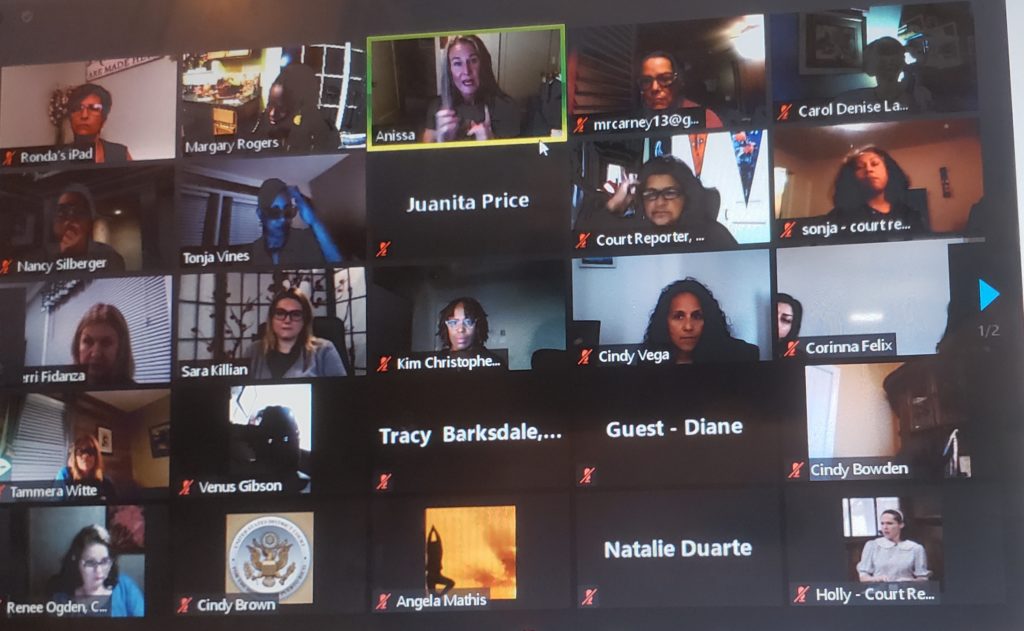 By Margary Rogers
I started the free "It Pays to Phrase: CRR Practice, Prep & Motivation" practice group, which included four hour-long practice sessions held on Friday nights from 8 to 9 p.m.
So why did I start it? Because I know many of us are eagerly striving to pass the CRR test and because I know that realtime is the heartbeat of our profession. Stenographers desire to write the best that we can and acquire one of the greatest stenographic accomplishments, becoming a Certified Realtime Reporter.
Also, during this pandemic, it is great camaraderie to practice together. During our practices, we have fun. We share briefs and phrases and receive great advice and motivation from some of the best reporters in our profession.
We had 75 court reporters and students sign up for the "CRR Practice, Prep & Motivation" practice sessions. The participants were very professional, showed up on time, and were always on mute when they needed to be. They were eager to practice, eager to learn, and they were always in great spirits.
Truthfully, I was nervous when I saw all these people signing up for the practice. It was 30 people, 40 people, 50 people, 60 people, 70 people. I said to Ronda Thomas, RPR, CRR, a freelancer in Catonsville, Md., my right-hand partner in serving on the Maryland Court Reporters Association Board, "What did I get myself into?" We laughed, and she said, "You are going to do fine. I will help you." So Ronda helped with preparation and management of some of the practice sessions.
Eventually, I calmed down when I remembered why I was led to create this practice group. It's for the betterment of my peers, my profession — and of our paychecks.
I am so thankful to the NCRA testing and certification team: Cynthia Andrews, Senior Director of Education and Certification; Amy Davidson, Director of Certification and Testing, and their entire team. They took time out of their busy schedules to create a special CRR Prep PowerPoint video with audio specifically for the "CRR Practice, Prep & Motivation" practice group. It can't get any better than that, hearing directly from the NCRA testing team.
I am so thankful to the four awesome motivational speakers who said yes when I asked them to be speakers at my practice sessions. Three of the speakers are CRRs, well-known and sought-after speakers in our profession, and they have a history of providing great advice and motivation to students and reporters. The CRR speakers were Anissa Nierenberger, RPR, CRR, CRC, CRI, a captioner in Boise, Idaho; Kim Xavier, RDR, CRR, CRC, CMRS, CRI, an official in Arlington, Texas; and Ronda Thomas, president of Maryland Court Reporters Association. And then we had the queen of Realtime Coach, Marybeth Everhart, who always brings laughter and calm to us every time she speaks.
For the first 10 to 15 minutes of the four practice sessions, one of the four speakers provided helpful CRR tips, motivation, software tips, and some real talk regarding passing the CRR examination. There were so many great nuggets we learned. One thing that we learned that some participants did not realize is that we can take the CRR test in ALL CAPS! Wow! This information is also listed in the "CRR What is an Error?" documentation. We learned so much invaluable information from those four speakers.
After each motivational speaker finished their talk, we began to practice. We practiced CRR practice dictation using Realtime Coach and Federal Certified Realtime Reporter (FCRR) Practice Sessions CDs. I also created some "It Pays to Phrase" handouts that included lots of frequently used phrases in testimony dictation. I also created a "It Pays to Phrase" job titles handout. We practiced on our machines for at least 45 minutes per session.
I am so thankful to Marybeth Everhart and Kelli Mulcahy, president of the United States Court Reporters Association (USCRA) for allowing me to use their practice material from Realtime Coach and the FCRR Practice Series during the practice sessions.
Realtime Coach is such a great tool for students and reporters for evaluating writing skills and progress. In Realtime Coach, we were able to adjust the speeds of the 200 wpm CRR practice dictation up to 220 wpm. I tried not to take the speeds more than 20 wpm past the speed we were trying to obtain for the CRR.
FCRR Practice Series CDs are also great tools to practice to. They contain some great court-related material, which include lots of job titles and drug names such as sergeant, lieutenant, special agent, corporal, methamphetamine, marijuana, and cocaine.
I am thankful for my creativity and my love for event planning. I am a person who loves to squeeze in a party or a fun event at any given moment. So I thought let's add some music to our practice at the end, and that is what we did. I wanted the practice sessions to be educational, motivational and, most of all, fun. At the end of our 45 minutes of steno practice, we had some well-deserved fun. We wrote and danced to some music. I thought it was a good idea to end our night on a great note. On our first day of practice, which was the day before Halloween, we wrote and danced to "Thriller" by Michael Jackson.
Since our practices were on Fridays, we also wrote and danced to Just Got Paid by Ella Eyre, Meghan Trainor, and Sigala, as well as Just Got Paid by Johnny Kemp. On our last Friday of practice, since the holidays are approaching, we wrote to The Twelve Days of Christmas which was fun and hilarious to write to (if you know how many times the song repeats itself).
I am thankful for the editors of the CRR Practice, Prep & Motivation flyer: Susan Watts, RPR, and Diane Salters, RPR.
I am thankful to all participants who wrote in the Zoom chats that they were thankful that I created the practice. They were thankful to have the opportunity to attend and learn. They were thankful for the speakers. They were thankful for the time and the order of the practice sessions. They were thankful to Marybeth and Realtime Coach. They were thankful to Kelli Mulcahy, RDR, CRR, an official in Des Moines, Iowa, for the FCRR Practice Series dictation. They were so thankful and appreciative that many of them asked that the practice continue.
So guess what our Friday night practice sessions will continue, starting on Friday, Jan. 22, same time, same place, 8 to 9 p.m. We also plan to add "Sunday Inspirational Practice" starting Jan. 24, which will include inspirational speeches, sermons, and songs. Email Sluwcerts@gmail.com to join us.
Don't forget to sign up for our Court Reporter (KROERP) Karaoke on Fridays, Dec. 4 and 11, via Zoom, same time, same place, 8 to 9 p.m. Sign up by emailing sluwcerts@gmail.com.
Margary Rogers, RPR, CRI, is an official court reporter in Washington, D.C. Her email is mfrogers1@gmail.com.