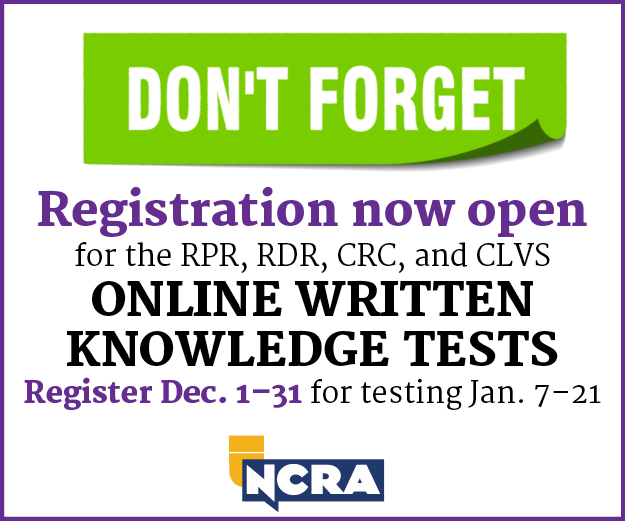 October marked the first time NCRA members and nonmembers had the opportunity to take the Written Knowledge Tests for the RPR, RDR, CLVS, and CRC certifications online through Pearson VUE; and the feedback so far has been positive. The online tests are available four times a year (January, April, July, and October).
The move to offer the WKTs online were the direct result of member feedback requesting the option for convenience, especially with the COVID-19 pandemic restrictions hindering in-person opportunities for testing. The decision to move online was made by NCRA's Certification and Testing team. Feedback from several of the first-time online WKT candidates has ranged from having a smooth and positive experience to excited to receive their test results so quickly as well as receiving pre-test information and instructions that helped ensure they were ready to test and succeed.
"I thought the whole process was great," said Lauren Richardson, an official court reporter with the Orange County Superior Court in California, who tested online in October. "This was my first time taking the WKT ever, so I have never taken it in-person. I can't compare to how the in-person process was compared to the new online one, but if I had to choose to take it online versus in-person, I would definitely take it online," she added.
"The best thing about being able to take the WKT online was I was able to stay in my pajamas. It was so convenient being in the comfort of my own home," Richardson added.
Allie Hall, RMR, CRR, a full-time official court reporter and court reporting instructor from Tulsa, Okla., agrees that a major benefit to being able to take the WKT online was being able to do so in the comfort of her own home and the comfort of fuzzy socks and pajama pants.
As is common with most first-time endeavors, glitches still happen. Both Hall and Richardson reported that they did experience some issues initially connecting to Pearson VUE's OnVUE when getting ready to take their tests. According to Hall, she was asked to reschedule her test via the automated chat while she was waiting to log on. However, since she was early, she instead logged off and logged back on as if she were just accessing her test, and she said it worked.
Richardson meanwhile said that she was trying to answer a question and was unable to click any of the options. "All of a sudden, the screen went completely white. There was an option on that white screen to ask a proctor for help. I asked for help immediately, and the proctor resolved the issue right away," she said.
Richardson and Hall both said they felt very prepared to take their online WKT and offered those taking them online in the future several tips to help them to prepare before they test.
According to Richardson, it is important to make sure the candidate has a strong WiFi connection that is tested beforehand.
"Pearson VUE allows you to do a practice run to make sure you understand the process and to ensure all your equipment is working. Do it. Don't let anything be a surprise. Also, just stay calm. If a technical error does happen, like it did for me, just relax. Use the proctor option immediately, and they will help you the best they can," she said
Hall advises candidates to read the materials that are sent to them to familiarize themselves with procedures and be prepared. Also, she reminded candidates to log in 30 minutes early so that they have time to work out any problems with connecting to the proctor.
According to NCRA Senior Director of Education and Certification Cynthia Bruce Andrews, the Certification and Testing team have been welcoming feedback from first-time WKT online test takers and have continued to work with Pearson VUE to resolve any issues candidates have reported. Andrews encourages all future WKT online test takers to share their experience and feedback with her via email at candrews@ncra.org. NCRA's Certification and Testing team are committed to ensuring that all online test takers have the best possible experience when testing.
To sign up for the WKT online tests, candidates will continue to register with NCRA and will receive a con­firmation email within three business days of registering that will include scheduling instructions for the test.
Candidates will schedule their test through www.pearsonvue.com/ncra and log on at their scheduled date and time within our testing window to take their test. Candidates will take their multiple-choice exam online while monitored by Pearson VUE proctors.
Technology requirements and full directions for the new online testing are available at NCRA.org/WKT. NCRA will continue to send all official results within four weeks of the close of our testing window via the email address on file with NCRA.
The next registration period is Dec. 1–31 for the Jan. 7–21, 2021, testing period. For more information or to register, visit NCRA.org/WKT.