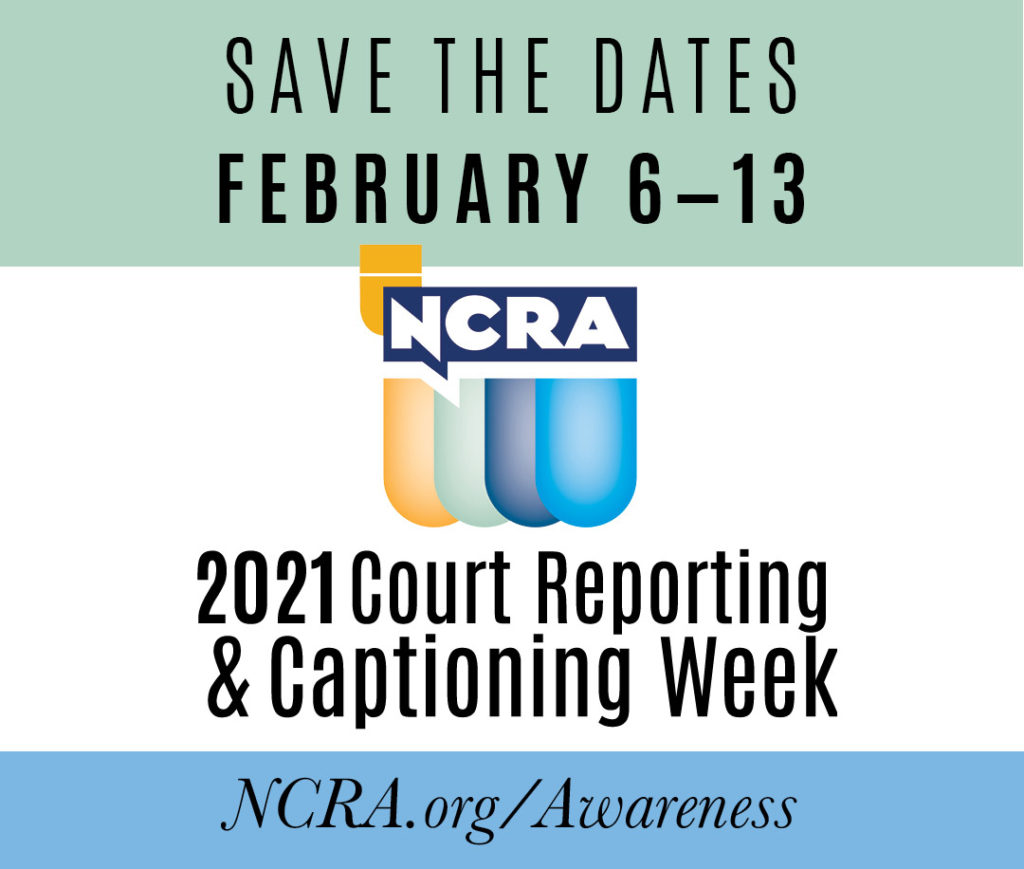 Get ready to celebrate NCRA's 2021 Court Reporting & Captioning Week Feb. 6–13 with the theme "All you need is love and steno." The 2021 celebration marks the ninth such event  and will be celebrated Feb. 6–13. NCRA's 2021 Court Reporting & Captioning resources page is now available with a number of updated items for court reporters and captioners to use during the week-long event. Continue to check back to the page as new resources are added.
"Court Reporting & Captioning Week is our time to shine the light on what we do, why we do it, and what makes us — human court reporters and captioners — so vital," NCRA President Christine Phipps, RPR, an agency owner from North Palm Beach, Fla.
"Whether we are preserving records of proceedings, gathering the stories of our war veterans, or ensuring that the spoken word is made available through captions to members of the deaf or hard of hearing community, the skills we employ as professionals are dynamic and unique and cannot ever be replaced by artificial intelligence or electronic recordings," Phipps added.
Once again, NCRA is making available a robust catalog of resources ranging from press release templates to media messages to help spread the word about the benefits of a career in court reporting or captioning. These latest resources that reflect this year's theme are available at NCRA.org/Awareness. Many can be used year-round, and many are customizable.
Among the resources available now or coming in the near future to help you celebrate are:
Customizable press release templates that state associations, schools, and individuals can use to help promote the week and the profession
Media advisories to announce specific events
A sample proclamation for state officials to sign to officially recognize the week
Talking points to inform the public and others about the benefits of a court reporting or captioning career
Social media messages
Customizable business cards to spread the word about what you do and share information about how to learn more about a career in court reporting or captioning
Videos to share of NCRA members saying what they love about their jobs
A guide to making the record for helping attorneys and judges understand the importance of having a live court reporter capture the record
Downloadable artwork, including the 2021 Court Reporting & Captioning Week and DiscoverSteno logos
Brochures about careers in court reporting and captioning
A quick link to NCRA's DiscoverSteno® site that includes more information about the free NCRA A to Z® Intro to Steno Machine Shorthand program
A link to more information about NCRF's Oral Histories Project, including the Library of Congress Veterans History Project, which members can participate in to earn Professional Development Credits, and more.
"I know that each day each of us sparks the interest of someone who knows nothing about what stenographic reporters or captioners do. Let's take this opportunity as we mark the 2021 Court Reporting & Captioning Week to amplify those chances by sparking the interest of even more members of the public about this wonderful career path," Phipps said.
Be sure to check out NCRA's Court Reporting & Captioning Week resources page. No matter how you celebrate 2021 Court Reporting & Captioning Week, be sure to share your stories and photos with NCRA's Communications Team at pr@ncra.org. Also, remember to use the hashtag #CRCW21 when you post on social media.